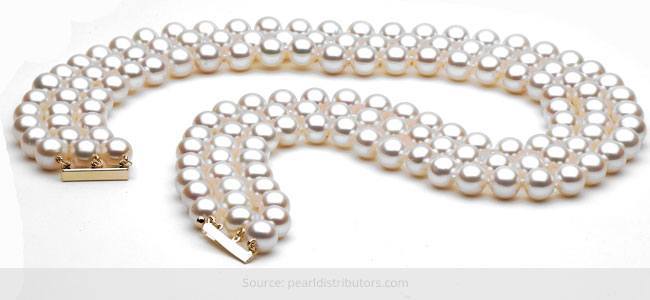 A friend of mine visited Hyderabad last month. Prior to her 3-day visit, she had asked me to prepare a shopping itinerary for her, where she had specifically insisted that I should include Hyderabad pearl shops. She had asked me an obvious question – where to buy pearls in Hyderabad?
Even though it was not her first visit, she somehow happened to miss her favorite 'things to do' activity i.e. shopping at Hyderabad pearl market. Therefore, she had made sure to do some real Hyderabadi shopping during her visit i.e. pearls and bangles.
[Also Read: pearl powder benefits]
If you are putting up in Hyderabad and you have a guest who is willing to buy pearls in Hyderabad, then do not shy away from asking his/her budget. This will help you filter out appropriate shopping destinations that come under their budget. Besides, also ask them their preferences as if they are looking for the original/rare pearls or the commonly sought after cultured ones.
If you are not able to give them company for some reason say your office, then you can give them a few basic lessons on pearls which will help them understand what they are dealing with. A few tips and a brief knowledge transfer will also make them have a smarter deal, as tourists usually get carried away with the outlandish Hyderabad pearl market.
Quick tips for buying good pearls –
1. Shape and luster – The rounder the shape, the clearer the reflection because of luster and smoother the surface, the better is the quality of the pearls.
2. Don't get carried away by fancy jargons – Sometimes, a shopkeeper in order to woo the customers, use some fancy jargons to convince that their pearls are worth buying. For instance, they will ask you to put the pearls under UV light to check their genuinely i.e. white pearls will appear blue sheen, black pieces will appear green sheen and baroque ones will appear rainbow sheen.
3. Teeth test – You can rub the pearls against your teeth to confirm. While the real ones will make you feel gritty, the fake ones will slip.
4. Be a bargain prowess – Always remember to go for the best buys by bargain hunting. You can easily settle for a 30% discount but take it as a challenge to bargain it for 50% off.
Where to buy pearls in Hyderabad
If budget is not your consent then here are a few good pearls shops to explore –
Modi Pearls (Original)
This store of exquisite pearl jewelry was established way back in 1900! Its designer collections and top-notch quality soon earned it the recognition of one of the most trusted pearl jewelers in the City of Pearls. For decades since, Modi Pearls has continued to charm India with its beautifully crafted neck-pieces, earrings, and more.
Charminar
22-5-92, Beside Gulzar Houz Circle,
Charkaman, Road,
Hyderabad,
Telangana 500002
Contact: 040 66806502
Website: Modipearls.com
Jagdamba Pearls
Bringing pearls to the vanity box of all age groups, Sri Jagdamba Pearls is known across Hyderabad as one of the finest retailers of all time. Each piece you purchase from Jagdamba Pearls is certified, and has a unique charm to itself.
1. Oyster Uptown Building
Opposite Krishe Sapphire,
Madhapur,
Hyderabad – 500081
2. T.M Yadav Gokul Plaza
Plot No 1-24, 1-25/1,
1-27/1, H.No 1-27,
Ground Floor, A Block,
Gachibowli,
Hyderabad – 500008
Contact: +914040210012
Website: Jpearls.com
This is another reputed pearl shop in Hyderabad where you will get an array of designs in good and genuine quality.
Krishna Pearls
Started with humble beginnings more than 3 decades ago, Krishna Pearls today holds a fair chunk of the Authentic Hyderabad Pearls market. The brand not only enjoys great fame in the international market, but also receives equal love back home. This loyalty among its customers is the result of its unerring sync with the market, knowing its pulse, and standing out with excellent customer service.
1. Jubilee Hills
Plot No.1222, Road No.36,
Near Metro Station,
Jubilee Check Post,
Hyderabad- 500033
2. Novotel Hotel Rd
Izzathnagar, Kothaguda,
Hyderabad,
Telangana – 500081
Contact: 91-40-66411211
Website: Krishnapearls.com
If you're running on a budget but really need that lustrous pearl in your trinket collection, don't worry. You can visit Charminar, whose neighborhood is flanked by the much affordable Patther Gatti and Laad Bazaar. Also, around Paradise Restaurant is a row of some amazingly affordable stores that you must try!
So those were my top picks to buy pearls in Hyderabad. I hope it helps the next time you go shopping. Let us know which pearl brand is your personal favorite!