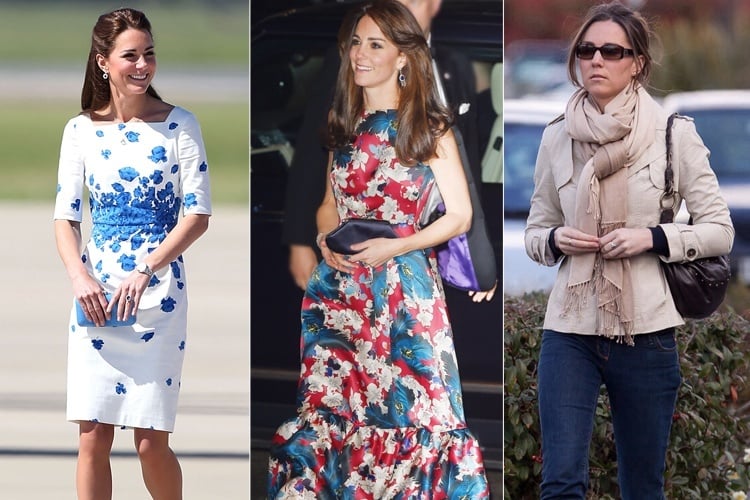 When we think of style, fashion and trends, the very first faces to pop up in our heads are all related to the show biz like models, singers, and actors. But Kate Middleton is one such personality who has nothing to do with the members of the show biz and can still give all of them a run for their monies. If you look through her choice of clothing, you would know she was cut out for the title she holds now. Her style transcends various genres and she is always perfect and put together in whatever she decides to slip into. Here is a little sneak peek in the 25 moments of her life when she was dressed to give us style goals.
[Also Read: Kate Middleton Style And Fashion Funda]
Blenheim Palace, 2004
During a photoshoot at Blenhein Palace, way back in 2004, she looked every bit a princess in the making. The long trench coat with a tight short skirt to go with it, and the full sleeve shirt gave a look of power to the entire appearance.
Prince William's Graduation, 2006
On her boyfriend's graduation ceremony, she was dressed in a bright red coat, teamed with a black feathered hat and black stocking to cover up skin. She kept the look conservative for the event.
Cheltenham Horse Racing, 2008
Keeping up with her love for trench coats and hats, she dons this well cut navy blue mac at the annual Cheltenham Horse Racing Festival in 2008.
London Wedding, Aug 2009
Kate was every bit of resplendent in her blue brocade coat over an off-white dress that she wore to her friends, Nicholas van Cutsem and Alice Hadden-Paton's wedding at the Guards Chapel, London, in August 2008. The ensemble was well coordinated with navy blue pumps and clutch.
The Engagement, 2010
The princess reached for a full sleeved knee length dress in royal blue from Issa for her royal engagement to Prince William. This piece became an epic and have been replicated numerous time since the day.
Royal Wedding 2011
The exquisite wedding dress, Kate chose for the D-Day was designed by Alexander McQueen's Sarah Burton. And the designer confirms that it was indeed a challenge to deal with the international curiosity surrounding this dress and to keep it a top secret.
ARK Gala, June 2011
Her first public appearance as the Duchess of Cambridge was at the ARK charity gala in London. She was all dressed up in this shimmery floor length gown in pale rose hue from Jenny Packham. The ensemble had sequins and Swarovski crystals beaded all over.
Royal Tour Of Canada, July 2011
Having a clear understanding of the significance of her wardrobe in building her a positive impression, the royal went for a red coat dress by Catherine Walker. She added the Queen's diamond studded maple leaf brooch to echo the vibe of the host country, while on her tour to the Canada in July 2011. Those nude pumps are one of her favorites.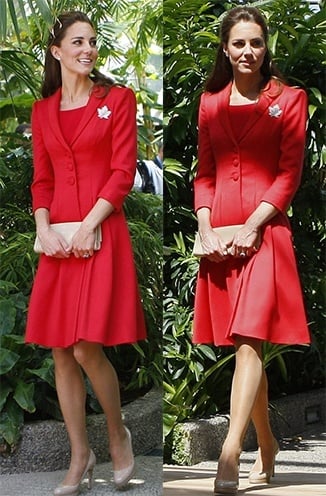 Bafta Gala, Hollywood, July 2011
The princess opted for an Alexander McQueen gown to attend the Bafta gala, the same year. Walking the red carpet in a pair of Jimmy Choo heels, Kate managed to outshine Hollywood's A-listers at the event.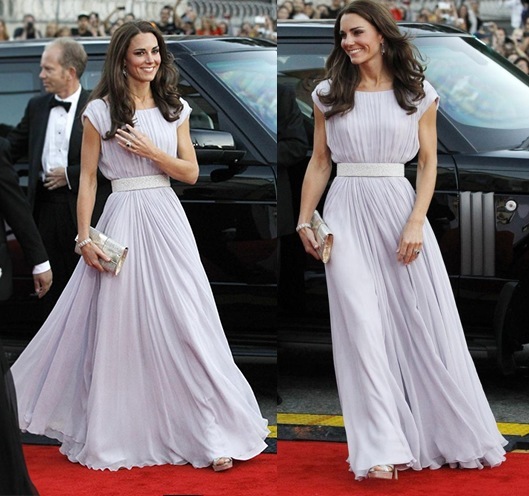 Sun Military Awards, Dec 2011
With both the British princes on either sides, the princess entered the venue of Sun Military Awards in yet another showstopper by Alexander McQueen. The velvety fish tail gown in black was true to her size and sat on her perfectly.
[sc:mediad]
On The Royal Tour Of Australia, April 2014
After Kate rocked this L.K. Bennett blue poppy-print knee length dress at the RAAF Amberley during her Australia visit, the number has been worn by Hollywood celebs like Mindy Kaling and Uzo Aduba. Wow! Someone is inspiring Hollywood. Do take a note of that blue pumps, because the princess loves them enough to wear them quite occasionally.
Pregnancy And Motherhood
Pregnancy and motherhood didn't take away the fashionista dwelling inside the young princess. As a matter of fact she gave a whole new meaning to pregnancy wear. The Dalmatian-print Hobbs dress and the polka dot dress were the absolute cravings of any expectant woman during early 2013. Kate again turned to her favorite Alexander McQueen for the chic cream dress for baby George's Christening.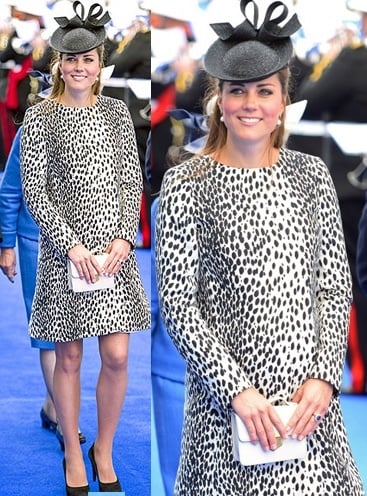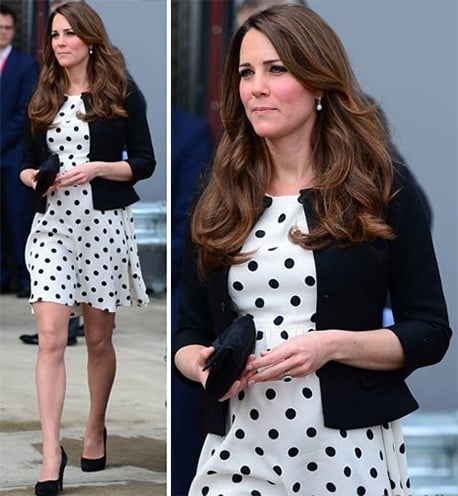 Girl In That Skirt
When Kate Middleton doesn't have to get dressed royally for high profile events, like any other girl on the planet, she nurtures a love for skirts. She has been spotted rocking plaid, printed and solid skirt with decent hem length while walking the street.
[Also Read: Kate Middleton and Her Coat Style]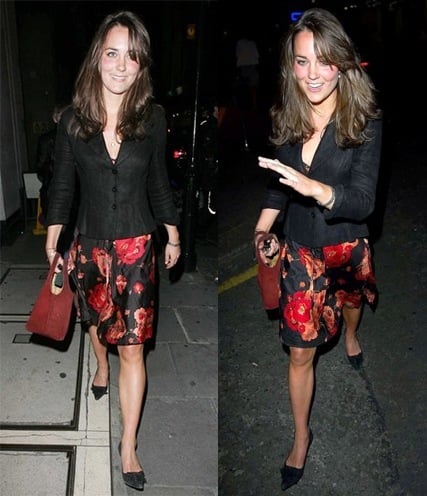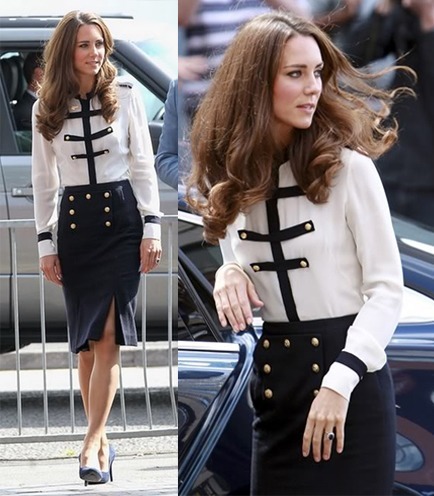 Love For Florals
So if there is one, just one thing that I have in common with the princess perhaps it is the floral affair. The duchess displays some girly floral patterns on her royal silhouette whenever occasion permits.
[Also Read: Conservative Clothing]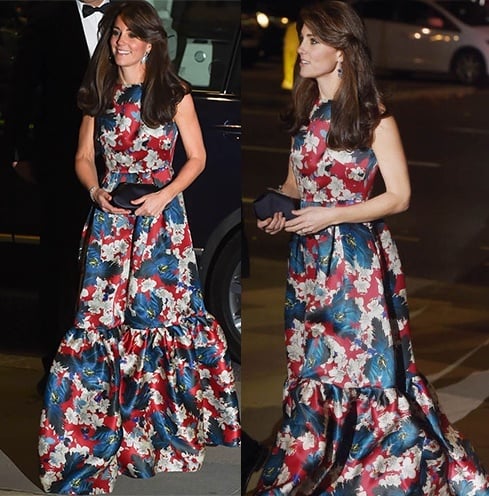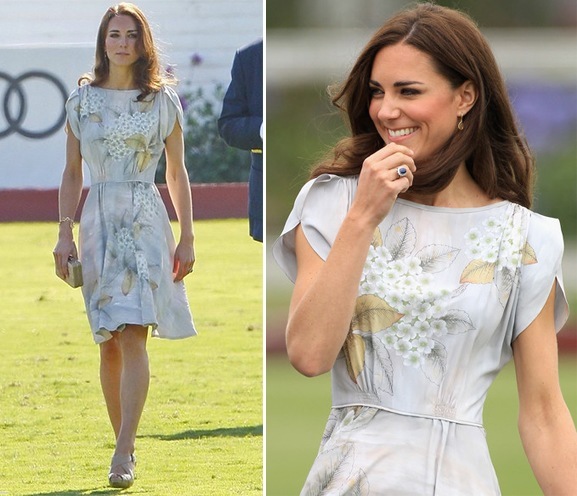 Smart In Denims
Kate has been kind enough to the commoner's daily wear even after rising to royalty and slip into a well fitted pair of denims quite often. Her personal style of denims are those skinny pairs, and she teams them with a blazer to protect her from European cold with closed shoes or high boots.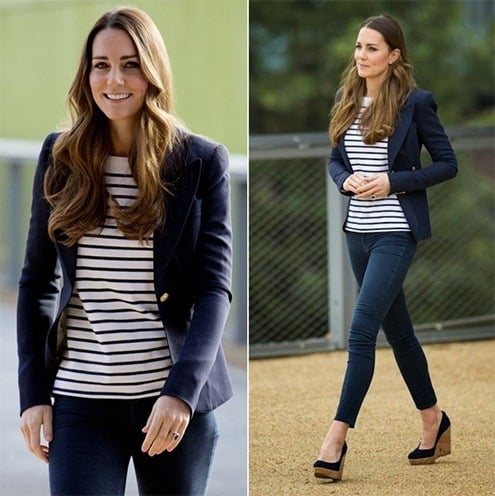 As I walk through the look book of Kate Middleton, I so want to become Kate Middleton right now. To be honest, I don't really have the hearts for Prince William, but for that closet, I really want her life. Do let me know if you share the same though as mine.