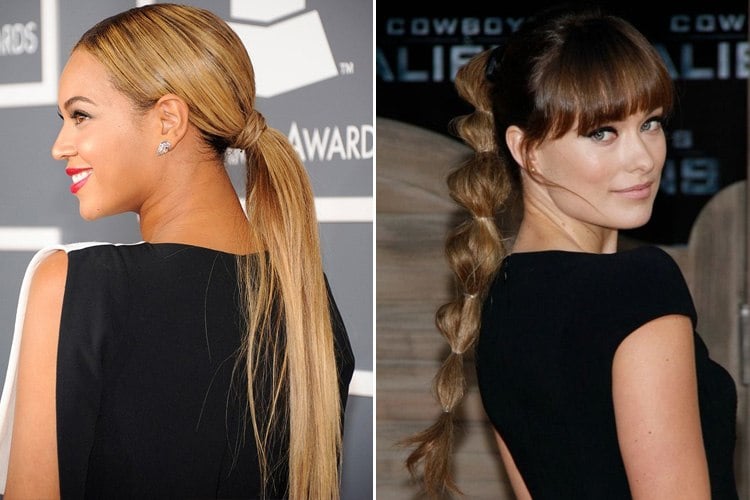 Ponytails are the easiest way to let your hair up! So, if you are having a bad hair day, or a greasy hair day or you are lazy to comb your hair, you can just get some stylish ponytails and you are good to go! That's the thing with ponytails, cute easy ponytails are so easy to recreate that you can copy them from any tutorial available on the internet.
Ponytail ideas are a plenty on the internet. Every DIY site or beauty blogger's site will give you tips on ways to wear a ponytail and rock a ponytail look. We have scoured the beauty ideas and picked up the best looks for you. Try these out and let us know which one you liked the most!
[Also Read: Pretty Ponytails: Different Ways to Wear a Ponytail]
HOW TO LOOK GOOD IN A PONYTAIL ACCORDING TO YOUR FACE SHAPE
Best Ponytail For Your Face Shape:
Even though women hardly mess up their ponytails, a lot of women get confused on which would be the best ways to wear a ponytail. The kind of ponytail you would want will depend on the kind of face shape you have. So, here is a roundup of ponytail ideas that will look good on different types of face shapes:
1. Ponytail for a Round Face
Round faces usually have most of their roundness on the cheeks. So to create and illusion of a longer face, you will need to tie your pony high up. The higher you go, the better, because it will create that elongating illusion. Even bouffant and puffs look nice when you have a round ponytail.
2. Ponytail For A Heart-Shaped Face
A heart-shaped face will usually have a much wider forehead and narrow chins. To conceal the wide or big forehead, you can easily have bangs or a layered haircut. Use a mid-height pony and leave a few strands of hair on your forehead to create an illusion of a smaller face.
3. Ponytail For A Square Face
Though we love a strong jaw on a woman, sometimes, you would just like to go a little softer. This is where you can bring your ponytail to use. Instead of laying your hair limp and flat, you can use layered bangs to frame your face and bring in a much softer look. Your wide cheeks will be successfully camouflaged with some rightly placed layers.
Now that you know what kind of ponytail suits your face the most, here are some amazing and cute ponytails and how to do them.
HOW TO LOOK GOOD IN A PONYTAIL?
1. Knot 'em Up
You don't have a scrunchy? Not to worry because this hairstyle has got you covered. Yes, in order to know how to look good in a ponytail, all you need is your hair! Divide your hair into two equal sections and then knot them up. Follow the instructions in the picture to get the right style:
Wavy Ponytail
Another very easy ponytail hairstyle, this one requires you to first spritz those oily roots with a thickening spray or a mousse. The next step is to gather all your hair at the highest point of your head and use an elastic rubber band to secure it. Take out some pieces from the top of your head to make your pony a little undone. The more chunks your take out, the messier and cooler it looks!
Add some French Braids To Your Ponytail
Braids look perfect for those who have a lot of small and flyaway hair. It works well even when you have frizzy hair and helps to keep the hair in place. Take out a chunk of hair from near the top of your head and start braiding it from one point to another. Now use a scrunchy again to secure that braid into place and tie a ponytail. Tada! You are done!
There you go with some easy and cute ponytail hairstyles that don't even require accessories. Just tie up your hair and you are good to go!