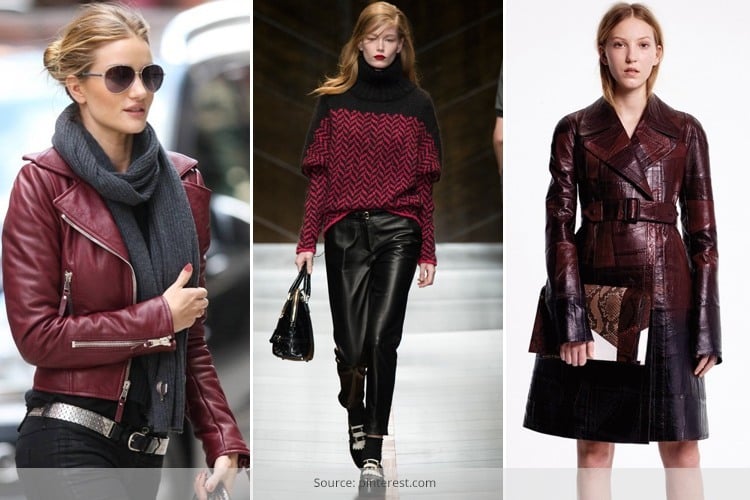 It's getting a little dark and cold outside. Time to warm up yourself in the evenings. A cup of coffee comes of great help when you come back from a hectic work schedule. Your hair might be untidy and disordered and your clothes might be crumpled a bit. But your leather skirt might still be the one looking haute and desirable.
Out of all the fabrics making news in the fashion circle, leather is the cool, trendiest and sophisticated lot. But most women are heard saying "it's too hi-fi for me".
With the most universal of all materials used from jacket to sole, leather can only be applauded, not hidden somewhere in your wardrobe.
Time to look at Leather Fashion – The Trendy Leather Jacket, Leather Pants, Skirts and More
The real challenge comes when you have to style your faux or real leather. We take you through some of the cool, hot and happening options in leather wardrobe to follow and emulate before your next door fashion hottie walks away with the limelight.
Leather The Jacket
The prima donna Madonna has often been spotted in leather jackets in her concert shows. That has made her redefine this leather prop as a fashion statement! The chic uber appeal of a leather jacket makes it a must inclusion in the wardrobe of teenage girls.
Sport the Cool brown and black leather jackets for women with denims or flaunt it at an evening party and both ways you would rock the limelight. In fact, a leather jacket might not need you to work more on other fashion accessories you have an eye on. But yes, you can stock other colours too, such as dark green or dark blue if you wish to look a trendy diva.
Walk The Leather Pant
If great figure is by your side, then don't shy away from flaunting it. Leather Pants can be one of your better halves when it comes to sporting leather fashion. Most of you might get a feeling that it looks a bit shouty but that's not the case. You just need to balance it off by sporting minimal make-up and accessories.
[Also Read: Innovative Ways to Style Leather Pants]
Trendy Leather Belts
For heavens, don't treat a belt as a utility item but a cool fashion accessory. Few of your boring denims in your closet can look oh-so-sexy when you put on old style designer broad belts. They will make your outfit get that style edge.
Skirt The Leather
College campus or ramp, there is nothing sexier and haute looking than leather. Leather skirts are surely versatile in style. Strut around in the retro dress, or look the glam girl; or put on a sporty luxe impression in black, leather skirt can make you the 'it' girl in no time. You will love the cool sultry look it gets you. Wear best leather skirts to workstation and weekends and everyone will complement you for putting this fashion trick up your sleeve.
[sc:mediad]
With autumn not very far off, pair your leather skirt with ankle boots, blazers for office wear or trench coat. Fashion accessories such as statement necklaces & rings would amp up the leather skirt look.
Booting Up Leather
Not always do high heels carve an impressive look. Leather boots prove to be handy when it comes to making a fashion statement in winters. Lot of carving and etching has been done on the leather boots to suit varied tastes.
Fur liner has come to be a cool dominating style for winters especially. But whatever said, match your leather boots with mini-skirts when it comes to your party jaunts.
[Also Read: Tips To Make Your Clothes Look New]
Leather Bags For Women
There is always an urge in the teenage girls to go for cheap and pocket-friendly PU handbags. But leather is always leather – strong, durable and extremely fashion-centric!
So break your fears and apprehensions of buying monotonous hues in leather handbag and go for cool vibrant colours, leopard prints and monochromatic hues. All these are just apt to position you in the fashion fraternity. The teens can even carry long handle shoulder bags to complete their fashionista look.
[Also Read: Most Expensive Handbags]
Remember leather comes up as a fashion accent, and it gives garments a stunning shape and a high-fashion feel. So, embrace leather and start a cool new fashion cult this fall.
Hope this article on leather fashion is helpful.