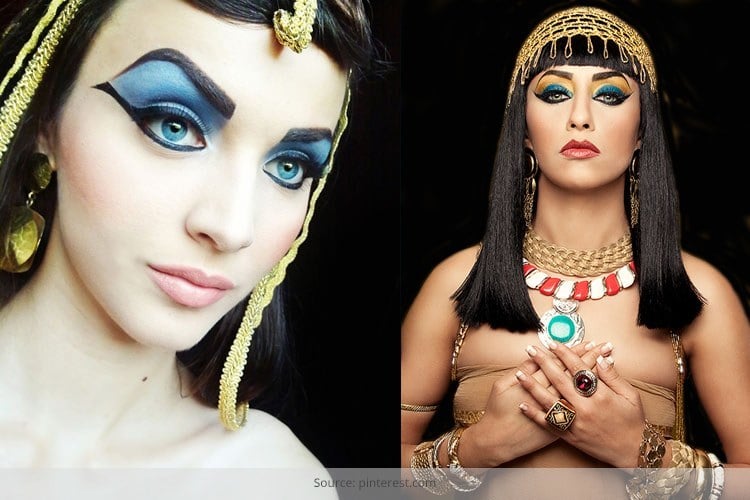 History remembers Cleopatra as the most beautiful woman to have ever walked on earth. And Cleopatra Makeup is as legendary as the popular River Nile in Egypt.
Does that mean we leave Cleopatra's magical eyes and makeup to the confines of textbooks and literature? How can millions of women hope to follow Cleopatra's master techniques in looking a stunning queen?
[Also Read: Ancient Beauty Secrets of Cleopatra Revealed]
Get Ready To Practice Cleopatra Makeup Tutorial Before You Step Out For Your Evening Do's
Here we unearth her makeup secrets that she held close to her chest. how to do Cleopatra makeup, as you will see, is simple to follow and an absolute winner.
In order to get the stunning Cleopatra makeup look, you need:
A good quality base
Concealer
Foundation
Face powder
Brushes
Eye shadows (cream, gold or blue)
Black eyeliner for eyes and eyebrows
Blush
Lipstick or gloss (as per your preference)
How To Do Cleopatra Makeup
Here is the stepwise pattern on How to apply Cleopatra makeup:
[sc:mediad]
Step One – Face
The first thing to do is to wash your face clean and perfectly. Having done that, put on a moisturising cream, follow it up with a makeup base and a good concealer to hide dark circles under your eyes and nose area. Now apply a quality foundation on your face, necklace line (and don't forget to apply foundation on your cleavage too). If you have oily skin or pesky problems like pimples or blemishes, then apply a face powder.
Step Two – Eye shadow
Now is the time to apply eye shadow. Start it by dabbing cream eye-shadow on the eyelid area and then highlight your lovely eyes with stronger colours such as gold and blue. This will help create the perfect Cleopatra makeup look.
[Also Read: Easy Egyptian Make Up Tips]
Step Three – Eyeliner
It's time to put your black eyeliner into action. Start off by drawing a straight line along your upper and lower eyelashes. Continue drawing the line on the upper eyelid without stopping at the outer corner of the eye. Give a finishing touch by making the line into a tail to acquire a dramatic makeup.
Step Four – Eyebrows
It's Eyebrows time now. As a part of Cleopatra makeup facts, you need to accentuate your eyebrows. In order to do that, you need to use a special eyebrows pencil or a blush, but it should be closer to your eyebrow colour. Don't press the eyebrow pencil too much, or exaggerate. Just start out at the inner corner of your eyebrow and keep going along the brow line till the time you have reached the outer corner.
Step Five – Lips
Why leave your lips? After all, it is the most important asset of your face. As a part of Cleopatra Makeup, you need to put on a lipstick or gloss, whichever you prefer, in warm and natural shades. They can be rose, beige, peach or cream. But if you prefer putting on a gloss, then a transparent one would be ideal.
[Also Read: Runway Makeup Looks]
Step Six – Cheekbones
Your cheekbones need to be highlighted too. You can acquire it by using a brown or pink blush, in order to look fab.
Mastering the makeup of stunning and mysterious Cleopatra is easy. You just need a bit of expert hands and tips shared above in order to understand how to apply Cleopatra makeup.
Try out Cleopatra Makeup and let us know how it helps you become the center of attention.