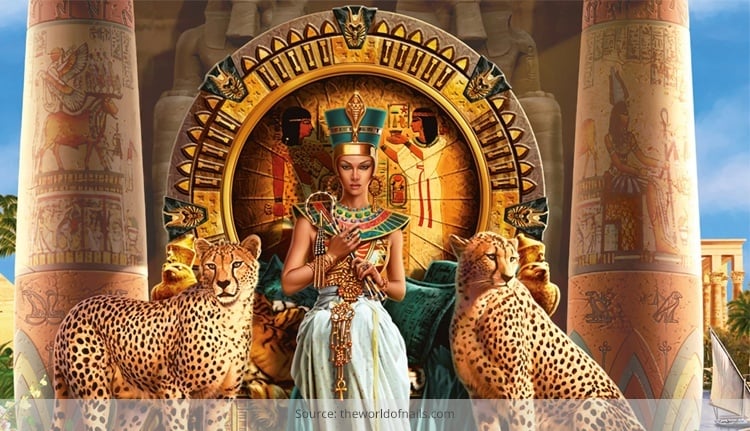 Travel back to 5,000 years and you will find it a mysterious era. It is when the kings and queens looked 'manly' and 'deadly' respectively, if you know what we mean.
Beauty is one such aspect that has come a long way. But the ingredients and concoctions that dear Cleopatra used at that time are unique even today.
[Also Read: Hollywood Beauty Secrets Unveiled]
Cleopatra has been the most famous, beautiful and iconic figure in the ancient medieval period. How could she turn heads of so many men at that time? Was it something to do with the food she ate, the air she breathed, the water she drank or bathed in or the powder she put on her face?
We all know Cleopatra was beautiful and intelligent. She could dance and play instruments, had an amazing voice, but she was pretty good in seduction too. This is one possible reason why she loved herself and knew how to tap the beauty secrets of her time. One of the interesting tricks she used was to sleep with a golden mask on her face. That was then! But even today there are tricks, affordable enough, that will give you the skin confidence and beauty of Cleopatra. Here is a run-down of Cleopatra beauty secrets, that made her look the reigning beauty queen that she was.
[Also Read: Homemade Beauty Products]
Bathing with Honey and Donkey's Milk
This one might surprise most of you. Cleopatra used crocodile's dung and young donkey's milk and mixed it with fresh honey and almond oil to use as a Body Wash. While travelling, she used to take few donkeys along, just in case she might feel the need to take a bath.
Yes, it takes guts to do what the beautiful Cleopatra did. But what you can do is adapt this approach to your comfort.
In order to prepare this bath type, mix half cup of honey with 3 cups of milk. Now add 5 tbsp almond oil (or olive oil) and pour this liquid into your bath to enjoy gentle, soft and pampered skin!
Sea Salt as Body Scrub
There is so much to do to look the ultimate beauty. Using the same formula of milk and honey bath (as mentioned above), Cleopatra's servant attendants used to massage her body with an amazing body scrub.
[Also Read: Homemade Exfoliating Body Scrubs]
They mixed 2 tbsp sea salt with 3 tbsp thick cream, and then gently rubbed it on Cleopatra's body in circular motions. After 5 minutes, they rinsed it with warm water. This scrub gently exfoliated her skin and made her body feel soft and heavenly.
Body Sugaring
This was a technique used by the beautiful Cleopatra in order to remove her body hair. As compared to conventional waxing, this method is less painful. Exfoliation is the added benefit that this recipe gets, which helps say goodbye to skin irritation.
[sc:mediad]
DIY Sugaring Wax and How to Use It
Rose Water as Facial Toner
Using facial toner was dear to Cleopatra. Every morning and evening, she used to wipe her face with rose water.
This natural toner hydrated and nourished her skin making it soft and smooth.
In the cruel summers, you can spray rose water on your face to get a thanda effect on skin. In fact, you can also use rose water in place of the makeup primer. This will make the foundation on your skin glide easily and smoothly.
Beeswax as Face Cream
The cosmetic market is flooded with face creams. Cleopatra used a special face cream that had oils, herbal juices and beeswax.
To make this cream, you need the following ingredients – 2 tbsp aloe vera juice, 4 drops rose essential oil, 1 tbsp almond oil, 2 spoons beeswax.
First of all, heat the beeswax and almond oil till they turn liquid (make sure you don't boil it). Now add aloe vera juice and rose essential oil and mix it thoroughly. In fact, as an option you can also add vitamin E capsule into your cream. Let the cream cool down, transfer it into a glass container and keep it in your refrigerator. No need to worry as this Cleopatra-inspired face cream can last for more than a week.
White Clay as Facial Mask
Beautiful Cleopatra was very particular in choosing ways to look gorgeous. One of her close-guarded secrets was the preparation of facial masks using white clay. Here's how to make it.
Pick white clay, honey, milk and olive oil (or almond oil). Mix 2 tbsp white clay, 2 tbsp milk with 1 tbsp honey and 1 tbsp olive oil. Apply this on your face and let it rest for 10-15 minutes. Rinse it with water. Make the white clay mask in such a quantity that you can store in it in the refrigerator for few days. You will notice refreshing and amazingly looking skin.
[Also Read: Clay Masks for Oily Skin]
Thick Cream and Honey as Hydrating and Nourishing Mask
When you use it like the way Cleopatra did, you will love seeing your dry skin turning into a juicy peach.
To get that effect, mix 2 tbsp unflavoured thick cream with 1 tbsp liquid honey. Apply it on your face and neck and let it stay for 10 minutes. Then rinse it with lukewarm water. This wonder mask will breathe a new life into your dull and dry skin.
Egg as Natural Shampoo
Does an egg for beauty purpose ring a bell? That's what Cleopatra used to make her hair soft, beautiful and luxurious.
All you need to do is wipe 3 eggs with water and wash your hair with this natural shampoo and rinse. See the glossy shine spread through your hair.
Warm Oil Treatment
Deep conditioning treatment on hair was Cleopatra's favourite, as that made her hair shiny and silky. But she was equally open to the warm oil treatment. Like to know how she did?
You need to first mix 2 tbsp olive oil with 2 tbsp castor oil. Warm up the oils over low heat temperature before massaging them into your scalp. Now put on your shower cap and towel, wait for 30 minutes or more depending on your comfort factor. Follow it up by washing and conditioning your hair. Oil treatments prove to be very good for hair when done regularly.
So this is the beauty recipe box of beautiful Cleopatra, the Queen of the Nile. Follow these tips and get closer to what she looked like once upon a time.