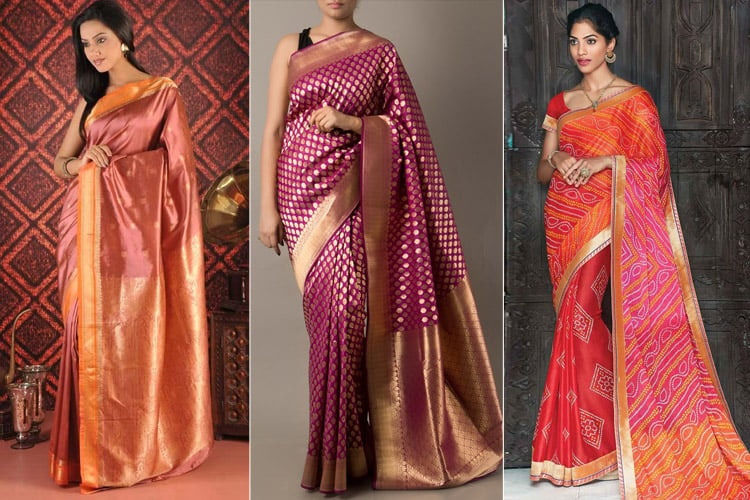 If you are a saree freak, then these saris are surely going to give you a high. Same saree patterns and weaves over and over again can become monotonous. Variety is the main thing that keeps itching our fashion nerve. So these different saris and their exquisite colours are sure to impress you in the first go!
[Also Read: Here's Everything You Need To Know About Designer Sarees]
There are many sarees that exist : plain sarees, synthetic sarees, printed sarees and designer Indian sarees. While you'd love to wear a designer saree more often than not, the occasion and budget need to be kept in mind. These multitude of sarees are going to quench your designer craving thirst.
Types Of Indian Sarees
Each Indian state has its own specialty. Let us browse through types of Indian sarees. It will widen your knowledge of different types of sarees and names and help you make a better selection.
Sarees To Indulge From North India
There is never an edn to the north indian sarees. Some of the ornate sarees that hail from north India include tanchoi, tissues, shikargarh brocade and amru brocade.
Tissue sarees are woven with the finest silk thread. Coming to Jamawar sarees, belonging to Uttar Pradesh, it is the zari thread embroidery in it that makes them stand out. The signature touch in Jamawars is the jacquard weave that's done in bright colours such as red, orange, and green.
Organza or Organdy is yet another popular variation of Uttar Pradesh. The fabric is light and transparent. Organza sarees with embroideries are found in Lucknow and Kanpur. But who can forget the eternal Banarasi Brocade and Kota of north India?
[Also Read: Bengali Sarees]
1. Banaras Brocade
Tell us of one single Indian woman who doesn't long to wear a Banarasi on her wedding day. And this wish extends from a social celeb to the common lady. An integral part of north Indian sarees, Banaras brocade came into existence during the Mughal era. Most of the designs are influenced by them in the form of floral and foliage motifs, bel and kalga.
Yes, there is a signature version to Banarasi Brocade – Jhaalar which is a narrow fringe like pattern that makes the inner and outer border. This fringe is quite similar to a string of leaves.
2. Kota Jali
Kota is a famous place in Rajasthan that is popular for Kota Jali or Kota Darai sarees. Light-weight and transparent, these sarees are made in small villages in and around Kota. Being airy in nature, they are ideal for summers and drape around you gracefully. The weaves have different yarn gauges creating a checkered graph like pattern called 'Khats'. Besides the cotton version, you can also experience Kota in silk.
[Also Read: Plaid Fashion]
Sarees To Pick From South India
There is never a dearth in the range of South Indian sarees. There are Mysore crepes, Pochampallis and Puttapakshi sarees too for your wardrobe. Nayayanpets and Bavanjipets are wedding sarees from Kerala that have a golden border on a cream base. Two of the all-time popular sarees include Konrad and Kacnheepuram saree.
[Also Read: The Shimmering Effect Of Mysore Silk Sarees]
1. Konrad Saree
This is a specialty saree from Tamil Nadu. Also known as Temple Saree, it used to be draped on the Gods and Goddesses in the temple. The striking part about Konarad saree is the wide borders and wedding-inspired motifs that form an integral part of its design. Motifs such as peacocks and elephants symbolise water and fertility.
Konrad south Indian sarees are normally found in earthy shades of browns, off-whites and grays.
2. Kanjeevaram Saree
This is a type of south Indian sarees that is not only popular in India, but also across the world. Kanjeevaram or Kanchipuram sarees stands out owing to its gold dipped silver thread that is woven on the silk. Known for their durability, the silk base of these sarees is thicker than any other silk saree. Peacock and parrot is a common design motif found in Kanjeevaram sarees.
[sc:mediad]
Sarees To Choose From East India
1. Baluchari Saree
This 5 yard saree from West Bengal's Murshidabad district comes in bright colours such as flame red, purple and deep blue. Made of silk and woven on looms, Baluchari sarees are 200 year old. Interestingly, these sarees depict tales from Mahabharata and Ramayana epics. The field of the Baluchari saree has small butis, and a floral design runs across the edges.
2. Taant Saree
The word 'Taant' means "Made on the Loom". So you can imagine the beauty of this Bengali masterpiece popularly called Bengal cotton. That is why, its the first love for cotton lovers. Taant saree stands out for its diversity and uniqueness in colours and appearance.
3. Kantha Saree
The name Kantha is associated with the embroidery, not the fabric used in the saree. Kantha embroidery is all about decorative motifs with running stitch. That is why the cloth has running stitches all over and has lovely floral, folk, animal and bird motifs. Kantha art keeps rural women of West Bengal engaged, leading to wonderful sarees that shows their hard work and labour.
4. Bomkai Saree
Also known as Sonepuri sari, a Bomkai saree is a unique woven sari from Odisha. The original weaving is made in low-count cotton yarn which is generally heavy, coarse and dyed in intense colours.
[Also Read: South Indian Wedding Sarees]
5. Sambalpuri Saree
Sambalpuri or 'Ikat' is the pride of Odisha. This pure handloom sarees is available in cotton, silk, and Taussor.
Sarees To Select From West India
1. Bandhani Saree
This famous saree popular in Rajasthan and Gujarat involves tie and dye technique. Also called 'Bandhej', it involves plucking the cloth with the fingernails into several tiny bindings, that end up forming a figurative design. A Bandhani saree stands out for its unique and colourful look which makes it apt for the Indian summer.
Now get dressed in these iconic sarees and let everyone know your love for the Indian loom.