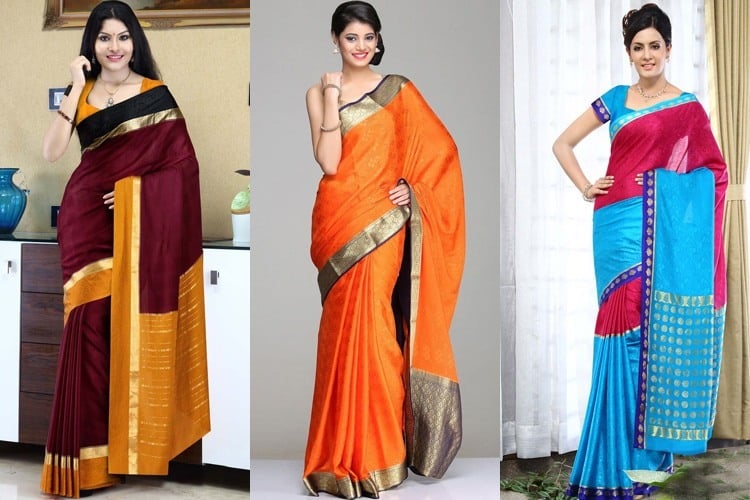 It's difficult to separate a woman from silk. This is one fabric that makes her look elegant and gorgeous in a matchless way. And when the silk comes from Mysore, you can put two and two together.
[Also Read: How To Maintain Silk Sarees]
Mysore is known for its royal heritage. So it's no surprise that the silk coming from Mysore reflects the splendour and tradition of Mysore. The silk motifs are so awesome that they are an honest tribute to the ancestry of Mysore.
Mysore Silk Sarees are manufactured in Mysore itself. A factory was set up in 1912 to meet the apparel needs of the royal women of Mysore Palace.
In the starting formative years, the factory unit had 10 looms which gradually increased to 44 looms. Interestingly, the looms and the machines were sourced from Switzerland and were the first of its kind in India at that time.
After India got Independence, it was the Mysore State Sericulture Department that took charge of this silk weaving factory set up.
It was in the year 1980 that the factory was handed over to a Govt. of Karnataka enterprise called Karnataka Silk Industries Corporation Ltd. (KSIC). The World Bank pumped in money to the tune of Rs 27.30 crores to support the factory's modernisation and expansion plans.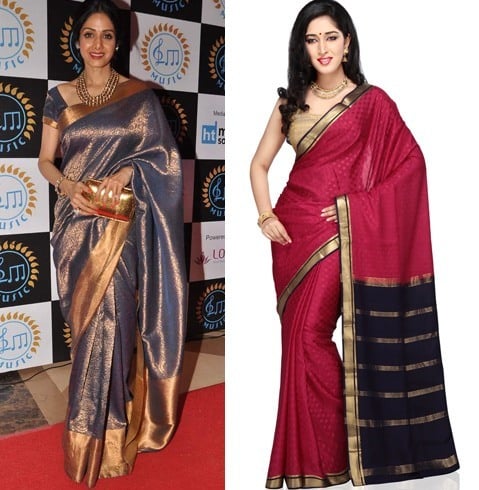 [sc:mediad]
Mysore Silk Sarees Patterns
The variety and range of Mysore silk is truly vast. In mysore silk sarees patterns, you get to pick crepe, semi crepe sarees, zari-bordered printed crepe silk, and georgette sarees.
Printed or dyed, these sarees give you a colour canvas of more than 100 colours. Such is the strength of pure zari on the Mysore Silk, there is no way it will get tarnished even after repeated wear. In fact, KSIC provides guarantee through an embroidered code No., which is unique to each saree. There have been times when women have got the Mysore Silk melted in order to use the gold in it.
KSIC – Weaving Magic In Silk
KSIC is an institution that produces Shimmering mysore silk saree for over seven decades. That's why you can expect 100% pure silk decorated with pure gold zari. KSIC looks after the entire production of Mysore Silk Sarees, right from the rearing of the cocoon to silk weaving.
Talking about the number game, KSIC has been able to produce nearly 115 designs and 300 colour shades in its entire repertoire.
What has further added to the aristocratic look of the Mysore silk fabric is a range of new patterns and colours, saree embellishments of 'kasuti' embroidery and thickly woven pallus.
[Also Read: Blouse Designs For Silk Sarees]
A certified ISO 9001-2000 company, the KSIC took the initiative to launch new designs developed by NIFTian trainee Ila Dhulipala. Not just this, KSIC has also tied up with NIFT Bangalore to design and develop sarees, salwar suits, stoles and many more items.
Under Intellectual Property Rights in 2005, Mysore Silk Sarees have been registered as Geographical Indicator.
Being the oldest silk factory, it produces approximately 4 lac meters of Shimmering mysore silk saree on an annual basis.
Talking of mysore silk sarees patterns, the craftsmanship and quality is truly unmatched. Inspired by history, you can see a reflection of South Indian motifs in Mysore Silk Sarees.
What Makes Mysore Silk Saree Stand Out
Unlike other South Indian sarees which are usually heavy, Shimmering mysore silk saree is light and super light.
Minimalist in design with zari border and booties, Mysore Silks are the center of attention with contrasting borders. What makes them look extremely special is a combo of purest silk and 100% pure gold zari that has 65% silver and 0.65% original gold.
The best part about these traditional sarees is that they can be worn in any occasion be it Mehendi Rasam or Pujas etc. In fact, nowadays, Mysore silks are available as office wear too.
[Also Read: Different Ways To Use Your Mom's Old Silk Saree]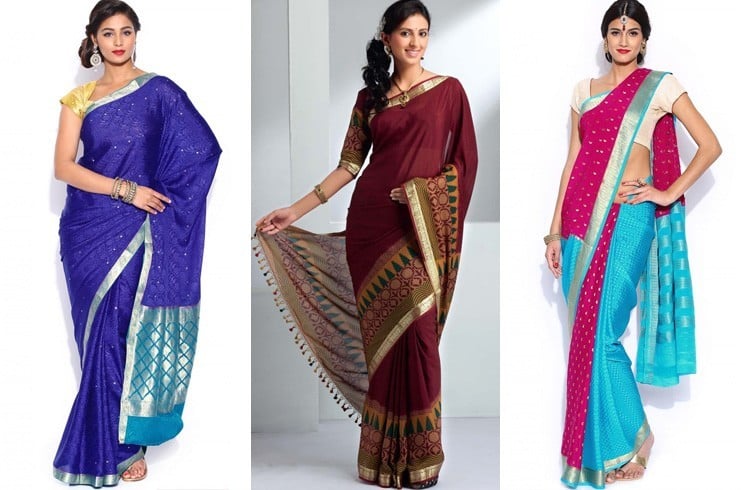 In order to complement this silk saree, mysore silk saree blouse designs are there to give you the option of designer cuts and sleeves. All in all, with a Mysore silk, you wear a fashion statement that accentuates your beauty and persona.
So get ready to adorn this enigmatic piece of silk and let the whole world know your refined taste.