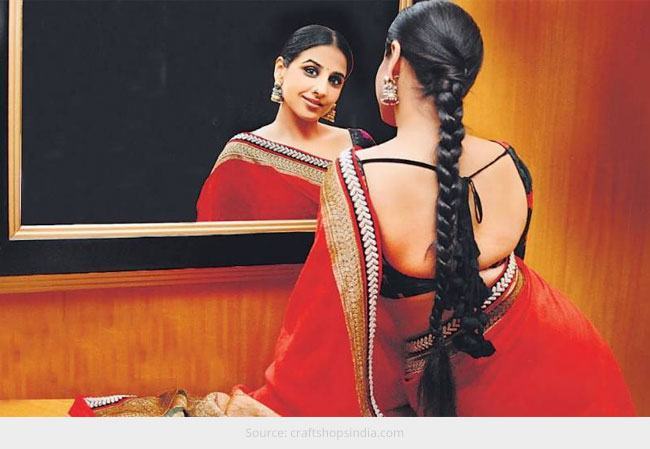 A saree is one of the most sensuous and versatile garments in the world. It is hard to find a lady who can not look good in a saree. Sarees has become so popular that it is being flaunted by celebrities and fashionistas all over the world. It is only fair to give the respect that this gorgeous drape deserves – all you've got to do is wear it right. As the wedding season is here, it is a busy time for the fashion police picking out the worst saree moments. And here are 8 common mistakes committed while wearing sarees. Take a look and make sure you are not on the list of repeated offenders:
Footwear fail
A good example for this is Ekta Kapoor – how does she manage to get the wrong shoes on, whenever she wears a saree? Chunky wedges and slippers are a no-no with sarees. Avoid boring flats too. I understand if you are tall – but then try kitten or block heels rather than going all flat. Sarees are graceful and a good pair of heels can do all the justice to this gorgeous outfit. So, keep your cute ballerinas and sparkly flip-flops away from your saree collection.
Too Much bling
A saree is a statement in itself – be it a stone studded zardozi embellished drape or a light-weight style with lace trimmings. Over-accessorizing a saree is a big fashion disaster – unless you are looking for a job in the saas-bahu serials. So, keep it minimal – one statement necklace or earrings with a couple of bangles or a bracelet is enough to style your saree for a wedding. For much casual events, stick to pearls or beads.
Bagged
You are not going to go on a great adventure, draped in those heavy silks – are you? So, why the humongous bag? I mean, what have you got in there – a whole library to read when you get bored at whatever event you are attending? Sling bags, totes, large handbags, backpacks are all wrong with a saree – no matter how stylish they are otherwise. Stick to clutches and minaudieres while going out in a saree. Show off the inner elegance in you!
Too tight – Too loose a blouse
Misfit blouses often spell the doom of your saree style, always! If it's difficult to breathe while wearing it or if it is showing off your bra straps – don't wear it! Some styles suit toned bodies only, so if you are not too confident about that, keep away from the delicate fits. Have your tailor attach a bra strap holder to your blouse. The blouse is crucial to your whole look while wearing a saree. So, make sure it's the right fit and compliments your figure.
[sc:mediad]
Flared Petticoats
Of course we have seen the Bollywood divas flaunt it with such ease and perfection, and we have been tempted. But if you are not used to wearing a saree or is short in height – no, don't try it. Flared petticoats can make it more difficult for you to manage the saree, unless you have good practise. It can also add to your figure and make you look shorter than you actually are!
Too many helpful pins
Wearing a saree is quite the challenge – after all it is one long piece of clothing held together by skillful draping and for some of us, a lot of luck. It's quite understandable when you use an entire packet of safety pins to hold it all together. But make sure these don't come peaking out while you are in the public. Even celebrities are victims to this embarrassing guest appearances put in by the tiny pin.
Makeup disasters
Some ladies we meet at weddings look like a makeup bomb just exploded in their face – you can almost distinguish several colors of the rainbow! Okay, so what if it's a wedding – unless you are the bride, why hog all the attention? And it's not good attention you are basking in,  mind you. A good foundation or BB cream with a dash of color on your lips and eyelids and maybe a bindi is enough to complement your lovely saree.
High- Low
Know where your waist is – it's right there, across that belly button! Some people have no idea where to tuck in those pleats and wear the saree too high like it's almost on their chest or too low that we expect it to drop down any moment. You may be tempted to show-off that washboard abs or not – but tuck in the saree at the waist and it is guaranteed that you will look good, irrespective of your body shape.
So, what was your offence? Kudos to you, if you didn't have one. And to everyone else who have been making these mistakes so far – time to make amends, ladies!