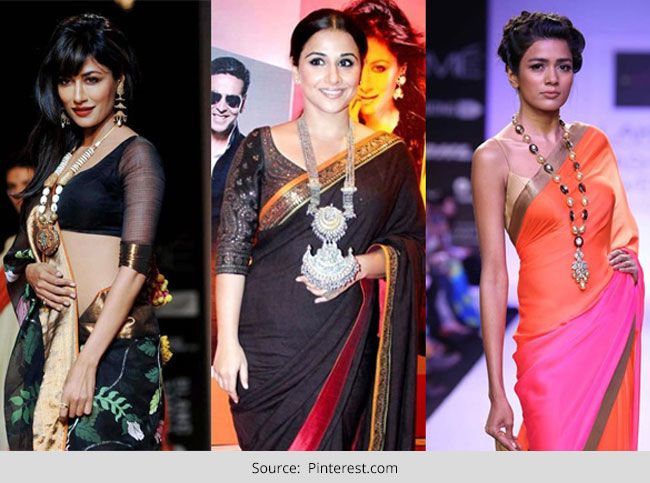 Our time honoured tradition of the saree has been our heritage since we remember. We've adopted the westerns in a big way, but it's those significant moments in our lives, we chose to wear the saree. Traditions dictated that sarees would be worn with jewels that were matching or that were conventional with the saree. But today we break rules to look mind blowing and striking than ever. It's all about making a statement today.
With celebrities sporting this "statement" neckpiece with their sarees, we decided to bring to you some ideas that would be useful to your saree wearing days. It's astounding how the same saree could be worn differently if paired with different accessories. Try it out and you'll know who to thank later.
From designer shows to red carpets to everyday people wearing a saree, this trend of wearing a note worthy piece of jewellery around your neck is a trend that is catching up. It's wonderful how multi faceted we can make the simple nine yards look.
[Also Read: Lace Saree]
Wear it like these ladies did, with blouses that go deep in front and necklaces that go deeper. Unlike the conventional necklace this one piece of jewellery is the perfect fit if you want to give the illusion of a longer neck. Looks best with a lower neckline that will give the statement piece its own space to look magnificent.
The saree gets re-invented with every drape or every style that you do differently. Try out this look with a belt as a part of your ensemble and big bold piece of jewellery around your neck. Try our different blouses with it, our pick is this t-shirt type blouse that's modern yet beautifully goes with the saree. Finish the look with a maangtika of a similar kind and chuck earrings to go different.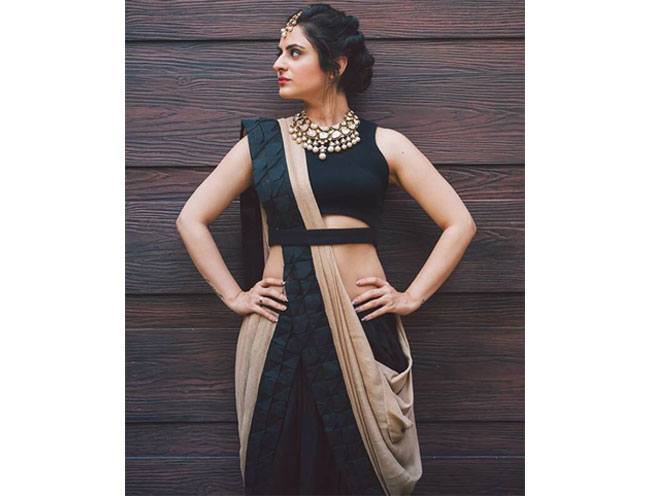 Bold and beautiful, these statement necklaces define the "modern" woman of today. It's edgy, classy and very artistic. Unconventional to say the least, these necklaces are unique and exclusive. Anyone who has a taste for jewellery that's speaks out volumes about your taste and style, get these where the jewellery does all the talking.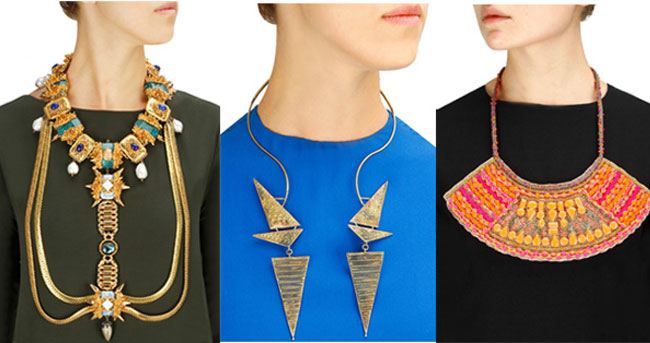 Like this one look is very bold and very attractive. You could go for the "seedha-palla" with strands of necklaces around your neck. Plain simpler colour saris will compliment this look well. Embroidered or printed or other heavy sarees could also do the deed but you have to be careful with how you style the entire look. The look should be balanced and very artsy.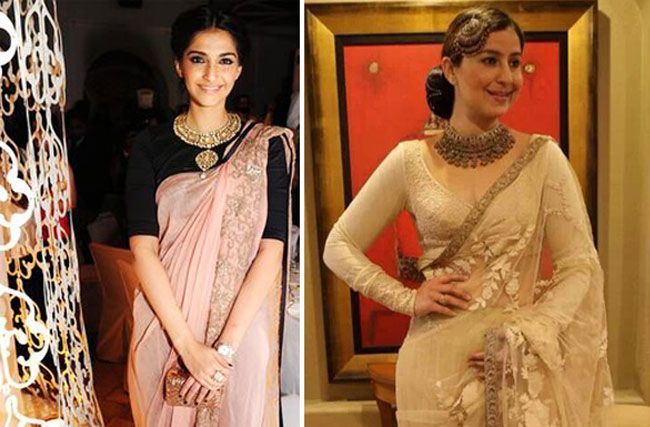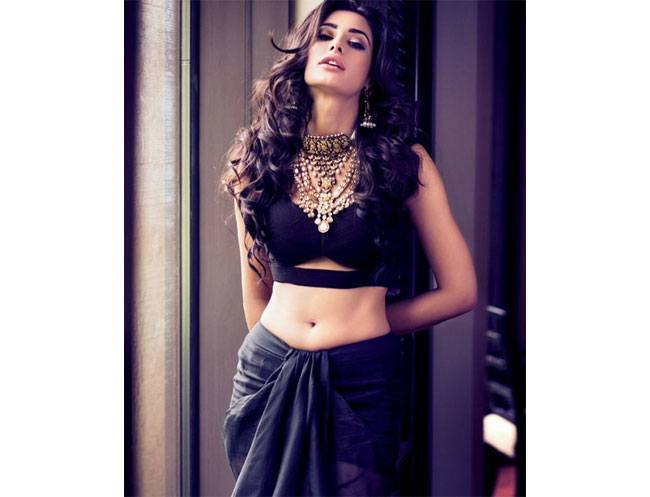 Statement necklaces can be pulled off really well on a silk saree or a handloom saree. Our epitome of saree styling is Kirron Kher who rocks every time she drapes one. Her style, grace, taste and her beauty shines bright every single time. May it be the ramp, the judging panel or just another function, this classy lady dresses it up absolutely brilliantly. Take tips from her pairing statement necklaces that have the tribal and sometimes the Indian touch.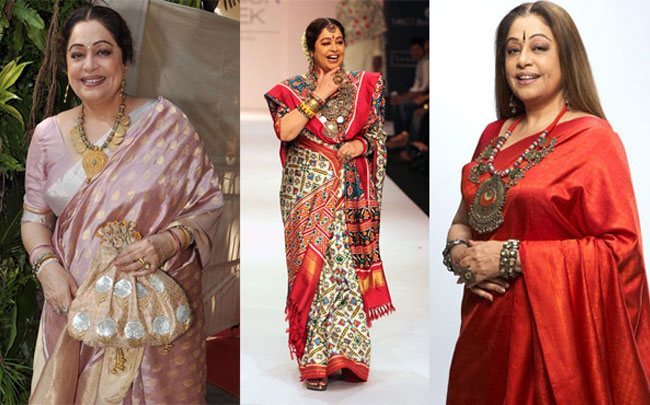 A high neck collar with a contrast colour saree and add to that a fabulous tribal kind neckpiece, it's wonderful to see how well the entire ensemble looks thanks to the statement necklace. So pop up your beautiful sarees with the neckwear that is stunning and speaks of culture somewhere. Go for impressive eyes and keep it low with the lip.
[sc:mediad]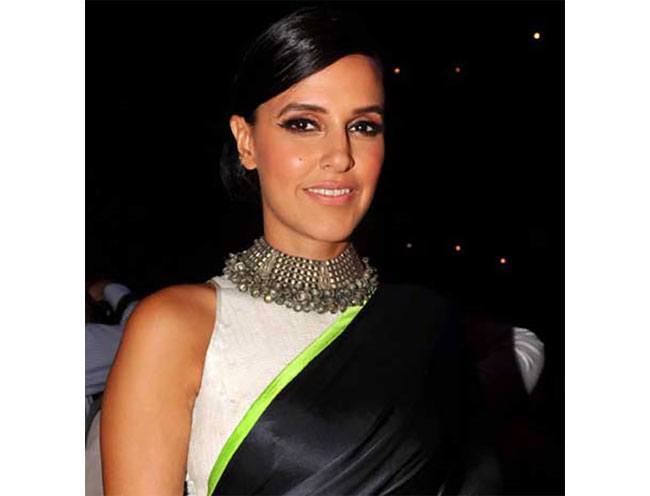 The stunning tribal necklace worn by Konkana Sen is another bold and statement piece to be worn with the saree. The colours match those of the saree and with the understated hair style and make up, this style looks elegant and very classy.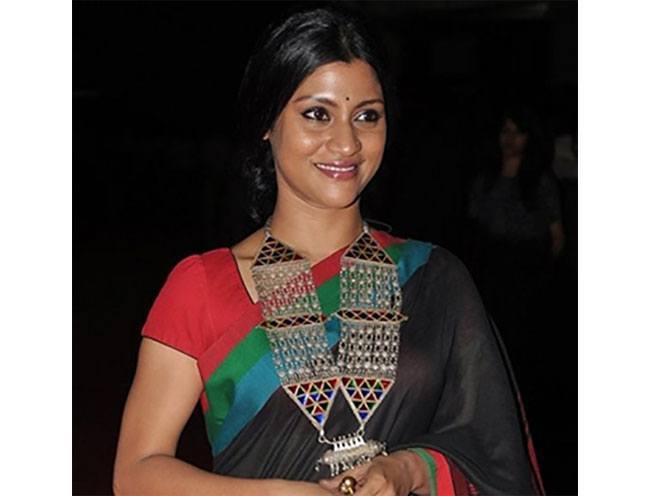 Necklaces with pearls or stones or different jewels hanging from it are another statement piece that you van pair with your lovely sarees. The contrast created in the picture is interesting and something that you can try too. The emerald green colour of the necklace compliments the lace fabric of the saree and makes the look fab.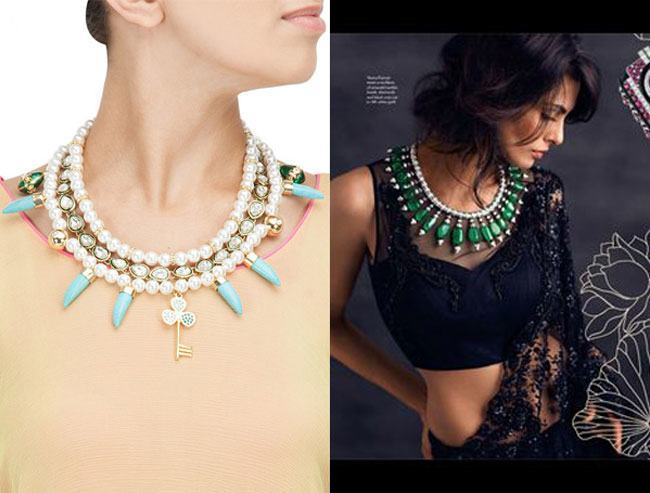 The beauty of the outfit is when you add accessories that not just compliment the clothing but makes it look like a million bucks. Here, the saree, the blouse and the accessories look so exotic and yet wearable. It's a stylish outfit with the bronze-ish jewellery and even bangles. Those chappals are the add-on's to the ensemble that complete the look so wonderful-ly.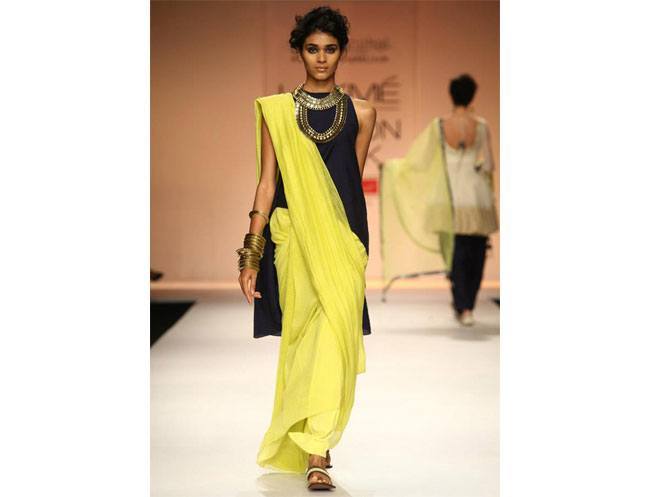 Look at the sarees and then at Sonam Kapoor, she has transformed the plain look to a look that is fashionable and party-like. By just pairing your outfit with some statement jewellery you can pump up your look and look this fabulous.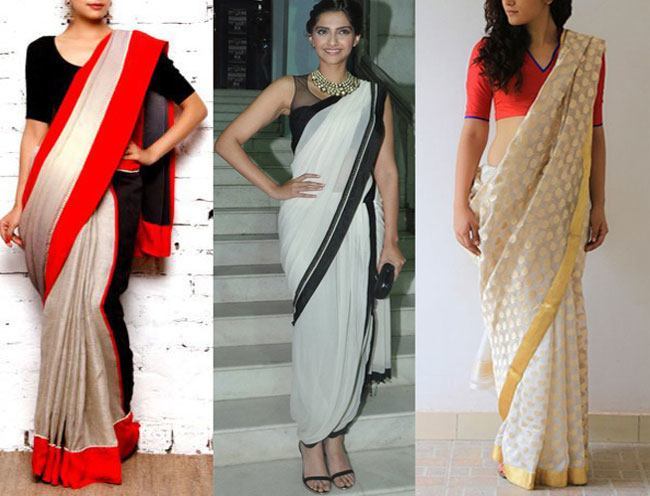 The round stones or beads are another necklace option that you may consider wearing with your sarees. Like Vidya Balan did, wear earrings that compliment your face and a neckpiece that just stands out from the entire outfit. You will find these kinds available to be shopped online or even at your favourite store that you pick junk jewellery from.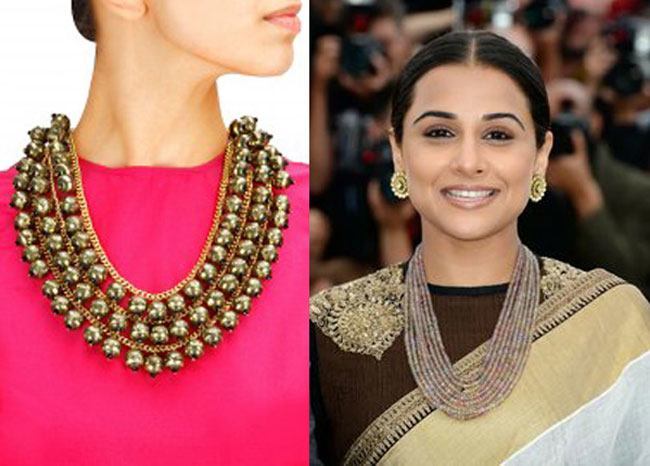 An off shoulder blouse and a subtle peach saree to go with the beautiful antique-looking necklace and earrings. Looks like the outfit was picked after the jewellery because we just can't take our eyes off of that. The hair and the lips go so well with the look that you have to try it out once for yourself.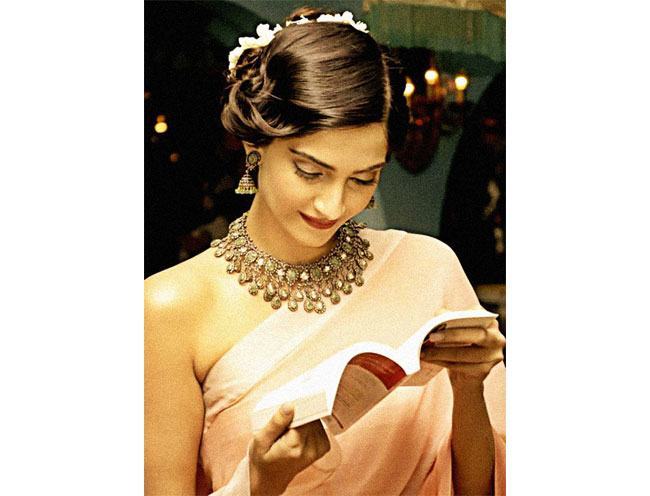 Another stunner we have here, Kangana Ranaut looked ravishing in the green saree and the three-fourth sleeve blouse paired along with the magnificent necklace. It's a bold move but we love it. It stands out looking contrasting yet terrific.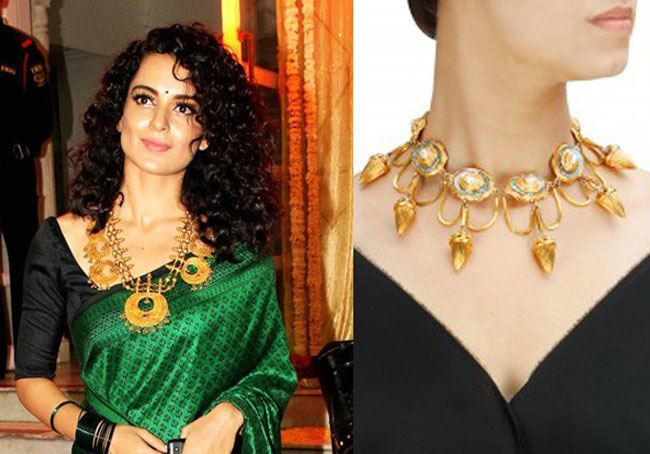 You want to dress it up or dress it down, choose a look that defines your style and the occasion you want to look stunning at. No compromises when it comes to looking fabulous and lovely.
Hope you enjoyed this post on how to wear statement necklaces with sarees.
Images Source: pinterest