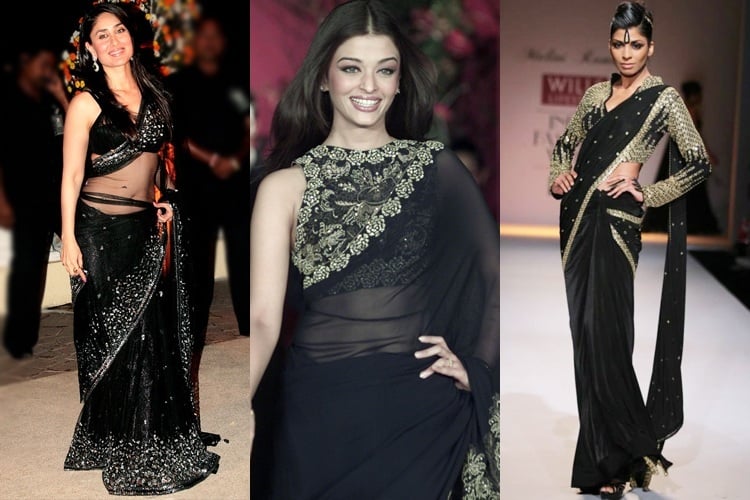 A Saree is one of the versatile garments that have managed to stand the test of time. It is one of the very few garments that can add charm to your personality if you wear it. Wear a sari and you can never possibly go wrong with it. It is like a LBD gone traditional. No matter what the occasion is, there is a saree for every occasion.
Our Bollywood divas love to don a saree too. Who could forget legendary Sridevi gyrating on the songs in gorgeous Blue saree or Sushmita Sen essaying the role of a teacher in Main Hoon Na in her beautiful Chiffon sarees?
[Also Read: Sushmita Sen Kills It In A Saree]
Black saree, like a LBD is a timeless piece. It is something that you can never go wrong in. It is great in itself but there are different ways in which you can style your LBD.
SO HERE'S HOW TO BLACK SAREE DESIGNS IN DIFFERENT WAYS
Wear Statement Jewellery
Dressing for any occasion is perhaps incomplete without some glamour and sparkle. Add a healthy dose of grandeur to your outfit this festive season with some OTT accessories. A black saree is perhaps the perfect canvas to play with your jewellery. Be it a statement necklace or a chunky pair of earrings, or an opulent headgear or a haathphool reminiscent of era of nawabs. Make an element of your outfit supersized to add charm to the rest of your outfit.
Different Blouse Designs
A blouse can make or break your look. A stylish blouse when paired with simple Black saree can add a charm to your look. You can style your blouse by adding details like mesh, strings, pipings and tassles. You can also experiment with the fabric. Go for lace, sequins, embroidery, patch-work on your blouse to go with your Black saree. Adding tassels on the back of your Black saree blouse gives you an oomph factor. Blouse in Chinese collar gives you a more sophisticated and conservative look. Whereas, spaghetti strap and Black saree combination lends you a sensuous and stylish appeal.
[Also Read: How To Design A Plain Saree At Home]
Contrasting Petticoats (Under Skirts For Sarees)
Petticoat is no longer just a mere cotton garment to be worn under your saree. You can play around with your underskirt by adding sequins, and embroidery to it.
You can even play around with silver sequin petticoat under Black saree or the bright neon ones under the sheer black saree.
To give your saree a metallic twist, drape a Black saree over sequined metallic petticoat. Mix and match your petticoat with your saree.
You can take a cue from designer Masaba Gupta and pair neon underskirts under your saree. Add ruffle details on your petticoat and let it peek from under your saree
[Also Read: Chiffon Floral Print Sarees]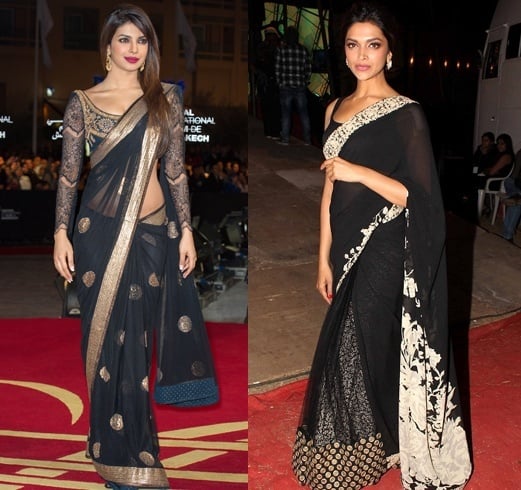 Now let's see how to style a Black saree using accessories in Vogue.
[sc:mediad]
Accessories
A sari is a timeless drape that oozes elegance, if paired with the correct accessories. With the changing time, traditional drapes and accessories paired with it have become glamourized.
There are numerous Black saree designs available. Give a fun twist to this traditional Black drape. Team it with a belt like traditional silver and gold accessorised belt earlier. You can accessorize your Black sari with belts made up of leather, beads, and metals, and accentuate your waist.
[Also Read: Designer Kanchipuram Saree]
Brooch – Ladies across the country use this to hold the pallu in place. But this can also be a fashion accessory. Brooch in variety of designs can be your go-to accessory to accessorise your simple Black sari. Go traditional add some old world charm to your Black saree by donning a brooch. It can also be used as sari holder for those wearing a sari for the first time.
Take a cue from us on how to style Black saree and you are set to rock the party!