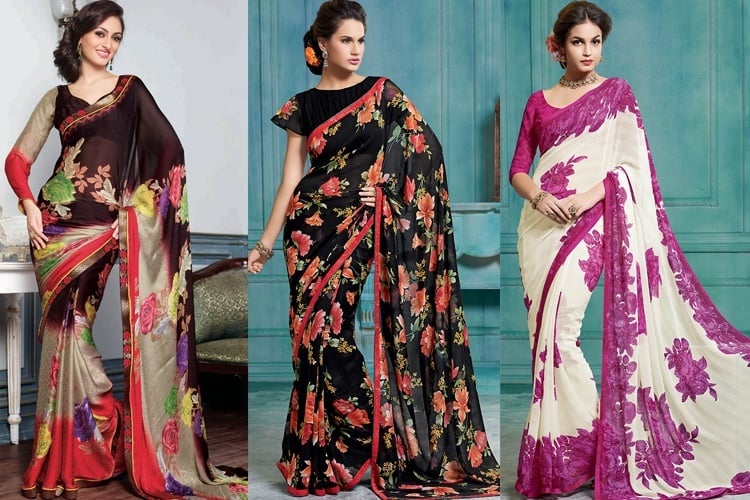 Take a look around dear hearts! Just take a look around at the fashion scene for Fall-Winter 2015. You'd see leggings and scarves, tops and layers, coats and jackets, midi skirts to short flair skirts, denims and cocktail dresses galore, sometimes anarkalis and lehenga cholis too. It's time to stand out from the bevy of PYTs around and to be the desi swagalacious honey everyone wants to dance with. Wear one of the chic floral print sarees and make a benchmark statement!
Let's get started floral design sarees
Be Class Apart From The Herd
While everyone is busy with the shades of grey, blues, reds, pinks, yellows, magenta and all the colours on a palette, it is only the floral print sarees which can do justice by bringing out the sensual goddess from within, and making a statement at the occasions or events you have been called to. So yes, you can and must think of the wonders any of the floral design sarees out there can do for you.
[Also Read: The Plain Saree Trend]
Sarees Drape The Body Like Nothing Else Can
So majestic and chic, the humble party sarees in floral touches can add glitz and glamour, even if you choose to wear no accessories with the nine yards of beauty. Once draped well, the beautiful chiffon sarees would flaunt your feminine charms and beauty galore.
And you shall be the reason why many men just drop their champagne glasses at the cocktail events too.
[Also Read: Bengali Sarees]
Why Sarees?
Let's take a check on the number of festivities coming up. We start with Durga Puja and Diwali, and then we have bhaidooj. The party season has only just begun, which means there would be invitations galore for you to flaunt your haute self and hotness too. Wear one of the party floral sarees and stay chic.
We Indian women have an easy way out, and with chiffon sarees for any occasion or event, the quotient on glamour and sheer bliss would never take a nosedive. MIL too would be impressed with your collection. Should you be single, believe us when we say a chiffon saree well-draped can make him go gaga over your feminine ways!
[Also Read: The Digital Print Sarees]
10 Reasons Why We Promote The Chiffon Saree
Hell hath no fury than a woman in a chiffon saree who knows how to get jiggy with it on the dance floor at a party. So, here are ten reasons why we simply adore and admire chiffon sarees!
1. Display about a balance between élan and grace
When balancing the beams between elegance and sensuality, nothing comes closer with haute couture or prêt-a-porter than chiffon floral saree designs. The oomph factor sure would be up and very high!
[Also Read: How To Design A Plain Saree At Home]
2. Those curves should be accentuated!
Be proud of the body you have, and embellish them well. Should you plan on wearing less accessories and makeup, because of the weather or since it isn't your style, no problem.
[Also Read: Saree Gown Designs]
Try and pick one of the chicest floral saree for party times. All eyes would be on you for sure!
3. For every season, reason and occasion
Well yes, and that is exactly why chiffon sarees are so popular after the cotton counterparts!
[Also Read: How To Maintain Silk Sarees]
Be it at work, at play or for the festival season and cocktail gathering around, you can never go wrong with a well-draped saree!
4. Let the Bollywood diva in you awaken!
Hail, thunder or storm and should there be a party at the same time to, the humble chiffon saree wouldn't look a mess if you get wet. Just flaunt your smile, throw in a little coy shyness and there would be many chivalrous blokes around ready to lend their coat for cover!
[Also Read: Modern African Print Dresses]
5. The wind is your friend!
Chiffon sarees with floral patterns aren't heavy to wear, and hence if the winds have to blow strong at the outdoor event, you would look like a picturesque diva with a flowing pallu! Imagine that!
[Also Read: The Effect of Mysore Silk Sarees]
6. Any footwear would match your saree
You really don't have to bother too much or spend a bomb t match your floral designer sarees with the kind of footwear you want. Any footwear, chic though, would be the best to wear and flaunt at the social do. So yes, while the chiffon saree is made to match all body shapes and sizes, the floral prints would only enhance your haute quotient.
7. You wouldn't be overdressed with a floral printed saree made from chiffon
That's the beauty of wearing floral printed chiffon sarees. They are a masterpiece in their own rights and you would never feel overdressed!
[sc:mediad]
8. You get to be the center of attention
Pick the right cocktail party sarees to wear at the party and you would be the diva enjoying and ravishing every inch of the limelight galore. Need we say more?
9. Desi touches for an international affair
[Also Read: Different Types of Sarees]
So, while you busily make plans for the evening party, to entertain your boss and his friends from vilayat, dress to impress and this time no western wear! Think of one of the chicest and very feminine floral prints, and your attendees would be floored!
10. Chiffon sarees are an answer to the rockabilly chic dresses
If the US could have their rockabilly chicks dressed in chic floral gowns and dresses, we have our Indian tigresses dressed in floral touches. HA!
Need more reasons? We don't think so! Choose your cocktail party sarees with due diligence and have fun girls!