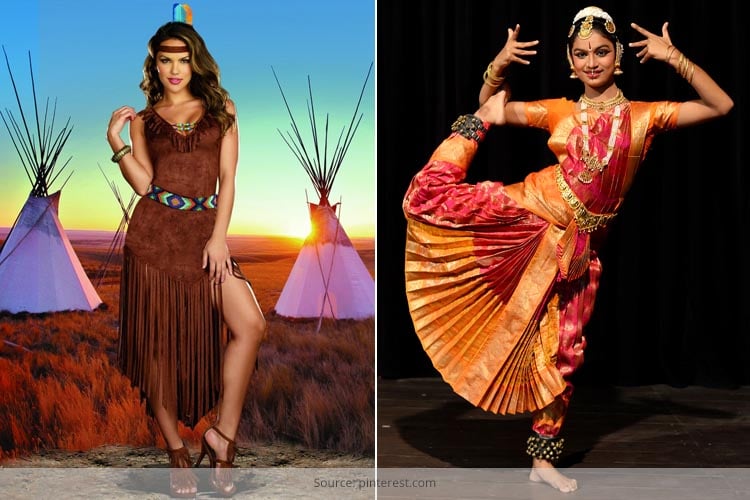 Although the festival and holiday of Halloween is a westernized concept, but do we Indians leave a chance to party? The answer needless to say is a NO! So while your videsi clients at work and friends around at college are busy showing off their batman and naughty nurse costumes, let's bring on some desi swag touches to the westernized festival, shall we?
COSTUMES AND TRIBAL HEADGEAR IDEAS
Couple Of Ideas To Doll Up In Indian Tribal Halloween Costume
Yes, be proud of being an Indian and this Halloween, let's flaunt our desi touches a little more than the usual, what say! Here are a couple of ideas we have gathered for you to doll up in, some quite ethnic, some traditional and some emulating the daily life stories of the laymen and women around the nation, all for a cause of goodwill and promoting Indian tribal Halloween costume ideas.
Dress Up As An Indian Dancer
One of the tribal Halloween costumes with a desi touch we would recommend highly would be the Indian traditional dancer. Think bharatnatyam, kuchipudi, gidda or bihu, and you would find a plethora of choices to doll up and look chic too! Gorgeous face masks, mehendi for the hands and the feet, alta for the toes, embellishments and accessories galore, you would need at least a week to decide on your look! And don't forget those colourful chudis and bangles, along with mojris and jhutis for the feet.
Snake Dancer or Charmer
The signature stereotypes the videsis. So, let's show them a quirky side this time. What you could do is to pick up onesies in snake prints or animal prints, and a chic matte dark skinned textured tribal headgear. You would be representing the Indian folklore and culture as it is, so why not be Nageena. Watch some of the Bollywood flicks to seek inspiration from!
Dadima or Grandma
The good old Indian grandma has been revered across many fables and tales, since she has always been advising us how to be the best in life and to grow up with the right morals and values installed. Powder your hair white, wear reading glasses, grab hold of a walking stick. This is one of the simplest yet powerful stereotypical Indian tribal costume ideas, we would recommend for Halloween 2015.
[sc:mediad]
Demoness
The Rakshasi has been in our story books ever since we were little ones, and should you want to spook people out, why go the western way? We Indians have our own versions of wild witches and demons doing the rounds, don't we? Tribal headgear on the lines of medusa with rubber snakes, skulls and more should be worn, with a sheer skirt and a crop top, dark makeup for the face and with fangs too!
Devdasis
The devdasis of southern India are a dying breed. Once revered for their closeness to the divine and respected highly for their powers by the common man. Let's give them a little heads up here when celebrating Halloween. This would also be a good time to educate your videsi friends on the culture of devdasis too. Kanjeevaram sarees or chiffon vibrant sarees should be worn, with faux kamarbands and maangtikkas, long plaited hair embellished with chunky metal accessories too. Gajra and jasmine flowers should adorn the tresses, and sandals for the feet are a must.
Belly Dancers
While the Mughals were in India and ruling, we have had many nautch dancers, belly dancers and courtesans gracing one too many occasions with their sensual moves and fashion. Compliment the look of a belly dancer with silk harem pants, ballerinas for the feet, crop tops made of silk and a short waist coat, with a Nehru cap for the head. For the tribal Halloween headgear to wear, you could opt for flowers or chic intricate metal headbands, on hair loose and flowing.
[Also Read: How to Wear Black Lipstick For Halloween]
Here were very easy ideas to doll up for this Halloween, and some of them can be ultra-creative, which we would leave up to your imagination for manifestation. If you have your own ways to doll up for Halloween with a desi swag touch, do write in and share your thoughts. One last point here, while shopping for tribal headgear for Halloween, ensure you pick one that can work wonders for other occasions as well!
Have fun!