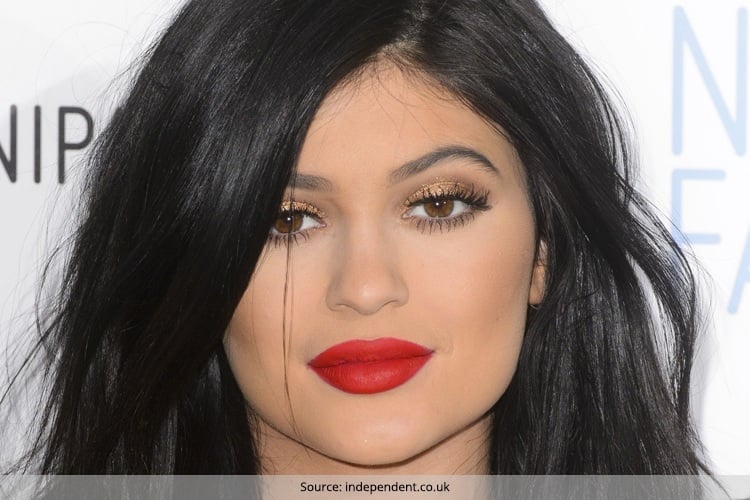 Kylie Jenner started the trend and now it's refusing to die out! In fact Angelina Jolie has just become passé with the entrance of the 18-year-old from the Kardashian family. Fuller lips have always been coveted. In fact, our humans are genetically wired to be attracted to women with fuller lips because they signify fertility. So we can't really help it if men go gaga over those pouty lips! You can blame it on the genes.
Fuller lips are not hard to get, if and only if you know the right tricks. Surgery is not a viable option because it can come with its own complications like a reaction from the injections. These in fact can completely ruin your look and scar you for lips. So, you should always try and get pouty lips without surgery. Wondering how? Well, we have the perfect tips on fuller lips with lip liner. Read on to know more. These easy tricks are not hard to follow and if you want to join the Kylie Jenner bandwagon, then read on!
See how much difference a lip liner can make? Now you know how to get pouty lips with lip liner, all thanks to the youngest in the Kardashian clan!
Lip Liner Tips Fuller Lips
Here is a step by step breakdown lip liner tips fuller lips. All you need are some good ammo and you are good to go!
Here is What You Will Need:
M.A.C lip liner in colour spice (Rs. 1100)
NARS velvet lip liner in Dolce Vita (Rs. 1800)
NARS bronzing powder in Laguna (Rs. 2400)
[P.S- we know everything in this list is a little expensive, but trust me, you will not regret it and of course it is like a hundred times cheaper and safer than getting surgery done!]
[sc:mediad]
Let's Get Started: How To Get Pouty Lips With Lip Liner!
Step 1: Apply your chosen lip liner (try and take the one that is very similar to your natural lip shade). This is the base and will help to create definition and lift for your lips. Now for a more 3d effect. Take the pencil and curve it around your Cupid's bow. Now slowly trace the outside borders of your bottom lip.
Step 2: Now that you have outlined the lips completely, fill it up to create a long lasting base that will help your lipstick to stick for a longer time. Make sure you do not go overboard with lining your lips because this will make your lips look unnatural.
Step 3: Now use your favourite shade below and above on the lips and make sure you have evenly covered the lips. The trick with finding out whether the lips are even or not is to find a napkin and pat it on your lips. Gently pat and all the extra will come off.
[Also Read: Is Permanent Lipstick The Next Big Thing?]
Step 4: Now take a flat, thick lip brush to highlight your cupid's bow with a little bronzer. This will help to create definition for the lips. By highlighting the cupid's bow, the top lips are pushed forward hence creating an illusion that your lips are a lot bigger!
Step 5: If glitter is what you want but you do not want the stickiness of the gloss, then you can use your favourite shimmer lipstick shade and simply swipe through the centre of the lips for that shiny effect.
[Also Read: How To Choose Lip Gloss Shade]
There you go- a step by step breakdown of how you can get pouty lips with a lip liner. Kylie Jenner lips are not hard to fake provided you know all the tricks of the trade. Lip liners can give you absolutely rad lips without going under the knife!
Do let us know if you try out these tricks!