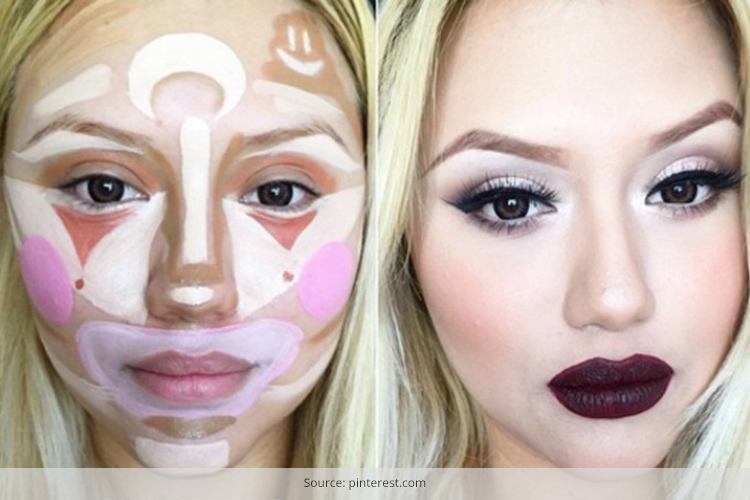 Thanks to YouTube beauty blogger BellaDeLune, we now know the art of clown contouring and getting your makeup right. This has come just in time when PYTs across the globe thought contouring was just an option, and not an important aspect to adhere to.
You could check around and learn more on contouring variations, however, clown contouring is the rage that helps define every aspect of the facial structure, which is in fact better than regular contouring or colorless contouring too.
Before we delve into the 70s makeup tutorial, let's pause a while and understand the importance of strobing and colour contouring through the clownish touch. Strobing is playing abundantly with darker shades and hues, which can be done for hair contouring and cleavage contouring too.
[Also Read: Easter Makeup Tutorial]
Yes contouring can be done for every part of the body, and we have told you in the past how to get a boob cleavage contouring done as well. But prior to doing your 70s makeup tutorial, here is a lowdown on how to get the clown contouring done the right way!
[Also Read: How To Contour Your Legs]
70s face makeup
It would be as though you are dolling up for Halloween, with colour blocks all over your face and in the shape of geometric patterns that too. You would over here in clown contouring use and apply shades of colours that adhere to the rules of face contouring. This means, shades of different tones would be used across the most important aspects of the face to tone and hue the skin and structure. And the final touch would be that of a blend, where the look that comes about as an end result would be a flawless one. In most cases, you may have an airbrushed look, which the world is so raving about. Hence practice your clown contouring tactics and amalgamate the same with the 70s face makeup look!
The concept of clown contouring is but different from that of regular contouring in more ways than one. Clown contouring works on:
Shading
Highlighting
Color correction
On the face line
Jawline and more
[Also Read: Holiday Makeup Ideas]
The 70s Makeup Base Clown Contouring
To get the 70s makeup base clown contouring right, you would need to have a regular contouring palette in place, with color corrections too. With the help of BB creams and small makeup brushes, the clown contouring 70s makeup base look can be achieved. And blending is the key. Check here on how to get the clown contouring base done well!
[Also Read: Makeup Like Barbie Doll]
From Gwyneth Paltrow, Farah Fawcett To Lana Del Ray
There is something so special about every era and decade that has past by us, and their beauty trends galore that are now making a comeback. Nostalgia probably, but vintage is surely haute and outstanding to use. Personally speaking, the 70s look is so bohemian and versatile, which can be worn at work or at play. And who doesn't love the flower-power seventies glittery touch?
[sc:mediad]
The epitome of women's 1970s Makeup was all about bohemian touches, and benchmarks created back then were from personalities such as Zeenat Aman, Parveen Babi, Neetu Singh or Farah Fawcett and Anna Bredmaire. On an international level, you could look at personas such as Jerry Hall, Bianca Jagger, and Jane Birkin for inspiration too. All in all, the 70s makeup ideas were best done through imagination and creativity, following no norms as such!
[Also Read: Christmas Party Makeup Ideas]
Bella Should Be Thanked
If it wasn't for YouTube V-Blogger Bella, we wouldn't have learnt how to master the act of clown contouring. Today, leading dailies have written about her concept, with high praise that too. Check her page on YouTube and the response is mind blowing, so imagine how the concept of clown contouring and the 70s makeup tutorial can work for you!
Get groovy, get all shaggy and make the moments special this festive season with the 70s inspired makeup. Think colour for the eyes and bronzer quite bold for the cheeks, and bring in the vintage touch!