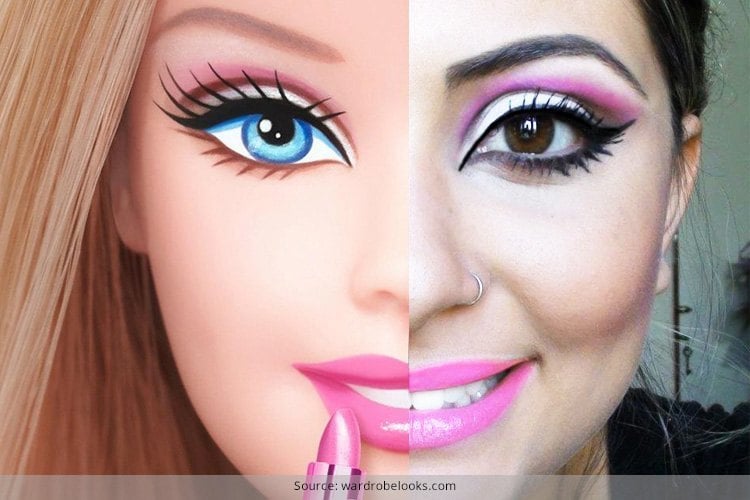 You don't really want to wear this look on everyday basis, because, let's get real here, who wants to look like a plastic Barbie doll every day. But if there is a go-as-you-like or a dressed party, the Barbie look is the best one to opt for. Here is decoding for you how to makeup like Barbie doll.
[Also Read: Julia Vins: The Russian Muscle Barbie]
Barbie Doll Makeup Tips
Here are some important barbie doll makeup tips you must keep in mind before you begin with your makeup routine.
Skin
Start with applying a good moisturizer to prep your skin for the multiple quotes of make-up we are going to load the skin with. Don't forbid your neck and hands from the moisturizer either. Let it sit for some time to sink into the skin. Primer is an essentiality for this look. It preps the skin for whatever makeup we are going to apply by smoothing out the skin giving it a canvas like appeal. Use a concealer wherever needed to cover up little imperfections, dark circles, blemishes and scars. One of the most important Barbie doll makeup tips is to create the base. Barbie is blessed with flawless skin. But we humans tend to have some flaw or the other. We got to cover it up with the foundation. Now, it is a make-up sin to use a foundation that is even a single shade lighter than your own tone. Most people do it to look fairer, which is just a no-no. However, for this look you may apply a foundation few shades lighter to you skin because the idea is to make your skin look unreal and plastic-like. Make sure to extend the foundation application to your neck and hands as well. You don't want to be a Barbie with human limbs after all. After smoothening out the foundation, use a translucent powder across your face to hold the foundation for a longer time. Use bright coral or ruby blush on the apple of your cheeks to finish off with face make up. Barbie has a smaller nose so use a brown eyeshadow or a darker concealer and sweep it through the bridge of your nose. Sweep away the edges with your finger tips and blend it out.
Eyes
Now let's start with eyes because a heavily loaded set of eyes are inevitable for the Barbie Makeup. Before applying eye make-up use some primer so that all the make up on your eye lips stay put. Fill in your eye brows with a brown brow pencil. Use a silver highlighter to accentuate your brow bone. Use pale pink eye shadow on your eye lids and a darker shade of pink on the crease of your eyes. Use a white lining pencil on your waterline and the corner of your eyes if you have smaller eyes. Using a liquid liner create a mid-sized line along your lash line and finish with a slight wing. Curl your lashes with a high definition mascara. To further the effect of dense lashes, wear false lashes and using a mascara again try to blend them with your real lashes. Opt for a pair of blue contact lens to create Barbie eyes.
[sc:mediad]
Lips
To begin with lips, nourish your lips with a lip balm and then trace out your real lips with a concealer. Use a lip liner and line your lips inward. Create a distinguished cupid's bow as Barbie has perfectly shaped lips. Now fill in with a bright pink lipstick and finish off with a generous coat of lip gloss.
Hair
Wash your hair with a shampoo and conditioner and blow dry. The conventional Barbie always wears straight silky hair. Use a straightener to style your hair accordingly. You may divide your hair into middle partition and leave them open. Alternatively you may pull them on the crown of your head and secure them in a high pony tail. Again, decorate your pony tail or your open mane with a pink hair tie or bow.
[Also Read: Meet the Real Life Barbie: Valeria Lukyanova]
Dress
If Barbie were a real human being, she would have been the most 'girlie' girl in the planet. So to complete the Barbie doll dress up you have to be shamelessly girlie. Fish out everything in your wardrobe in the shades of pink and purple. Ideally if you have a chiffon or satin dress in pinkish hue, with loads of frill, you don't need anything else. Select a dress with a good amount of flair or A-line dress in the shorter side. You may also pick up a floral shirt with a short skirt. Very feminine indeed. To add to the Barbie-esque feel go for cute bellies with average heels.
These were pretty easy beauty hacks, weren't they? Now that you know the basics of makeup like Barbie doll, add your favorite accessories to the look for your signature impact. This is a perfect go-to look for any dress-up party. It works perfectly for young girls in school, teenagers in college or ladies in their mid-twenties getting all dolled up for a distinct office party.