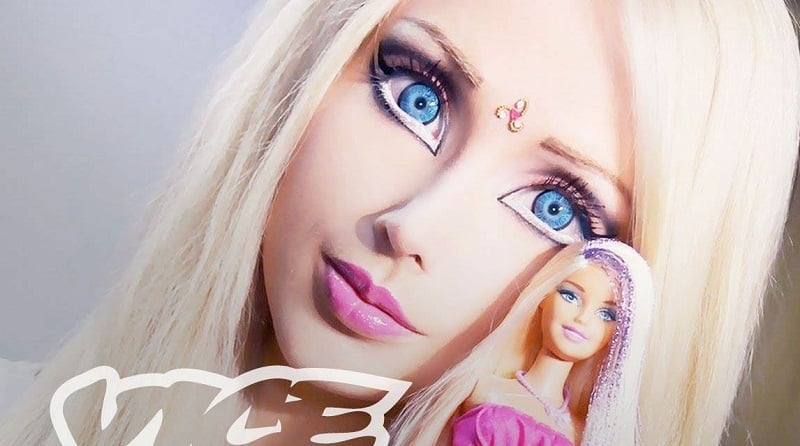 Chances you are already aware what I have mentioned in my post today after reading the caption. And for those who never heard of this, I bet you'll be dumb struck after reading this full article.
Meet the 27 year old Ukraine model Valeria Lukyanova – the real life Barbie. Soon after she posted her photos and videos online, she became worldwide famous as the 'Living Barbie'. If you've see her to believe my words. Her ultra-slim figure and face resembles the classic Barbie doll.
It was not like this Russian model was born this way, but her strong desire to look like Barbie made her adopt the look. The model claims that she has only surgically enhanced her breasts by silicon implants and only wears makeup and extremely large contacts, else her body is natural that enables her to look like the doll.
Here is the other side of the story, much contradictory to what the model has claimed –
After her several pictures went viral online showing her flawless skin, porcelain face, huge glassy blue eyes with a blank stare and not to mention her extremely slim waist, rumors soon doing round the corners that the girl is a complete plastic going under the knife transforming almost every part of her body. Apart from nose, lip and boob jobs, she has allegedly removed some of her ribs it seems to get the Barbie doll's svelte and ultra slim waist.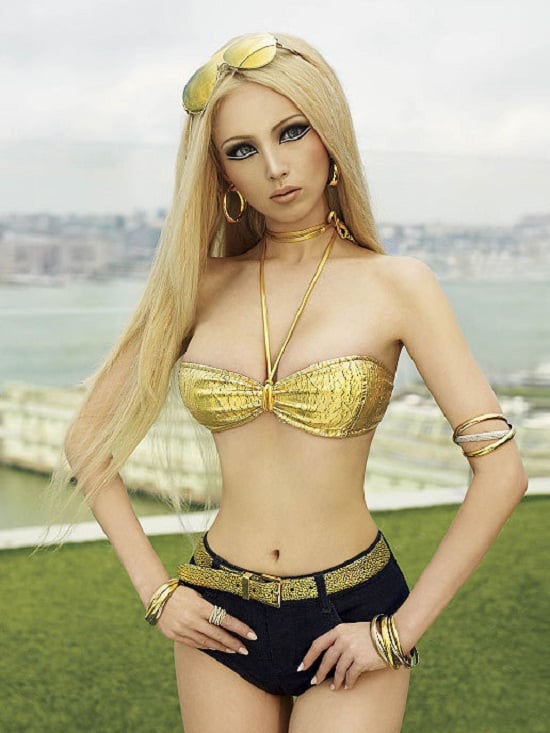 When she first appeared on the Internet, almost every one was dumbfounded, not knowing what to comment. While some thought her to be a digitally-generated hoax, others just ridiculed her appearance referring her as the pursuit of beauty gone awry. Even some people criticized her for encouraging other girls to go for this bone & skin figure with no meat around.
Some of the photo shop experts claim that almost all her pictures in Barbie avatar are air brushed. Even they strongly believe that it's just a hoax as surprisingly the Russian model has no where been seen with her inspiration the Barbie in her images.
That being said, Valeria claims that she's not your run-of-the-mill Barbie lookalike, instead she is a spiritual guru, who is just using her physical form to enlighten the world.
Interestingly in a documentary created by VICE, 'Space Barbie', the model further reveals that she has come to this planet to help people transform from human consumer to human demigod.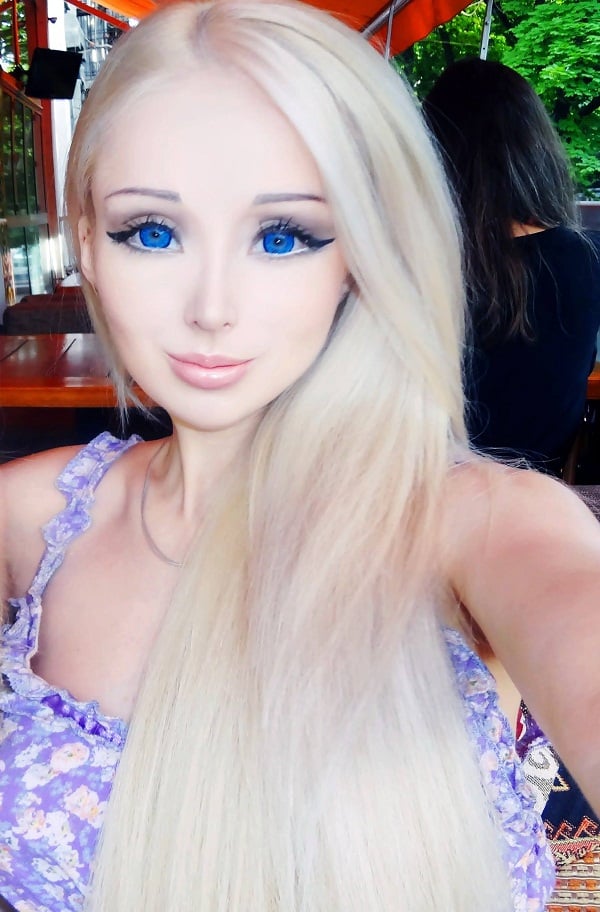 The real life Barbie also claims that when she started seeing spirits from other planets when she was 12 years old and that she has been reincarnated many times on planets far and wide. In one of her past lives, she was a King.
"I use my appearance to promote my spiritual ideas. It works perfectly well. That's why I will always use this tool," she said, adding that it's "wonderful to look like a doll," though she never planned for it to turn out that way.
"Even though people call me Barbie, I never tried to look like a doll. I just like everything beautiful, feminine and refined. It just so happens that dolls are based on the image of refined girls," she said.
The real life Barbie before & after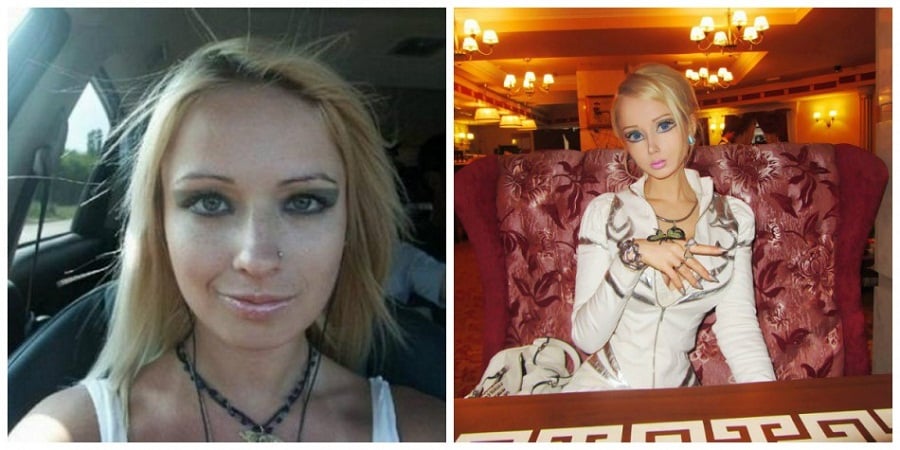 This is what Valeria actually looked before her transformation. Even she has confessed to enhancing her breasts, but she has denied reports of other cosmetic surgeries. But if you look at her face, especially her nose and lips, it's pretty hard to believe what this self-proclaimed spiritual doll guru's claims.
 Her measurements
Valeria is 5′ 7″ tall and waist is 34.6-18.5-34.6. Isn't this measurement quite weird? While the upper & lower are OK the waist is too tiny with just 18″, when the ideal figure is considered as 36-24-36. The Living Doll weighs only 42 kg (92 lbs).
Here is an abstract of one her interviews she had given in Russian –
How do you feel that people call you a "real-life Barbie"?
Look, to me the Barbie doll looks perfect; it was created as a human idol. When I adopted her image, it felt very positive, at first—I constantly heard compliments from everybody around me. But then I got a lot of insulting comments questioning my intellect. That was painful and bad for my reputation, since I'm a spiritual teacher for many people.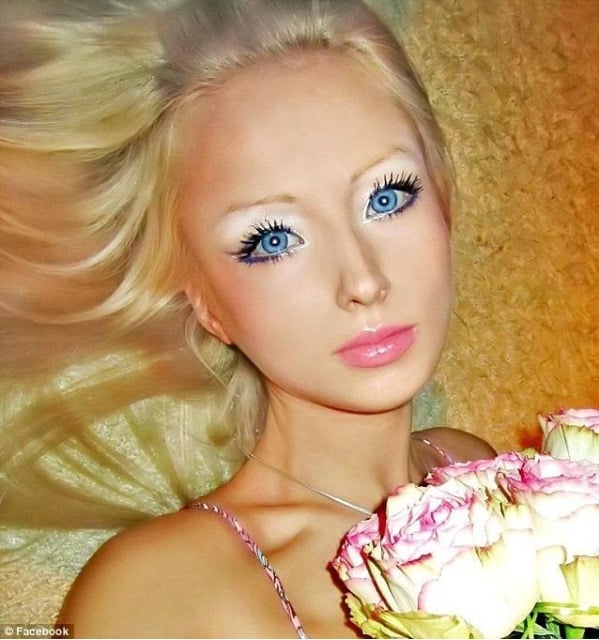 Many people are fascinated by your looks. How does that make you feel?
I believe the way I look inspires other people to improve their appearance, eat healthy, and live a more active, creative life. It is very important to eat less, observe nature, live in harmony with your inner world. There is always room for perfection, it just depends on your personal desire.
Hope you enjoyed this post!