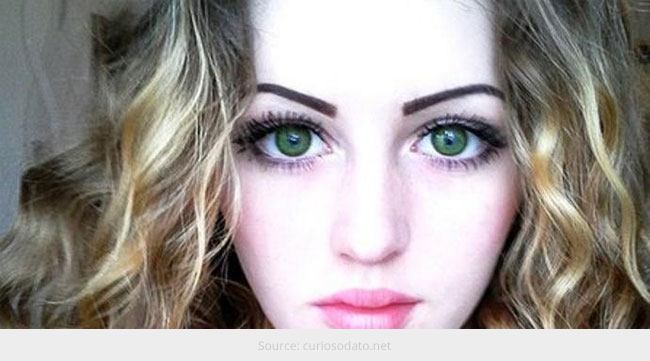 I have already mentioned about the real life Barbie Valeria Lukyanova in one of my older posts, now I bring to you Julia Vins – the Muscle Barbie.
While the former Ukrainian model claimed to survive only on air and water and had actually undergone extensive plastic surgeries to impersonate the Barbie doll; the latter (Julia Vins) is an 18 year old Russian body builder with a porcelain face like doll.
Even if it doesn't come out as a surprise after reading about a female body builder, it's her doll-like delicate face that is completely contradictory to her body and has gone viral online. Ever since Julia shared her images across Instagram, Twitter and Facebook, she has become an overnight sensation with everyone curiously checking out her pictures and comparing her face with her body.
Julia Vins, who has described herself as an athlete on her Facebook profile, is an 18-year old female bodybuilder who began lifting at the age of 15.
Julia has a porcelain doll face with attractive green eyes and tender skin with luscious lips and all the facial features that define a tender teenage girl. But the moment your eyes roll down her face, you'll find the physique of a bodybuilder just like the Incredible Hulk.
[sc:mediad]
When she was 15 years old she had a slender body like any other girl of her age. It was only when she started training for 3 to 5 hours per day and four days a week with 5-6 meals throughout the day, she could achieve this physique. Last year, Julia had won the World Powerlifting Championships in Moscow and also broke three world records in the squat, bench press and dead lift.
This gorgeous power lifter can easily dead lift 400lb (an average male lion). This unusual combination of supple green eyed beauty and muscular physique has captured the attention of many people, attracting more than 23,000 Instagram followers. Julia had this to say,

Because of her angel-like face, everyone used to call her doll and it was only three ago that Julia decided to tell her admirers that she could be strong too. And this is how this Russian body builder got into this rigorous weight lifting and body training that are usually preferred by males.
And Julia Vins' unusual blend of an angel face with a Hulk body has attracted worldwide fans and thousands of followers throughout social media channels.