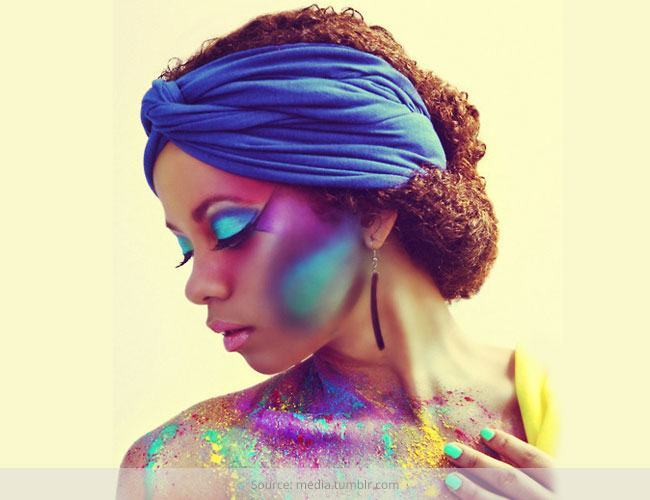 Let's take a quick look at the different types of eye makeup that you can opt for, this Holi. While there are no definite dos and don'ts when it comes to wearing makeup for Holi, there are some makeup styles that will work much better than the others. So knowing which ones will work can help you narrow down your options and look fabulous this festival season.
Rainbow Eye Makeup
Not surprisingly, rainbow eye makeup is quite a popular option for Holi. It is such a fun look to try. The fact that it is a little OTT and not a very wearable look on a regular basis makes it all the more special. Holi being the festival of colours, the rainbow eye makeup look is perfect to truly get into the spirit of Holi. Be sure to use a eye primer to ensure the eye shadows blend well, look their vibrant best, and stay put for a long time without smudging. As far as the colours to be used are concerned, it is totally up to you. You can either use complementary colours that go well with each other or use colours that clash for a look that is truly vivacious.
Quick Tip: Try using bright matte colours instead of one's with shimmer to create this look.
Kohl Rimmed Eyes
This look is created using only a kohl pencil. It involves tight lining the upper and lower water line and smudging the kohl onto the upper and lower lids to create a very heavy Kohl-ed look. This eye makeup works great if you're planning to wear an ethnic outfit for Holi.
Quick Tip: You don't have to restrict yourself to a black kohl pencil. You can even use a different colour such as purple or green to give the kohl look a Holi twist.
Smokey-Eyed Look
This look involves a lot of blending. Using colours such as brown or grey with black, you have to aim to create a smokey-eye effect. How intense or light you want the look depends on your personal preference. Using a good quality blending brush, make sure you blend in the colours really well to achieve a flawless finish. You can add gold or bronze to the inner tear duct area to brighten up your eyes and give the look a festive feel.
[sc:mediad]
Quick Tip: Opt for powder eye shadows for this look as they blend in much better than cream or gel-based ones.
[Also Read: Glitter Eye Makeup Tutorial]
Nude Eye Makeup
This look is perfect for those who feel like with all the colours of Holi around, they don't need their eye makeup to be heavy or dramatic. To achieve this look, simply draw a clean line with your eye liner, pat on some nude/peach eye shadow onto your lids, and then finish it off with some mascara if you want. It is all about minimalism. The end result should look like your eyes are pretty much in their natural state with hardly any makeup.
Quick Tip: Be sure to use a concealer to hide any dark circles. When we say the "au naturel" look, we do not mean showing off your dark circles in all their glory for the world to see.
So there you have it – four different eye makeup looks that would look great this Holi season. So which one's your favourite? One last thing, please use water resistant makeup to make sure that your makeup stays put and you don't end up looking like a complete mess once the festivities start.