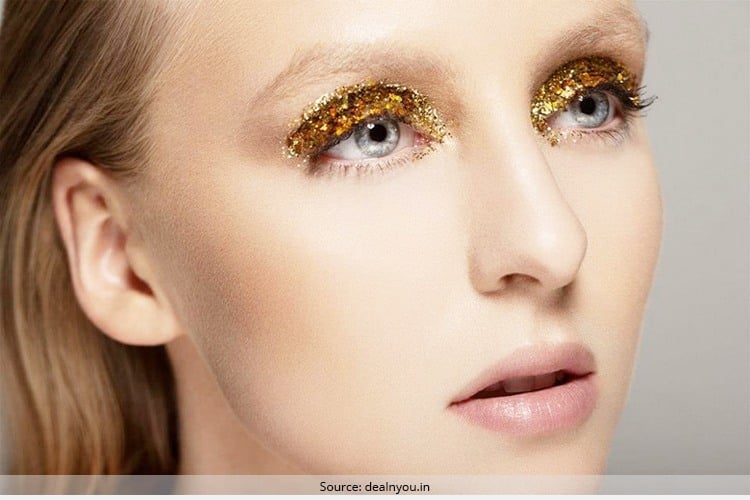 Glitter makeup is a tricky territory. You have to tread with care otherwise you may end up looking like the middle-school girl who raided her mom's makeup box. We all know the famous adage – 'Eyes are the windows to the soul', and if you would like your windows to be fabulous, you should definitely invest in learning the tricks and tips for applying glitter makeup the right way. We have put together a list of Dos and Don'ts for glitter eye makeup. Read on to know more!
When Is the Right Time For Glitter Eye Makeup?
Well, if you think logically, daytime does not demand a shimmery getup. It's already sunny and you don't want anyone to shield their eyes from your dramatic eyes would you? Glitter eye makeup is best suited for the night.
You would see most women sporting glitter at night as it is focused better during the night. Metallic or glitter eye shadow looks great with dark coloured attire and you may want to stick to a single colour.
Where is the right place?
As already established above, glitter is not something you would use in your everyday lives. It demands a special occasion. Usually, for a more dramatic look people prefer to have glitter eye makeup. The good thing is, you have tons of glitter eye makeup companies to choose from and the best ones will not leave you like a glittery raccoon.
[Also Read: How To Do Chola Makeup]
Make sure you choose the right occasion to don your glitter ammo. Situation and place will determine whether or not you should be bringing in your glitter eye makeup. You wouldn't want to look out of place with glitter on a charity ball now, would you?
[Also Read: All That Glitters… A New Tattoo Trend]
How to make the best use of glitter eye makeup?
Glitter eye makeup may seem pretty easy to apply and use, but sometimes you will need to have the right tricks up your sleeve for having a perfect look. Here are some tips to keep in mind before starting your journey:
[Also Read: Gold Eye Shadow Makeup]
1. Less is more:
Glitter in itself is a very formidable piece of makeup item. You would not want to go overboard with it. When using glitter for your eyes, remember that less is more and in order to create a dramatic look, you have to start small.
2. Balance is the key:
In order to have a look that does not look straight out of a horror movie, you will have to concentrate on balancing your look. Neutral shades are a perfect partner to shimmer. So you can mix and match glitter and neutral shades without one overpowering the other. Neutral shades can also add a lot of depth to your look.
[sc:mediad]
3. Glitter Eyeliner:
There are different types of glitter eye makeup, but the glitter eyeliner is the most minimal one. So if you want your glitter eye makeup to be subtle, then glitter eyeliner should be your ammo. You don't need to cover your entire eyelid with glitter, but you can simply dab on some glitter eyeliner for an instantly glam look! Nyx, Urban Decay and Nars have some really charming glitter eyeliner ranges.
4. Runway Inspiration:
Thinking of how to glam up your eyes? Well, runways are your best friends. To be in tune with the looks of the season, you should definitely take cues from the looks on the runway. Some of the most fashion forward ideas on glitter makeup will definitely come from the runway!
[Also Read:  Cleopatra Makeup]
So don't shy away from glitter. It is an amazing way to look glamorous. But make sure to keep the above tricks in mind!