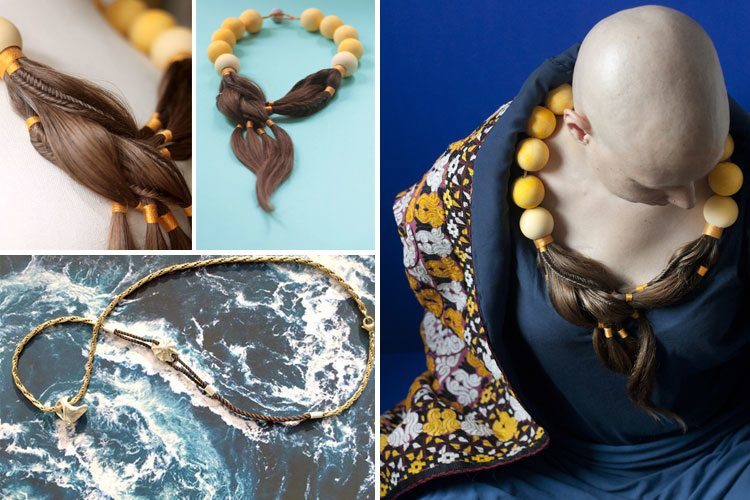 It is a malady that is the worst thing to have happened to mankind. The very thought of cancer puts you at unease. But is it the end of the road for cancer patients, particularly females? No way, it can't be! Cancer afflicts the body, not the hope or expectations of recovery. This thought has been proved right through an amazing gesture in ladies affected with cancer.
[Also Read: Mehndi Designs: Therapeutic Style Dose for Cancer Patients]
Ever heard of Sybille Paulsen? Chances are no. Well, she is the person who has found a brilliant way for cancer patients to treasure their hair. How you may ask? By making jewellery out of it.
'Tangible Truths' – Worth Emulating
The project is titled 'Tangible Truths'. But how tangible is it? What Paulsen does is collect the hair samples of her patients who loose theirs natural hair due to chemotherapy. She then utilises them to make beautiful jewellery pieces. What shapes up is something unique and is a sheer extension of the woman from whom the hair came.
On her website Paulsen explains the importance of the lost part of a cancer patient into something useful and tangible. Kudos to her on having said this:
"The artefacts that I create of the hair, mark this transformation and disclose a new success for the people involved to the commonly overwhelmingly solution. The change becomes visible, not only as the lost hair but further as its transformation into something valuable….the loss creates something new…."
The Process of Custom Hair Jewellery
Since each hair strand coming from the cancer afflicted patient is unique, so is each piece of custom hair jewellery. It takes few days to weeks to complete the process of creation of this hair jewellery.
[sc:mediad]
In fact, Paulsen is so involved in this project that she works with each cancer patient who commissions her to use her hair to make the jewellery. This way, the patients get their respective hair DNA converted into glam pieces. Besides the cancer afflicted patients, Paulsen helps out her friends and family who have been caught up in this distressful situation.
First Encounter with First Cancer Client
Paulsen makes a point to connect with women for whom she creates pieces. Here we capture one of her experiences with her first client, Mary Beth.
[Also Read: What are the symptoms of breast cancer?]
One fine day when Paulsen and Mary met in the initial days of spring in Berlin, they got on like a house on fire. Mary worked as a development helper in Afghanistan. Sadly enough, she was down with breast cancer. Quite morose on the effects of chemo, Mary decided to cut off her hair. But instead of feeling depressed on the hair loss, she looked at it 'as a sort of rite of passage into adulthood'. This moved Paulsen deeply as it meant a lot coming from a cancer-related hair loss patient. What a fighting spirit it is that can make patients feel stronger about struggling with an ailment such as cancer!
Inspired by Mary Beth, Paulsen put herself on the mission to capture the hair strands in a piece. That is why, she went onto treat each hair strand with pure devotion. As she said "a lot of love and patience went into growing this hair and a lot of identity is connected to it."
Patient in Appreciation
After seeing the finished product, the cancer afflicted Mary Beth was so moved that she could not contain her happiness. She was so happy to find out how she could be connected to her hair despite the fact that they were no more on her scalp.
Said she "The free flow design of the project meant that my hair had not been transformed simply into a piece of art that was separate from me, the flow of the necklace she (meaning Paulsen) created somehow seemed to still hold pieces of me within it. The waves of the hair…still looked so alive and so full of life….Her work touched not only me, but also those close to me here in Berlin who have seen it or seen the pictures."
This is a reflection of Paulsen's mission. It did show how those facing cancer need not be seen as ugly. There is beauty in transformations too. One has to be open enough to see and acknowledge it.