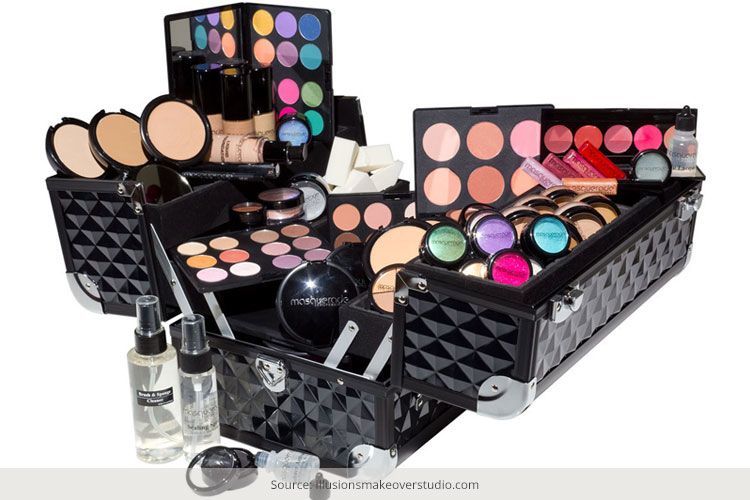 If you are a beginner, you will find makeup as confusing as a jigsaw puzzle. Everything should fit in the right places or you will end up looking like a clown. For a makeup novice, the most important ammo to have is a professional makeup kit. Makeup junkies will know that good makeup can break or make your look and so if you are planning to have a good show, let us guide you on how to build up a great professional makeup kit.
[Also Read: A List of Contour Kits To Strengthen Your Contour Game]
Buy a makeup bag!
Yes, that's the most essential part of starting your journey. Eventually you can shift to makeup kits that are preassembled (like the ones made by Nyx, M.A.C and Urban Decay), but first you have to start block by block and brick by brick.
You should invest in a sturdy makeup bag that will be able to hold most of your stuff. A medium sized makeup bag works the best and it should be able to fit in all your items.
For beginners:
Even if you are a newbie, we won't spare you. For starters, you need to have these in your bag:
Mascara
BB cream
A cheek and lip stain
Eyeliner
Lip balm
Tweezers
Makeup-remover wipes
These are the bare bone necessities and you need to have these in your bag if you want to build a nice professional kit in some time.
For Intermediates:
You guys know a little about makeup, but you are still far away from being an expert. However, knowing your prowess, we would advise you to definitely have these in your kit:
Eyelash curler
Concealer
Liquid foundation & Primer (they go hand in hand!)
A bold lipstick
Lip liner
A cream and powder blush
Liquid eyeliner
An eye-shadow palette
Hydrating mist
Foundation brush
Eye-shadow brush
Double-sided contour and blush brush

Eye-makeup remover (This is very essential and you need to have this if you want to ensure that you do not end up spoiling your skin or eyes with too much makeup)
[sc:mediad]
For Experts:
Aah, you women know almost everything. But we would still go on and make sure you have everything in your kitty! Just run through the list and if you still are missing a few items, you should definitely include them in your vanity bag!
Loose pigments: These can work magic on you! Make sure you invest in some mineral pigments which can actually do your skin some good!
Fake lashes: Believe us; this can really do wonders for your look. The eyes are the windows to the soul and some long lashes can really make the eyes pop out!
Eye-shadow primer
Loose finishing powder: A must after every makeup regime. They make your complexion look dewy and fresh
Makeup setting spray: The ones from M.A.C can really work wonders. They would let the makeup stay for a very long time.
Lip scrub: Your lips need some love and every time you slather all that makeup and gloss, you lose on moisture. Invest in a good scrub which will make your lips look fresh.
Palette of lip colors: Very essential if you don't want to carry a lot of lipsticks.
Contouring cheek palette: Learn from Kim and invest in some good contouring magic
Concealer brush
Gel filler for brows: To have your eyebrows on fleek!
Gel eyeliner
Angled eyeliner and brow brush
Smudge brush
Stippling brush
We have now given you a heads up on the best way to set up your makeup kit. Keep the lists in mind when you start out!