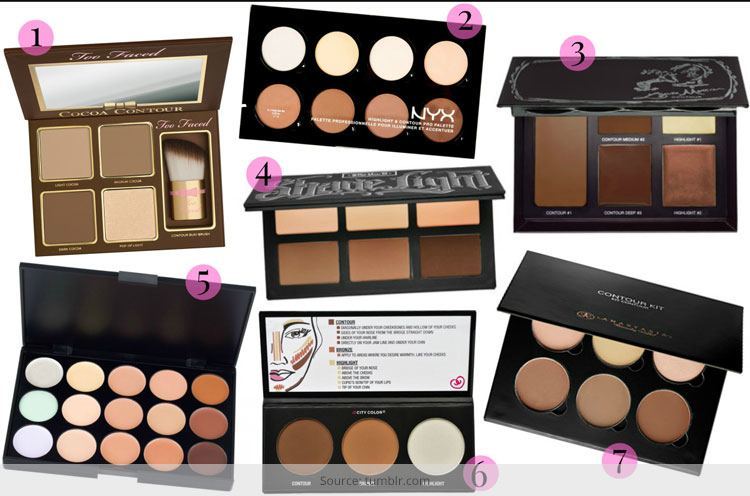 We have all been those little kids. We have started from fake makeup brushes to those synthetic brushes that are available in sets but don't get the work done. Then we moved to good quality brushes to finally pro brushes. That is our life, summed up in few words.
While we got used to getting our makeup on point, this new wave of contour hit the market. Everyone was all about sharp jaws and pointed nose. We just loved the way how perfect Victoria Beckham looked always. So sharp and classy.
Then came Kim Kardashian in her gorgeous glory. We looked at her in awe and wondered why life was so unfair and how she had the perfect figure and facial features to complement her figure. One fine day, she posted a picture of herself while getting her makeup done and then it hit us like an epiphany!
It was only then that aam janta got to know of this concept of contouring. Right around that time, YouTube was becoming a sensation and local makeup artist took to YouTube to teach and get their share of fame. And so, it all happened and rest is history.
Today, we can get anything done, just by looking at one YouTube video. If only @makeupbymario (Kim Kardashian's makeup artist) had his own YouTube channel! #Sigh. But nevertheless, we have enough channels where we can master the art of contouring. But the question is, what products should we be using?
We ideally started out by using two shades of foundation – one that matched our skin tone and one that was 2 shades darker for our skin tone. Quite honestly, it didn't work. Then came these amazing palettes and contour sticks which made our work easy. From high end to drug store, every brand has some means of contour products to offer. Which one are we gonna get?
Take a look below and decide for yourself!
1. Anastasia Beverley Hills
This HAS to be the #1 contour palette when it comes to almost-professional make up. Available in two types – cream based and powder based, this palette has 3 shades to offer. Just figure out which shades suits you best and get one already. It is priced at a nominal amount of $40. For the product that they are giving, the amount is pretty decent. Nothing over board.
2. Artist of Makeup – Contour Sticks
YouTube vlogger Zukreat one fine day decided to venture into the field of interest and went into production of cosmetics. She came up with the idea of contour sticks – which is totally fab! You can directly use these sticks and blend it all in with a beauty blender. Not so nominally priced, but a great investment. Each stick would cost you about 18 pounds. They also have a pro palette which would cost you 64 pounds a pop!
[sc:mediad]
3. Sleek Contour Kit
Now, for those of us, who aren't crazy about the contour game yet would like to try it on and off, and don't want to spend a LOT on the basics, sleek products come like a blessing! A simple kit with contour and highlighter is all we need. Just get the technique right and we are good to go. Would you like to know what it is priced at? $9.99. Yes!
4. Too Faced
Don't want to spend too much or too little but just want the perfect moderate contour kit with everything in it? Too faced contour kit is your answer. It also comes with a tiny kabuki contour brush. Need we say more? It is priced at $40. Agreed that it's the same as Anastasia, but it comes with a blusher and a brush and is not THAT professional.
So, here are the 4 contour kits in the market without a single negative review on their side. We are pretty sure that they would work like butter on your skin.
[Also Read: Have You Heard About Hair Contouring?]
Tip – If you have dry skin, then opt for cream based contour kits and if you have oily skin, then opt for powder based kits. Because if you do it the other way around, you will end up with either patchy or oily skin!
Hope this helps!!
XO.