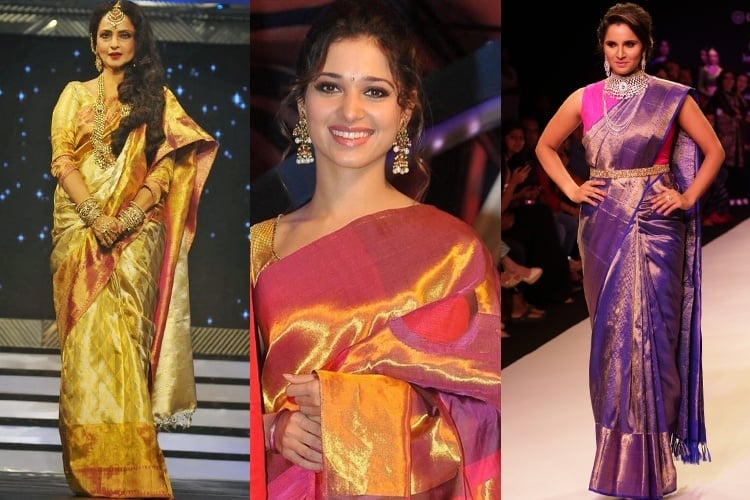 Avid radio buffs would flash a smile when they hear of the name Rini Simon Khanna. As a well-known newscaster with All India Radio and television news anchor whose voice has left a deep impact and still does, there is one form of attire she loved and loves most. It's designer kanchipuram sarees. When you see her, there is no more "Please stand away from the doors" and "Mind the Gap" which you hear her saying inside the Metro trains plying in Delhi-NCR metro routes…only authentic kanchipuram pattu saree worn by her comes to your mind.
[Also Read: 3 Trendy Kanchipuram Saree Styles for the Modern Woman]
Cut to Bollywood and The Dirty Picture actor Vidya Balan wore an old Kanjeevaram curated by designer Sabyasachi in the 2013 Cannes Festival. As a well-groomed Tamil Brahmin from the state of Kerala, Vidya became aware of her mother's great collection of Kanjeevarams, especially her wedding saris, a red-and-gold and a green-and-gold worn by her for special occasions. This was at a time when little Vidya was in school. Even today and each year, Balan's parents gift their daughter-turned-mega movie star authentic kanchipuram silk sarees on her birthday. Clearly, this is what legacies are made of which we see as celebrity in kanchipuram sarees.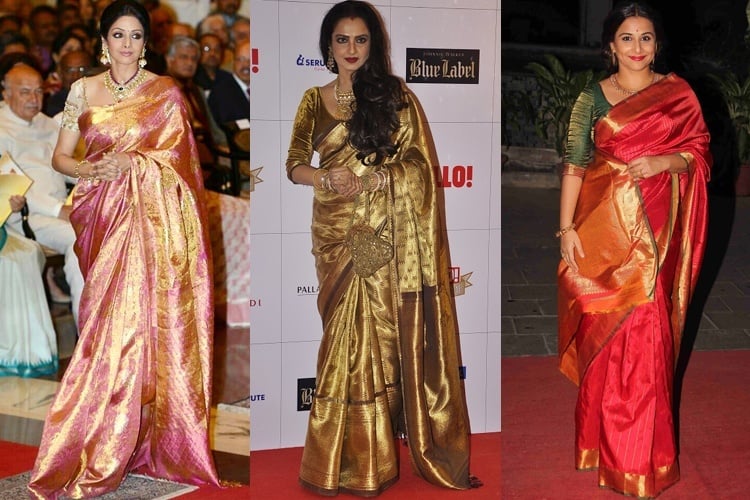 History Of Kanchipuram Sarees
Like the Bollywood and social celebs in awe of it, the history of kanchipuram sarees is equally vivid. Known for its royal and rich look, the designer kanchipuram sarees got their awesome name from a small temple town called Kanchipuram, which is the birth place.
[Also Read: Designer Sarees For Karva Chauth]
Kanchipuram saris that are a staple diet in traditional Indian wardrobe in the South go back to over 700 years to the Vijayanagara Dynasty.
Fabled to last forever, Kanchipuram silk is hand spun with a thick gauge and a sheen similar to dupioni silk.
The beautiful kanchipuram silk sarees are popular for their special weaving technique. Three single threads of silk are used with a single zari thread. What you get to see are woven end-pieces with thick zari threads. One can make out an original Kanchipuram by the fact that first the sari field and the pallu are woven separately and then later interlocked together.
[sc:mediad]
Coming to the motifs part, they are drawn from nature and even temple architecture such as parrot, peacock, swan, lion, sun, moon, coins, chariots, mangoes, leaves, jasmine buds and epical scenes from Indian religious scriptures such as Ramayana and Mahabharata, Bhagwad Gita.
Some of the best patterns seen in kanchipuram pattu saree include Mayilkann (peacock eye), Kuvilkann (nightingale eye), Gopuram (temples), Rudraksham (Rudraksha beads).
Woven from pure mulberry silk, kanchipuram silk sarees have that texture, lustre, durability to make it the prestigious Indian garment.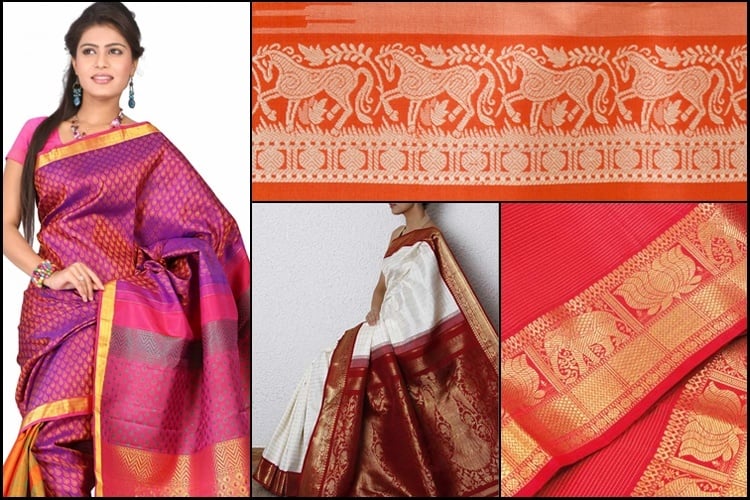 Manufacturing Of Kanchipuram Saree – Making The Business Profitable
The town of Kanchipuram in Tamil Nadu, as per industry estimates, accounts for a sizeable share of the country's silk-sari business.
There are 75 weavers' cooperatives and contracted looms run by none other than Nalli, Kumaran and RMKV Silks that provide their silk and zari to the weaver community.
One can safely come to the conclusion that this cottage industry has survived all negatives to keep the flag flying high – from rising costs of pure silk to decreasing numbers of weavers.
While high-end Kanjeevarams called pattu remain the favourite for festivals, weddings and formal occasions, lighter Kanjeevarams with unconventional patterns and colours are also picking up with steam and fanfare.
[Also Read: South Indian Wedding Sarees]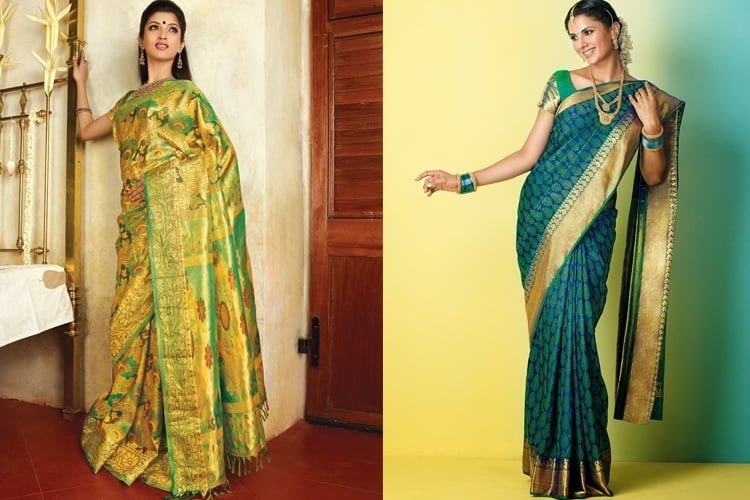 Kanchipuram Saree – Designers' View
With the onset of georgette, net and chiffon, many fashion designers still vouch for the timeless appeal of kanchipuram silk sarees. That explains the showcasing of Designer Kanchipuram Saree on ramp.
Neeta Lulla, the famous Mumbai-based costume designer is of the belief that a Kanjeevaram offers great scope to work with design motifs. She is trying her hand in turning a Kanjeevaram into a slimmer and thinner fabric so that the younger generation can easily identify with it and wear it.
It is nice to know that that designer Tarun Tahiliani dressed Oprah Winfrey in a modified kanjivaram sari when she was on her Indian trip. This made her flaunt a style that portrays Indian, cultural connection.
[Also Read: Indian Wedding Sarees]
Now that the history of kanchipuram sarees is appealing to many, Designer Kanchipuram Saree is moving upwards and onwards.
Let us know your thoughts as to how you find this new age fashion cult called kanchipuram silk sarees.