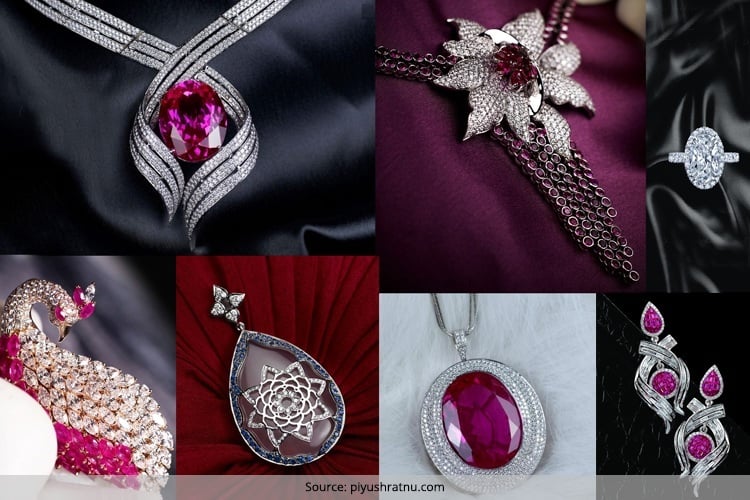 The wake of the new millennium has seen a revolution in the trade of diamonds. Diamonds, a precious stone that it is, is no longer farthest to the desires of the ordinary middle class society of India as it was during the eighties and nineties. Here are a list of the most visited diamond stores in India.
[Also Read: Did You Know These Facts About Diamonds]
Diamond Jewellery Stores In India
A range of chain diamond jewelry stores in India brought by some of the eminent brands have made this possible throughout the years. Even an intern with a monthly salary of fifteen thousand rupees can afford to save some in her pocket and invest in a piece of this coveted rock.
1. Nakshatra
Nakshatra is a Mumbai based jewelry brand. It is a venture of the Gitanjali Group which in itself is a multi-billion house. Nakshatra was founded in the year 2000 with the view of making diamond jewelry affordable to the basic Indian household. They specialize in neck sets, bracelets, rings and earrings in novel designs. Nakshatra stores are located in almost every city of the country. For those places where Nakshatra stores haven't opened yet, customers can avail their online shopping facility.
2. Caratlane
Caratlane is another brand of diamond jewellery in India that started off as an online store dealing with diamond jewelry. It was founded in 2008. Apart from dealing in diamond jewelry. Caratlane also involves itself in gold coin selling. Though it commenced as an online store, Caratlane's huge customership had led it to open multiple stores across the country to meet the demands created by the buyers. The brand has some of the most exquisite designs when it comes to rings and pendants, especially the ones with flower motives. The patterns are very today, and one may wear it to work as well as party.
3. Gili
Though in the past 15 years Nakshatra has made a mark of itself in the trade of diamonds, Gili was the first brands of jewelry to be brought by the Gitanjali Group in 1994. This was the first jewelry brand ever that retailed through various departmental stores in India. Gili still continues to run outlets across country and makes diamond jewellery available at affordable prices. If you cannot find a Gili store in your vicinity, you may confidently buy their products from online stores like Homeshop 18. They are certified products and quality can never be a question. However, Gili's catalogue can be a little high end as compared to Caratlane.
[sc:mediad]
4. Bluestone
Bluestone is an online diamond jewelry store in India and operates virtually in the complete sense. Having said that, the quality and variety of their products do not fall short to any of their competitors running through outlets in lavish malls. In fact, being an online store, Bluestone doesn't require to incur rental, and other operating costs. This enables them to sell their products at very nominal prices. The best products of Bluestone includes some of the most exuberant pendants that will enlighten your mood in minutes.
5. D'Damas
Available in multiple outlets across India, D'Damas was a venture taken up jointly by Gitanjali Group and Damas from Dubai. The product line of D'Damas comprises some exquisite pieces in plain gold with diamond and other precious colored rocks. Being a famous diamond store in India, its widespread collection covers all moods, needs, tastes and emotions of consumers belonging to various generations and for all occasions. Some of the bridal sets of D'Damas can captivate you with their hypnotic might.
6. Tanishq
Tanishq presented by Titan is the most celebrated brand of diamond jewelry when it comes to Indian buyers. They have presented the diversified Indian customer customized bridal sets suitable for every region. The stores of Tanishq have cropped up in every nook and corner of the country. One will find a simple pendant to wear at office as well as a heavy set to bejewel one's wedding at Tanishq. The price tagged to these products totally justifies the brilliance they carry.
[Also Read: Types Of Diamond Cuts For Your Hand]
Diamonds have entered the day to day lives of Indian families with average income. They are no more a luxury limited to the gentry. If you are planning to get your first diamond jewelry today, or perhaps the n'th one you now know which Indian diamond jewelry stores promise the best quality diamonds. Apparently, the products of all the above stores come with a certificate of quality that one can trust blind folded.