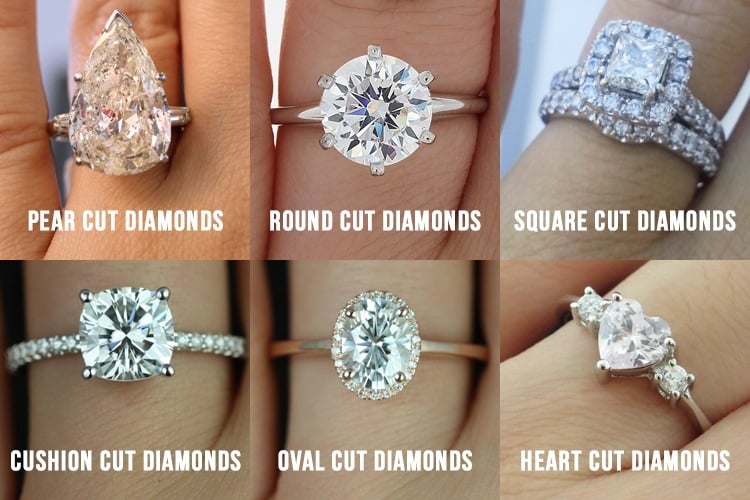 Who doesn't get fascinated by a shining piece of rock? I do and I know you do too. Legend has it, diamonds are a girl's best friend. But that doesn't limit men these days to rock the rock. As a matter of fact, diamonds were never a feminine monopoly solely. It was always gender unbiased. Diamond rings are truly for everyone. But before you purchase a splendid solitaire you might want to know which types of diamond cuts match the shape of your hand.
[Also Read: Diamond Engagement Rings For The Indian Bride-To-Be]
There are majorly six characteristic diamond cuts
Pear Cut Diamonds
This is a diamond shape that sits perfectly on round fingers. A pear cut solitaire is rounded at one end, generally the bottom and pointed at the top. The pear shaped solitaires boast a classy feel about it gives an appearance that of a crown. Again, those with squarish hands can also pick up a pear cut diamond as it grants your hand a delicate look due to its roundish shape.
Round Cut Diamonds
Of all types of diamond cuts, the round cut is the most widely used and worn diamond shape across borders. The reason behind this enormous popularity is safely interpreted as its suitability for all kinds of hands and fingers. You don't really need to brood over its look on your hand if you have settled your mind on the round cut. Again, if you are confused about the shape of your hands and fingers, the round diamonds are your go-to rock. Though, they look their best on skinny hands with slender fingers, it's okay even if you don't have those super model hands. Round diamond will make your hands look like one.
Square Cut Diamonds:
Square solitaires can safely be worn by those with big and strong hands. With its dominating appearance, bold and outsmart appeal they bestow the wearer with lots of confidence. Square diamonds have a characteristic edge about them. They bring unparalleled style and quintessential magnitude to your persona. Despite a lot of women finding this cut very attractive, they ideally look royal and organic on a male hand. Having said that, it doesn't really forbid a headstrong woman of substance to own a square cut diamond.
Cushion Cut Diamonds:
Cushion cut diamonds are rectangular or squarish in shape, but have their corners rounded. The round corners soften the appearance of the solitaire. Brides who have plum hands might enjoy the display of this cut on their ring finger. With their evident shape, the cushion cut rock can create an illusion of slimness on the fleshy hands and fingers, thus making them look lean and long.
[Also Read: How to Buy a Great Diamond Engagement Ring]
Oval Cut Diamonds:
A typical oval shaped diamond would be the one that stands somewhere in the middle of an entire round and pear solitaire. As the oval shaped diamonds lack strong pointed corners, they enhance the smaller hands more. While selecting from a wide range of oval solitaires go for the ones with an impressive band structure. The band, in case of these oval diamonds can coin a characteristic difference in the overall appearance of the jewelry.
[sc:mediad]
Heart Cut Diamonds:
In addition to the round shaped diamonds, the heart shape diamond too looks flawless on most of the hand shapes. They work for short, long, plump as well as skinny fingers. They come in an expanded range of looks and bands giving you a myriad of options to choose from. However, this piece of jewellery is more specific to the personality than the shape of fingers. Go for the heart shape solitaire if you are a hopeless romantic at heart. Yes, this one was made for you guys.
There are a million options spread in front of you when it comes to diamond shopping. But I hope now that you have the diamond cuts explained, you can settle your mind on any of these beauties. One last tip that I would like to share here is, never compromise on the quality of the rock for a few pennies here and there. Diamonds are indeed forever, so every ounce spent on acquiring the perfect piece for you or your beloved is an investment for life. Make sure you visit a reputed and well-known store to buy your diamond, which owns all the certificates mandatory for one to get into the business of this precious stone.