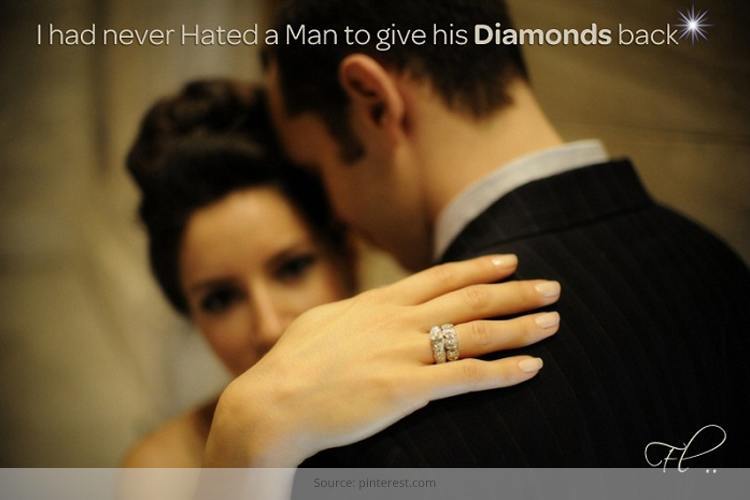 People say, a woman can never be satisfied with jewelries and no matter how many rocks she has added to her collection, her quench is never satisfied. Such is the fetish for diamond jewelries  that hardly any woman has ever escaped from its tantalization.
People also say diamonds are woman's best friends. Even world's eminent celebs like Elizabeth Taylor couldn't escape from its bewitching qualities. She was reputed to possess some of the world's biggest rocks, including her engagement diamond engagement rings of 69.42 carat Burton diamond and 33 carat Krups diamond.
These exquisite accessories are in much demand during wedding season. Recently, diamond engagement rings have become one of the most commonly purchased wedding accessories in India.
While the regalia stores get flooded with customers, diamond continues to become one of the claimant affairs in wedding seasons. While women go mad for these solitaires, men find it to be the most confounding task to purchase these stones, especially for engagement rings.
Purchasing a diamond ring is not a big deal these days. Diamond stores have become commonplace these days. And with extravagant online stores, it has only simplified the buying process, whilst complicating the selection part.  But is this enough to get a smart deal?
Few days back I came across a video in Huffingtonpost, where they were discussing on 'Bad Engagement Ring from a Great Guy'. The video covered interviews of 4 different entrepreneurs, who had ended up gifting their fiancées engagement rings, which were not bad actually but were as per their sweethearts' preferences.
Getting engaged is indeed a magical moment in everybody's lives. But have you ever thought what if your fiancee hates your ring? In the video, they had interviewed a San Diego based business man, who had to buy three engagement rings before she was satisfied. So, do you want to pay such hefty a price for your casual purchasing?
It's not like you need to spend a piece of your fortune on a big rock only to satisfy your girl. The guy who had to buy three rings had purchased a huge one at the first place, which didn't amuse his wife. Taste and preferences vary from person to person. These days, as most of the women are placed in multi-nationals, they hardly prefer jewelries and overrated engagement rings are a strict 'no' in today's corporate fashion.
Whenever you are going to buy her a ring, always remember one thing this is the ring she is going to wear for her lifetime. So, you should always invest a good amount of time in research and information before swapping your credit card on any ring.
[sc:mediad]
Buying a diamond ring can be an intimidating task. There are various factors to consider such as What is the type you look for? How much should you pay? Should you buy online or in a physical store?
Understanding the 4C's
Buying a diamond ring can be an intimidating task. There are various factors to consider such as What is the type you look for? How much should you pay? Should you buy online or in a physical store? You do not have to ridicule the process instead learn about the four C's: carat, color, clarity and cut.
This will help you a lot in buying a genuine stone. The 4 C's system of grading diamonds was developed 60 years ago by the Gemological Institute of America. To know more about this, you can do some research online or visit jewelers.
Apart from grabbing some technical information, the best you can do is take your fiancee's sister or best friend, who knows about her preferences and likes. On the other hand, girls can also help their husbands-to-be by giving them a hint about their taste. They can direct them to their sisters or friends and should give them ample information with examples to clearly illustrate about their preferences.
Online or Brick-n-Mortar?
With the advent of online shopping and a myriad of online stores, jewelry shopping has become a rising trend. Major brands like Tiffany, Macy's, Asmi, Bluestone, Nakshatra etc. are also seen selling their exquisite pieces online.
And there are some retailers who sell their diamond jewelries online only. Blue Nile is a store, who has sold engagement rings to over 325,000 couples online, including a piece worth $1.5 million.
Such stores offer numerous facilities, so as to make such luxury online purchasing an absolute pleasure. For instance, Blue Nile sends a free plastic ring-sizer with no obligation to buy to the customer's address.
There are online stores in India, who send their staff to your house helping you deal with such pieces easily. A 30-day return policy, free trail at home etc. have made online buying reliable and convenient.
While there are still many customers, who rely upon the stores their families are acquainted with since generations, there are others who rather prefer to deal with new retailers so as to get the latest designs available in market.
Choice is always yours – whether to buy online or offline, the design, the size of the stone and so on. But make sure you just do not end up being the Great Guy who bought a Bad Engagement Ring!
Hope this post was useful!