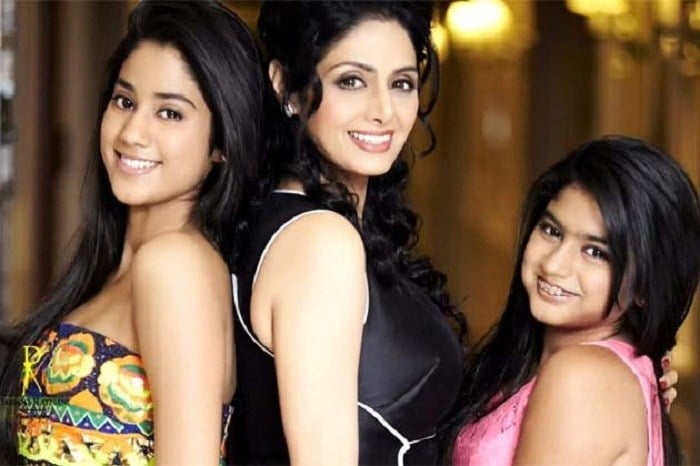 Sridevi, at 50, is oozing sensuality everywhere she goes. After her grand comeback with her movie, English Vinglish, it seems the queen bee is looking younger and ravishing than ever.And every time she makes a public appearance, she mesmerizes everyone with her charisma and go gaga over her fashion quotient.
A great beauty, an accomplished actor, a natural quipster, an ethereal fantasia; Sridevi has a cajole that is impossible to resist.
As per Vogue – Her fanboys wax lyrical on the ultimate screen goddess.
Her recent photo shoot for Vogue has proved that age can never be a barrier to prove your sensuality or may be she is the face of Medusa whose one glance would turn you into jelly. Call this as Sridevi's  second innings. Apart from flattering us with her acting skills, she has made us relive the moment of her Chaalbaaz and Mr. India days.
All these years, she has only polished what she is best at (acting skills), but the way she evolved herself in terms of fashion, she is a story to be inspired of. Forget about Indian fashion designers, international fashion houses like Christian Louboutin, know her in person.
In a recent interview to Vogue, Christian Louboutin, the luxe shoe designer shared he knew Sridevi since he was a teenager.
Here's an excerpt from Vogue August issue –
The main differences between us, well, firstly she was a girl, but she was also a great beauty and a child star—the Shirley Temple of India—and in my keen French eyes, a colorful icon with complicated hair. Her looks at the time were numerous, but I was most impressed by the mix of gravity and strength behind those humongous Bambi eyes. It is only recently that we met [for a shoot], and when she first walked into the studio we were to work in, her entry was that of a queen; Nefertiti, Cleopatra or Elizabeth Taylor. She entered the room with such magnificence, surrounded by brushes, mirrors, assistants, all dedicated to her—the entourage formed a halo around her magnetic presence. I was enchanted. She carries all of what Bollywood stars wish to project—beauty, extravagance, mystery, femininity and power. She is magnificent, living proof that elegance is not a foolish statement, and can run vividly in the veins of a natural-born screen goddess.
Her red carpet looks are mind-boggling, courtesy all the high-end designer's collections from Milan and London, making a direct entry to her closet. One thing that interests me a lot in her gowns is the décolleté which is bit deeper than one can actually think of at this age.
[sc:mediad]
Through these pictures, I bring to you, Sridevi's uncanny love for plunging neckline which only make her look sassy.
I am enamored with her recent photo shoot for Vogue magazine's August 2013 edition. Her subtle make-up, cascading hair, sexy dress and mischievous eyes absolutely look riveting and much younger than her years.
And force me to ask this question again and again, "Has Sridevi at 50 Proved You're Never too Old for a Cleavage Revealing Dress?"
Please care to leave your comments!