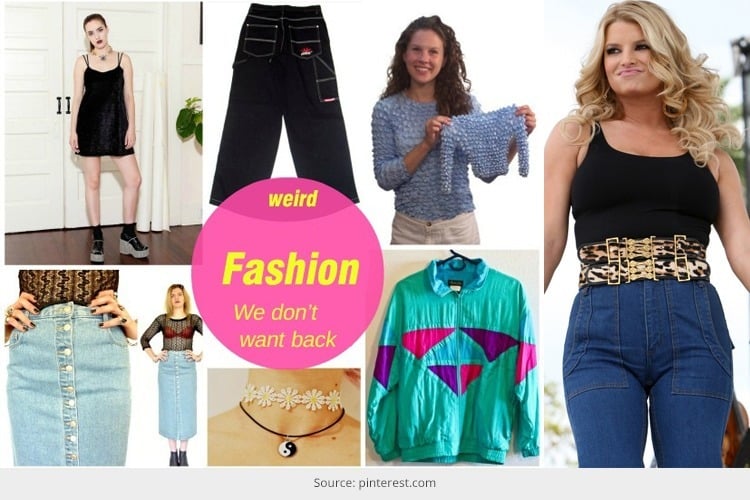 This edition is bit different from other posts I've written so far. I have always talked about latest fashion trends, street fashion, traditional, contemporary and anything that talks highly on fashion. But in this post, I have compiled world's 10 most ridiculous fashion trends of all time – the worst, ugliest fashion trends of history. You can count them among the worst fashion disasters by awfulness and people's apprehensive approach towards fashion.
I still wonder, why these things were popular and I seriously thank Heaven that I was never in that era. Now, when I debunk those weird fashion trends of yesteryear, all I just want to burn the photos and pretend it never happened. Such terrible trends seem to be something that have swept through a population like a contagious infection, only to burn itself out and have people slowly come to their senses and realize they were actually looking like fashion jerks.
Behold! The ugliest things people have ever put on their bodies in the name of fashion. Just have a look and I bet your reaction would be – "Disgusting!"
1. Sagging Pants
Pull up your pants – or the law may do it for you
Quite recently New Jersey has passed a law stating people seen in pants sagging too low in Penns Grove could be fined up to $1,000 for repeat offenders.
This is one of the most hated fashion trends across the world. Apart from this insane group of people, who have mastered upon this ridiculous fashion fad, everyone gets annoyed at the sight of sagging pants at public places.
This particular fashion trend has also taken Indian youth by storm. You can also see youngsters, mainly students donning this sagging pants.
This look actually came from gangsta rappers who tried to build a hardcore image of a drug peddlar or gang member off the streets. The look (as most people know) started in prison during the late 1970's by men who had their manhood taken away by other men in prison.
2. Mullets
The mullet hairstyle flaunts a contrasting and peculiar mix of long and short hair – short hairs at the front followed by long hairs at the back either in a tail-shape or just free locks. I only get reminded of early 90's WWF members who used to don such weird hair styles.
However, this trend originated in 60's and by 70's it had entered into the world of hippies as well. But originally, this hair style started out as a rebel during 6th century Byzantine Era when rebels had cut their front hair to stand out among the Roman crowd.
This particular style became a rage during 80's when musicians like Bono, Sting, Duran Duran and David Bowie spotted this look.
3. Footbinding
Footbinding is a gruesome Chinese fashion, which originated in 18th century and continued to bring in physical torture to Chinese women in name of fashion for almost next 1000 years. Women were almost crippled by this cruel custom. During those days, if a woman had normal feet, she was considered unfit for marriage. Only peasants had normal feet, as they had to work in the fields. This was rather a status symbol.
The tradition was to have a small rich girl soaked her feet in a bath of urine and vinegar and then all the toes except the big one were folded tightly under the foot and tied down with tight bandages. This soaking and binding process would continue throughout the girl's childhood only to ensure that the feet never grew more than three inches long.
4. Shoulder pads
Shoulder pads are kind of fabric-covered padding used in women's clothing to give the wearer the illusion of having broader and less sloping shoulders. This fashion, which had originated in 1930, continued to rule till early 90's.
[sc:mediad]
This fashion became hugely popular by British ex-Prime Minister Margaret Thatcher, who was internationally renowned for adopting such fashions and so was Lady Diana.
5. Mom Jeans
This is a humorously negative term for particular kind of women's jeans, which is nothing but a fashion embarrassment. The design which is only unflattering to the wearer's body shape was considered highly fashionable in 80's and early 90's. The style involved high waist making the buttocks appear disproportionately longer, larger, and flatter than they actually are.
6. Stirrup Pants
Whenever I come across such pants, I instantly remember our late 60's and 70's Bollywood actresses, who used to wear such slacks which went under their foot to maintain the elasticity.
The stirrup pants are close-fitting pants which taper at the ankle just like the old leggings and a piece of band extends under the arch of the foot to hold the pants in place. This pattern was initially developed for horse riders and soon women were seen wearing them in beaches in 1920s. And it didn't take much time to pave their way to the film world.
7. Bullet bras
With best remembered on Madonna, the bullet bra was probably the most successful design during the evolution of this women's inner wear. the cone bra made its first appearance in 1940s, when women used to wear it under tight t-shirts so as to accentuate their breasts and get the famous "Sweater Girl" look. Our yesteryear Bollywood actress, Nanda was frequently seen in such fashion trend.
8. Underwear as Outerwear
Well, it's not only our Superman who is seen donning this fashion, well it has become a huge trend these days, starting from Rihanna and Lady Gaga to Paris Hilton and  Christina Aguilera – everyone flaunting their inner wear over their outwear publicly!
This is a kind of deconstruction of trends which evolved heavily in 21st century. The display of thongs, bras and lingerie has become common among celebs these days, while regular girls continuing to flaunt their slips through their sheer tops and dresses.
A corset, bra or bustier peeking through has now become an accepted norm. This kind of celeb-driven fashion trend has been tagged by fashion magazines and blogs as  as the "underwear as outwear" trend and promoted as a mainstream style.
9. Hobble Skirt
Here's an excerpt from Wikipedia,
"A hobble skirt is a skirt with a narrow enough hem to significantly impede the wearer's stride. A knee-long corset is also used to achieve this effect. A dress consisting of such skirt is called a hobble dress. The name was given in reference to the device used to restrain, or hobble, horses."
This is just another crazy craze! When this trend was conceived in 1910, women wanted to adopt the-then latest style, which was completely impractical.
This ankle-length skirt was slim-fitting around the hips and legs. It was a forerunner to the pencil skirt and then narrowed significantly at the hem. The initial idea was the tighter the better, as the restricting garment flaunted a woman's shape and forced her to take tiny, deliberate steps.
10. Beehive Hairstyle
As the name suggests, this kind of hairstyle resembles a beehive. It originated when the trend of "big hair" was in. This particular hairstyle was developed by  by Margaret Vinci Heldt of Illinois, who had won the National Coiffure Championship in 1954.
Audrey Hepburn, in her movie Breakfast at Tiffany's, had sported a large fashionable beehive hairstyle. Back in India, actresses like Helen, Sharmila Tagore and Bindu were popular for such hairstyle.
This hair style made a came back, when Amy Winehouse made it her signature look.
Present Day Ridiculous Fashion
The ballet boots
The ballet boots, which became high popular during 1980′s, were basically inspired from the ballerina flats. This pair is a contemporary design of the fetish footwear, which is a combination of high heel and pointed shoes. The wearer was forced to force her feet to almost en pointe.
Ballet boots and shoes are not, however, intended for prolonged standing or walking, or functional for dancing. Instead, they act as a fetish object for sexual gratification, heightening the erotic appeal with the elements of bondage and submission. They are thus sometimes used in BDSM play.
Armadillo Shoes
Armadillo Shoes by Alexander McQueen released in 2010 took the footwear fashion to extremes, which were then highly popularized by Lady Gaga. These are favorite among those, who do not care about looking ridiculous in public. Just stay away from these awful shoes my dolls if you love your ankles!
Hope you enjoyed this post!