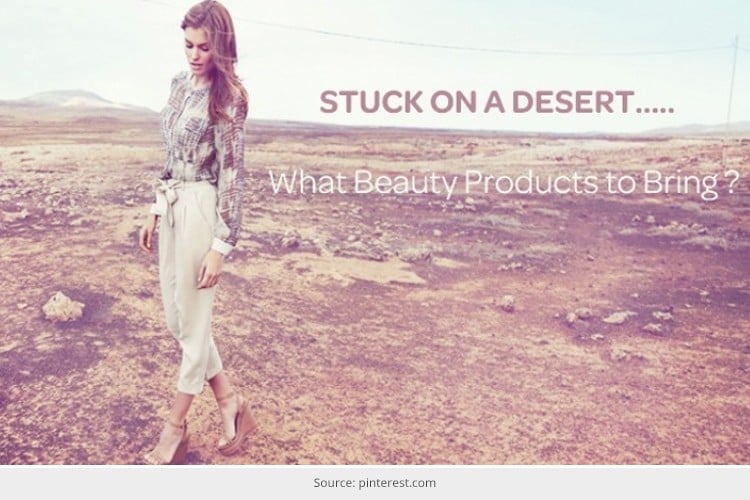 Known for its wilderness, isolation and unexplored beauty, a desert trip promises adventure, mystique and perhaps sunburn from unbearable heat?
While you get busy making hotel reservations and booking exciting desert safari packages, you seem to have missed out on an important detail: stacking up on beauty products and cosmetics which will help you survive the harsh heat of the arid deserts.
We, at Fashion Lady, present you top 5 beauty products to combat the searing heat from an overpowering desert sun. Have a look!
1. Lakme Sun Expert Sunscreen Lotion SPF 50
This lakme lotion boasts of one the highest SPF, 50 PA +++ which makes it a great choice for your desert trip. Unlike other sunscreens, this lotion is light weight in its texture unlike those sunscreen lotions which feel heavy and cakey when applied on the skin. The specialty of this sunscreen is that the texture ranges from creamy to powdery.
This expert sunscreen lotion comes with a delightful citrus aroma that will definitely make you feel fresh and pleasant in the glaring hot desert sun. Its non-greasiness ensures that the lotion won't be melting and dripping off into the desert sand and leave you to the mercy of UV rays.
2. Bobbi Brown Creamy Matte Lip Color
The scorching sun in the desert calls for desperate measures to fight parched and dry lips. Now, we at Fashion Lady, want you to look your best even in the midst of the desert and sand dunes! While on your desert trip, get perfect, non-runny, smudge-free and hydrated lips with Bobbi Brown Creamy Matte Lip Color.
This wonder lipstick leaves a long-lasting and moist effect on your lips. It is one of the longest staying lipsticks and utilizes a smart formula to offer conditioning to the lips. Its high quality color will not fade up to eight hours.
Choose your favorite lipstick from a wide range of nude colors to bold shades – Get lush lips with rich hues to look gorgeous!
[sc:mediad]
3.  MAC – Liquidlast Liner
You don't want to end up with raccoon eyes and ugly smudges while sweating terribly in the summer heat. Invest in a top-notch Mac liquid last liner which will keep your eyes smudge free and clear.
This is rich color liquid eye liner which is a brilliant combination of long-lasting effect, non-smudgy and non-flaky. Take your time in applying this eyeliner carefully as it may drip and give you a tough time wiping it off. But once you have applied with precision, then be assured that it will last you for a long time.
At the end of the day, remove this eyeliner with virgin coconut oil or almond oil which will ensure it off in a second.
4. L'Oreal Paris Dermo Expertise UV Perfect Moisture Fresh Sunscreen – SPF 30
This sunscree lotion might be a tad bit expensive than the others but it is completely worth the price. It has been developed for being completely absorbed by the skin and does not look patchy or pasty. It feels extremely light on application and exudes a lovely aroma.
What makes this special is that it offers a natural and dewy look to the face on complete absorption into the skin.
This sunscreen will save you from looking terribly sweaty and exhausted under the harsh summer sun.
5. Dove Original Deodorant Spray
Use this lovely deodrant spray to feel fresh in the overpowering desert heat. It gives you a pleasant and soft feel to make you feel relaxed and rested. It has a combination of aromatic and quality ingredients. It comes with ¼ moisturizing cream which takes good care of your skin and avoids any kind of irritation.
Hope you liked our list of featured products to battle the glaring heat and sun rays of the desert. Tell us what you think!
Till then