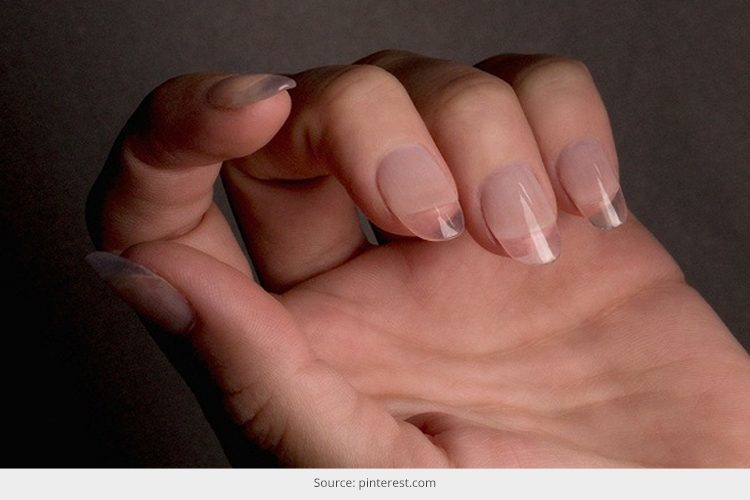 Nude nails! Would you like to flaunt this bare look? Well, I am not talking about natural nails, but transparent falsies! These fake nails are see-through, shiny, noticeable and sharp.
This kind of nude nail style is already popular in Japan. These falsies will give you few-inch long clear claws, making your nails look naturally beautiful.
Sometimes, these transparent falsies are also available with stones to give an extra edge.
However, I recommend you to go for undardoned nails. Quite recently clear nails have been regular at the runways. When Prada had showcased a fashion parade, their models walked down the runway with nude, long nails and not to mention toe nails peeping out from the sandals.
Apart from all the glittery nail art, decaled and manually painted nail styling which are quite popular these days, this particular is bit understated yet modern.
Which brand to go for?
Salon Clear Artificial Finger Nails are the best in the town.
Apart from these types of nails, there are other types as well, such as acrylic nails, gel nails and silk nails. These three styles are widely used, as these are committing for a longer time. Silk is the most popular of all these three, which is often used to strengthen nail tips and repair nail trauma.
[Also Read: Christmas Nail Art Designs]
Arcylic Nails
To get these nails, your salon technician will mix a liquid with powder and brush the mixture onto your nails. This mixture can sculpt to extend your nails.
[sc:mediad]
As soon as this mixture comes in contact with air, it releases a strong odor which isn't harmful though.
To maintain your nails, you should visit your professional to have your nails filled in, as arcylics too tend to grow with the nails. Your technician will carefully file down the edge closest to the nail bed and fill in empty area between the existing arcylic nail and bed.
And when you decide to remove these falsies, all you need is do is to soak your nails in nail polish remover for 15 minutes.
Gel Nails
Well gel doesn't mean you'll have something thick thing like your Close-up toothpaste. the gel nails have similar consistency to nail polish. They are applied onto the nails, nail tips and appliqués to extend length. Soon after every coat is applied, your nails are then put under ultra violet light for 2 minutes to harden the product.
If you're worried anything of health issues like skin cancer being caused from UV exposure then relax. You are not going to be exposed to UV radiation a lot per session.
Just like arcylic, gel also grows out with your nails. So, they are required to be filled in every 2-3 weeks. The gel edge nearest to the bed will be filed down and then the gap will be filled up once again.
Silk Nails
Unlike the above two nails, these patterns are rather used to strengthen weak nails and also help a cracked nail grow out.
To get such nails, your nail artist will fit the material to your nail's shape and then brush it with glue. these are temporary and the glue also loosens within 2-3 weeks. They will be removed if your nails come in contact with detergents and dish washing bars.
Hope you liked this session!