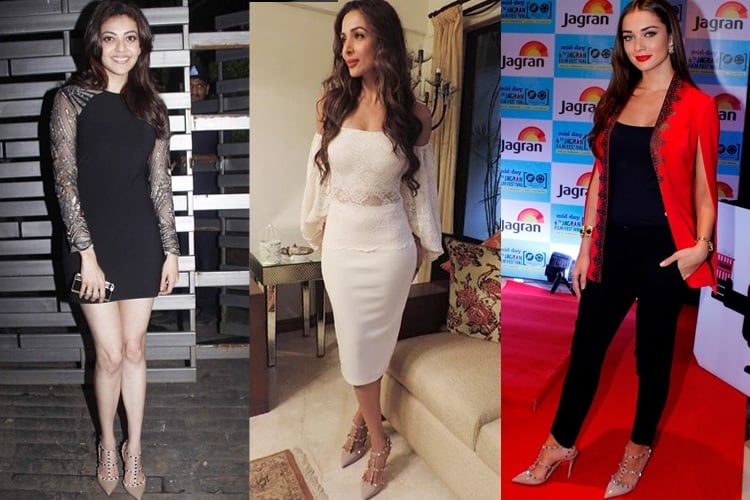 Being a tall girl is a curse. Unless you are Deepika Padukone or Lisa Haydon, you know? Because unless you are a model or a charismatic public figure, your height will land you into so many troubles! You just can't do anything about it, and the worst part is – you will always have to wear flats! If you have short brothers, they harass you! If you have short guy friends, they refuse to stand next to you! So much drama I tell you!
But having said all that, I feel heels are very central to your outfit. They give your hip the right pop, they accentuate your legs, they give a figure to your body shape. And if you are not blessed with height, then even better! You can just kill it in heels!
Today, we are going to talk about a certain pair of heels that caught our attention.
Would you like to know which heels?
Valentino's! Not just any Valentino's but Rock Stud Valentino's in Nude!!
Check 'em out!
1. Kajal Aggarwal
For a recent formal dinner, Kajal Aggarwal wore a gorgeous Namrata Joshipura dress. The dress in itself was okay, but when teamed with her nude Rockstud Valentino's, she just killed it!!
[sc:mediad]
2. Amy Jackson
This firangi beauty teamed up her nude Rockstud Valentino's with formal separates. Red, blue and black, her outfit had varying colours but her Nude Rockstud Valentino's took the price away!
3. Malaika Arora Khan
We had yet another sighting of the nude Rockstud Valentino's, when Malaika Arora Khan teamed them up with her white Ayesha Depala separates. Doesn't she look lovely?
So, here were three different ladies are spotted wearing heels. All of them vary in height, body shape and are wearing different outfits, but can you see? Their heels have made all the difference and have given them the sexy oomph factor!