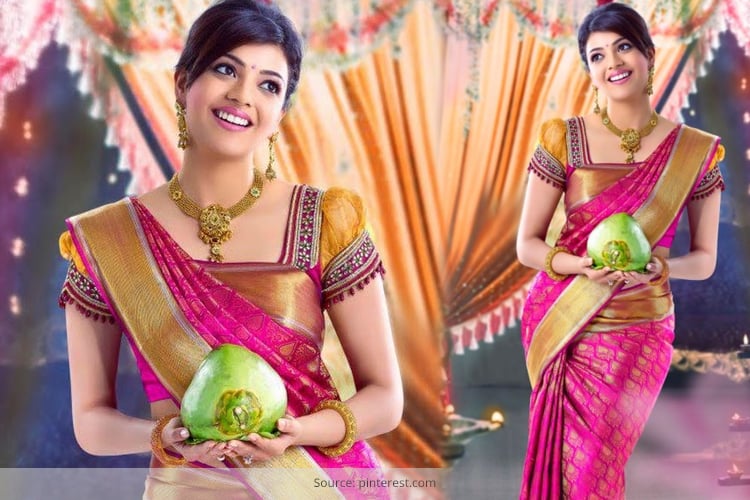 The King of Indian Silks
A south Indian wedding has never been complete without a Kanchipuram saree. And most families own at least one of these prized garments– sometimes handed down from generation to generation. Though we have Banarasi and Assam silks for close competition, there is no denying that Kanchipuram or Kanchivaram is the king of Indian silks. From a small temple town in Tamil Nadu to across the world, Kanchipuram silk has proven its worth.
[Also Read: Designer Half Saree]
Woven from fine mulberry silk, the soft fabric is turned into 6-yards of exquisite garment embellished with golden zari. The traditional motifs were inspired by nature and temple architecture. These delicate motifs and heavy zari borders are now giving way to designs and styles that appeal to the modern Indian woman.
For those of you who like innovation in design along with the elegance of tradition, here are 3 stylish Kanchipuram saree designs to flaunt at the next big event.
Geometric
Though geometric patterns have been used in Kanchipuram silk earlier, they were always a part of the elaborate designs that were dominated by traditional motifs. The modern Kanchipuram saree designs feature single geometric element all over the body or a combination of different elements like checks and triangles. These are either weaved into a pattern that cover the whole saree or are used only on certain parts like the pallu or border.
There are several geometric design styled Kanchipuram sarees suited for every occasion.
Where to Wear Them?
For a wedding or celebratory event, pick a heavy silk saree with zari borders and bright colours. For a fun and casual look, you can experiment with mix-and match of colours and design elements.
Half-Whites
If simplicity is your cup of tea, the search for a trendy Kanchipuram saree stops here. Try these half-and-half sarees that come in several fabric combinations like silk-georgette, silk-net etc. One half of the saree is left pure white with minimal embellishments, while the other half takes all the attention with its elegant colours and motifs on silk. Kanchipuram sarees cannot get any simpler than this.
These half-white Kanchipuram silk sarees are ideal for the modern women who crave discreet elegance and new trends. No doubt, they are popular both at the online stores as well as your favourite silk retailer or boutique. You could choose this style for a wedding reception or casual event.
How to accessorize this style?
Dress it up or down according to your comfort. Try traditional gold jewellery to add a little glamour to your look, if the top half of your saree is white. Otherwise, keep the accessories minimal – let the exquisite Kanchipuram enjoy all the attention.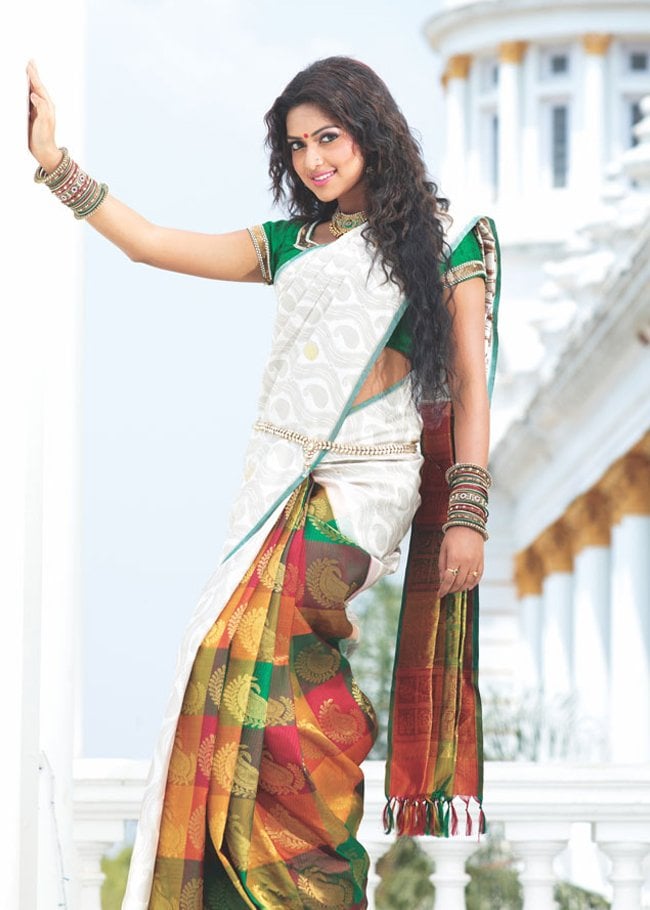 Chequered
Love Kanchipuram sarees, but don't want heavy zari borders and plain silk bodies anymore? You should check out the checks. Vidya Balan seems to like the chequered Kanchipuram silk a lot – she was spotted in the 6 yards of chequered silk on several occasions. Don't think this style is too simple for a celebratory occasion. Just add the right accessories and a statement blouse – now you are dressed to party.
[sc:mediad]
Dress it Right for the right occasion
Stand out from the crowds without the bling in your silk. However, go for bright colour combinations like fuschia –blue, orange-black, yellow-green etc. If the occasion is a wedding, accessorise with heavy gold jewellery and flowers in your hair. If you choose a simple handloom pure Kanchipuram silk saree with minimal zari work, pair it up with a brocade blouse with heavy embroidery or embellishments. You can always wear the chequered Kanchipuram saree for casual occasions too – just tone down the accessorising.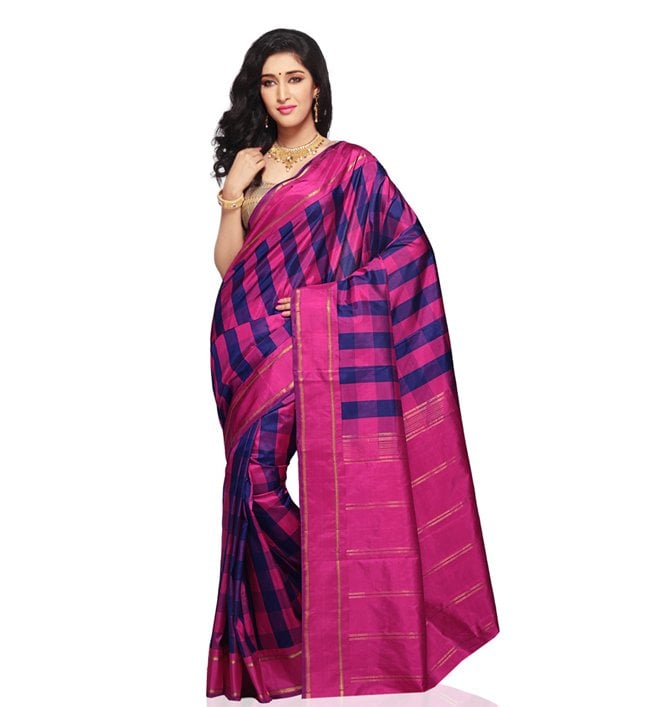 So, what is your Kanchipuram style going to be?
Images Source: pinterest