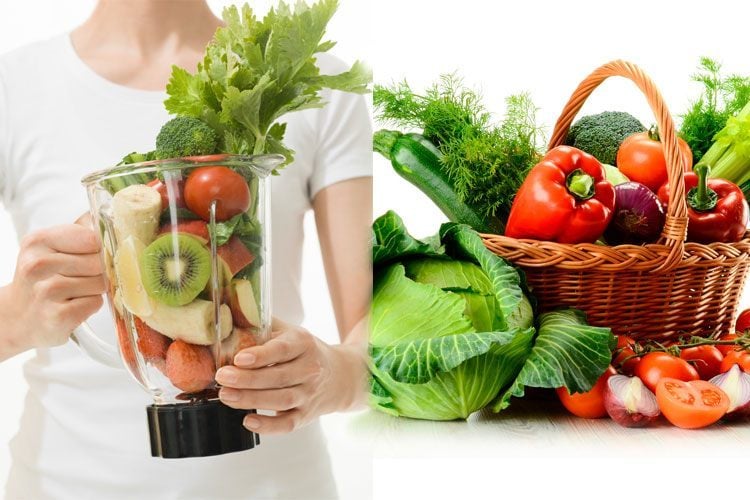 Juicing is a huge trend for people across age groups these days, especially the ones who want to shed weight or get healthy in a jiffy. Many people are turning to the healing power of fruits and vegetables or a detox therapy to improve their over-all health. And there is no better way to regulate diet plan than with a dose of fruits or juice therapy, perhaps the perfect way to eliminate toxins, impurities and poisonous substances from the blood stream. Also to cleanse the system from within!
[Also Read: Onion Juice for Hair Growth]
The benefits of juice therapy are many – from improved energy, weight loss, glowing skin, dissolve toxins, clear eyes, positive attitude, to removing acidity, boosts circulation and so on. Here are some easy ways to incorporate fruits and juices into your life-
Reboot Your System With Juices
To begin with, fruits should be had when freshly cut or juiced. You can get started by increasing the intake of watermelon in summers, or indulge in glass full of ripe tomatoes, papaya juice or banana-shake on a busy working day. This means lesser intake of food, but drinking fresh raw juice in unlimited quantities. A glass of juice requires less energy to digest and acts gently on the body.
Reasons To Say Yes To Juices
Beauty addicts- juice therapy is an effective and speedy last minute quick radiance diet. The glow comes easily with a glass of fresh juice. Do we see you picking up a glass of fresh orange juice already?
Sometimes, working women on the move, stay away from juice therapy as the body tends to feel lethargic. In this case, one can add thicker fresh juices or smoothies to the daily healthy food routine.
A glass of fresh lemon juice can help maintain body's alkaline balance and provides an instant cooling effect besides building immunity. Alternatively, fruit salad cocktail topped up with olive oil dressing and lemon juice is good. A great way to stay energetic in the summer months!
Sugarcane juice is another instant source of glucose and energy. This one is rich in calcium, chromium, cobalt, copper, magnesium, manganese, phosphorous, potassium and zinc. It helps maintain the health of the kidney, treats constipation. Besides it also aids in fighting acne, reduce blemishes, prevent ageing and help in keeping the skin hydrated.
[Also Read: Sugarcane Juice Health Benefits]
[sc:mediad]
The best fruits and vegetables to include for juices are before you hit the gym are celery, carrot, kale, cabbage, apple, pineapple, cranberry, spinach, beet, and greens.
As fruits are a welcome source of energy, diet and detox. Hang on to fruits like watermelon, muskmelon, pomegranate, strawberry, cranberries, limes, grapefruits, apples, cherries and figs because they are the best detox fruits.
Sour and sweet combination of grapevine and honey can be taken as breakfast to mark the start of the day.
Must-have Juices in your daily diet-
Orange:  Like most citrus fruits it contains a high level of vitamin C along with beta carotene, folic acid, phosphates, iodides, iron, phytonutrients and flavonoids. These components help to treat dark spots & blemishes.
Strawberry: It contains a higher level of vitamin C and manganese which helps to exfoliate & cleanse the skin, lightens age spots & freckles.  It contains ellagic acid which is a UV protector. Strawberries also prevent thinning of hair and give it a glossy shine.
Tomato: It is rich in vitamin A, C & K it acts as an antioxidant in preventing aging & is used widely as a whitening and de-tanning agent.
Papaya :  Contains  a rich amount of antioxidants like carotenes, vitamin C & flavonoids, B vitamins, folate and pantothenic acid it keeps your skin hydrated, making it supple and smooth. It also has exfoliant and anti-aging properties.
Avocado: With a high concentration of vitamin A & E it gives your skin a natural glow. It also helps to moisturize and rejuvenate the scalp.
Grapes : They have phytochemicals and phytonutrients which are antioxidant and anti-inflammatory in nature helping regeneration and healing of skin.
[Also Read: Himalayan Salt Lamp Light Therapy ]
Apples : It contains vitamin C which helps to boost collagen and tightens the skin, copper which is important for melanin production & vitamin A with other antioxidants which control acne, decrease dark eye pigmentation and increase hair growth.
Pomegranate: A single glass of pomegranate juice can provide you with 40 % of the daily requirement of folic acid and vitamins A, C, and E besides being a good anti-oxidant. Freshly squeezed pomegranate juice, boosts immunity, lowers cholesterol, BP, fights arthritis, improves memory and prevents cancer.
Banana: A rich source of vitamins and minerals including potassium, manganese, biotin, vitamin C &B6. The vitamins maintain elasticity of the skin and the antioxidants prevent aging.