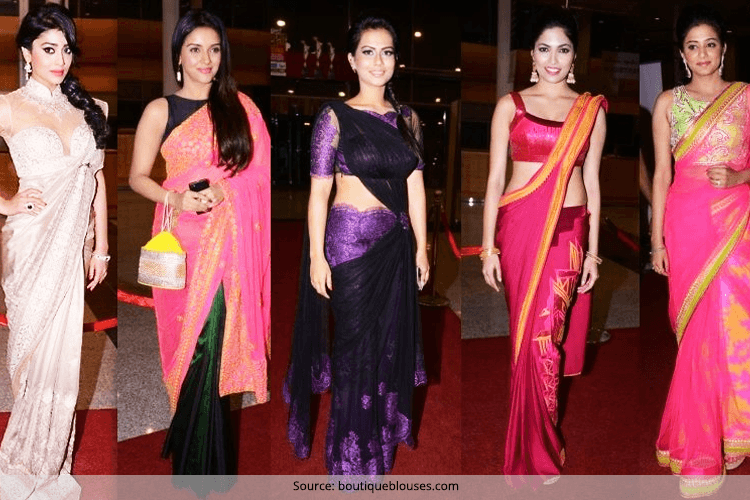 Saree is undoubtedly the most sensual Indian attire, and we all know how to wear it the formal way. But do you know how to look the utmost fashionable by adding some interesting twists to your saree-draping style? Yes, there are several different styles of wearing the saree. So let's get into the art of How to Wear a Saree.
Basic Tips to Wear Sarees:
Get the right color of underskirt that fits well into your saree attire.
The blouse needs to be perfectly stitched according to the need.
Learn the simple art of draping a saree.
The draping style should be apt to your body shape.
Pin the saree properly so there's no sign of it falling apart.
Wear heels before starting to drape a saree.
[Also Read: How to Wear Saree to Look Slim]
Here is a complete style guide for you on How to Drape a Saree:
1. Traditional Indian / Nivi Saree Style
'Nivi' is the classic saree draping style of India, and most of us swear by it. Originated from Andhra Pradesh, this simple style has now been accepted by women throughout the country. It is the versatility of the style, which makes it a universal choice. All you need is a fashionable saree, a perfectly-fit blouse and complementing accessories to go 'Nivi', and stun others.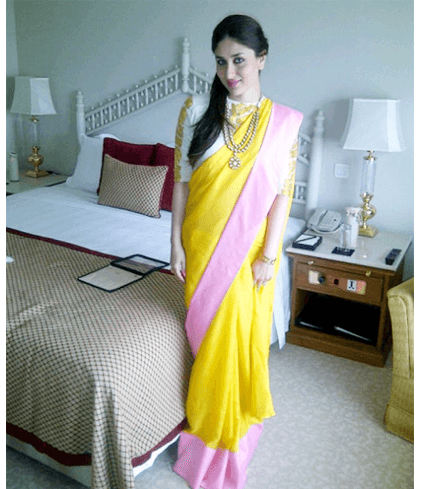 Here is a video on how to wear the saree in traditional style.
Let's look at celebrities sporting the traditional saree style:
Sonam Kapoor in a red saree by Anamika Khanna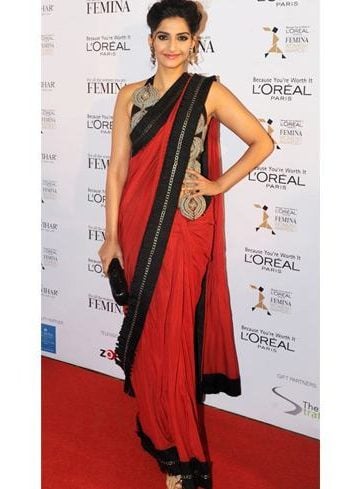 Designer Shilpa Reddy in a quirky yet traditional saree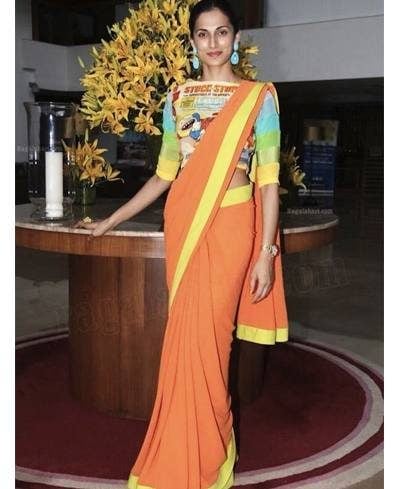 Priyanka Chopra in a bright green saree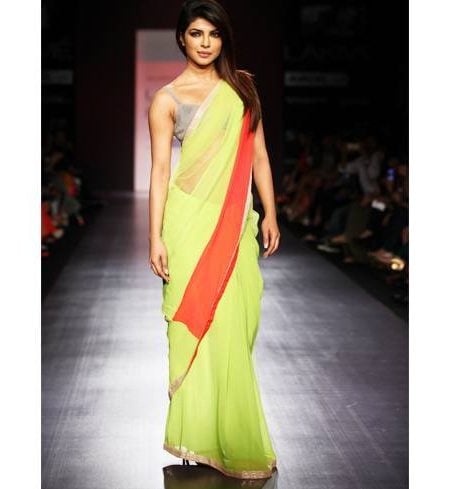 Hope these are enough inspirations for you to drape a saree inTraditional style. Continue reading on different styles of wearing saree.
2. Bengali Saree Style
Always loved the Bengali's draped in their traditional saree and wanted to learn how to wear the Indian saree. This one is for you.
Remember Vidya Balan's true Bengali look in 'Parineeta'? Though the way she draped the saree seems to be a tad bit difficult, it is actually quite easy. In the typical Bengali style, the saree is worn wrapping the pallu around the body twice with two wide pleats at the front. Cotton, handloom and brocade sarees go really well with this unique and elegant look.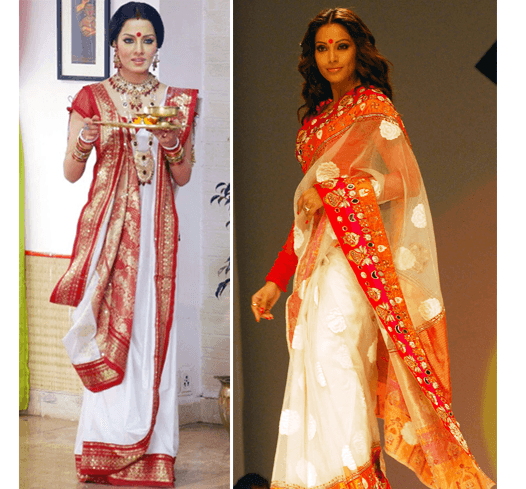 Here is a video on how to wear a Bengali style saree.
[Also Read: 9 Must Have Saree Styles Every Indian Women Must Possess]
Let's look at celebrities wearing saree in Bengali style.
Kajol during the most famous Bengali Festival, Durga Puja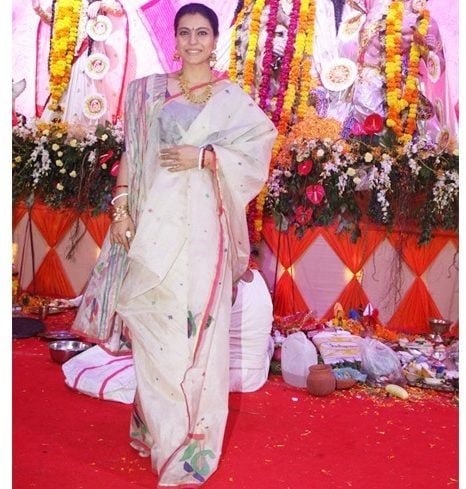 Aishwarya in Devdas exhibiting the Bengali culture to the fullest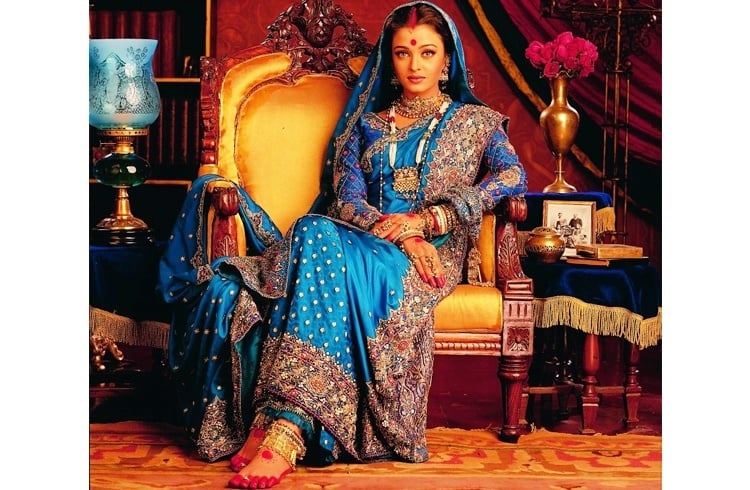 Mallika Sherawat performing puja in a traditional Bengali Saree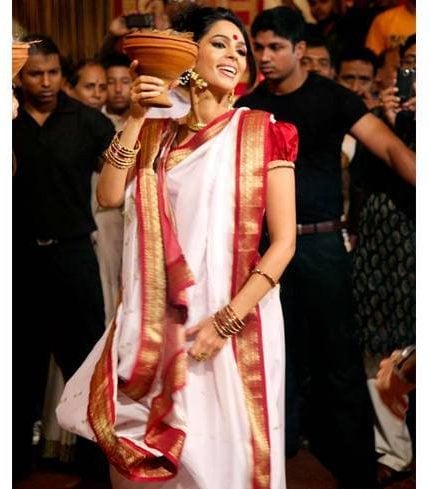 Sumona Chakravarti sporting a Bengali styles saree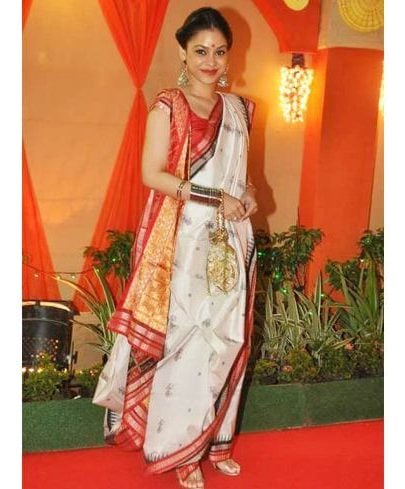 Hope these are enough inspirations for you to drape a saree in Bengali style.
3. Gujarati Saree Style
Gujarati style has now become the most popular regional saree-draping style in India, thanks to the daily soaps! It is mostly similar to the Nivi style, but the pallu section is arranged in a completely different manner. Instead of placing the pallu on the left shoulder, it is brought towards the front over the right shoulder. It is then either left hanging or tucked in at the back partially. A stylish saree with heavily embellished pallu is what you need, to sport this look.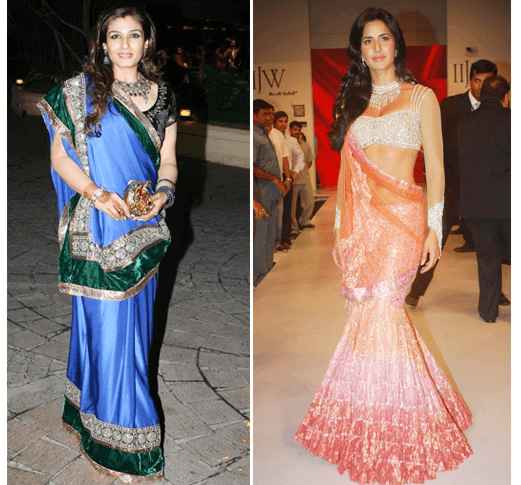 Here is a video on how to wear saree a in Gujrati style.
Let's look at some celebrities draped in Gujrati style saree.
Deepika Padukone wearing a silk saree in Gujrati Style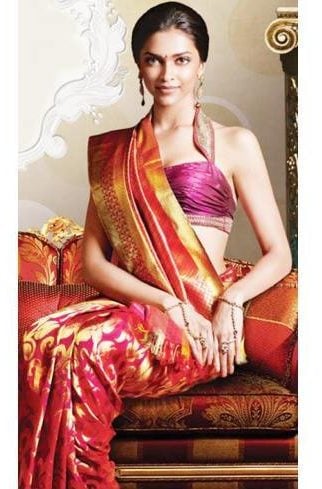 We are sure just this one lady is more than enough an inspiration for you to drape saree in Gujrati Style.
4. Kerala Saree Style
A saree, when worn in the typical Kerala style or Mundu Neriyathum way, can make you look absolutely pure and sophisticated. The classic attire comprises of two sections i.e. 'Neriyathum' ( the upper one draped over the blouse) and 'Mundu' (the lower one draped around the body and tucked behind). You can go for a classy white saree with a broad zari or golden border and try out this style.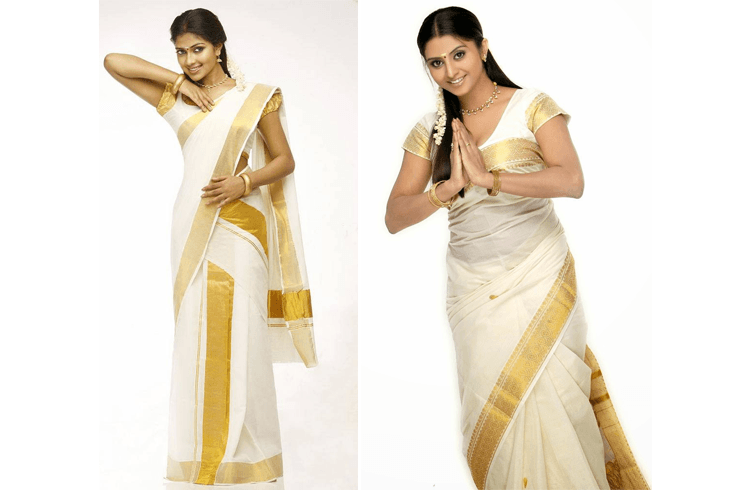 Here is a video on how to wear a saree in the kerala style.
Continue reading how to wear saree in different styles.
5. Maharashtrian Saree Style
Ever wondered how Maharashtrian women manage to drape that 9-yard long (yes! it is not the regular 6) fabric in such a neat, compact and super stylish way? To add to your surprise, the entire saree is tucked in on itself and you can wear it simply on your favorite pair of shorts or Capri rather than a petticoat. And don't forget the signature nose ring, those colorful bangles and fresh jasmine flowers.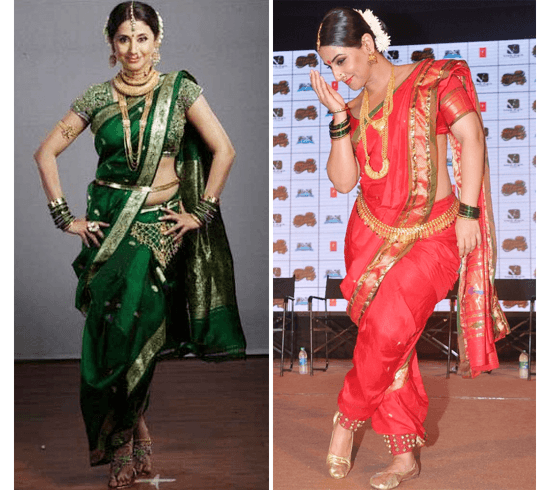 [Also Read: Your Petticoat Can break or Make Your Look]
Here is a video on how to wear saree in Maharashtrian style.
[sc:mediad]
6. Lehenga Saree Style
Confused what to choose for your bestie's D-day party? Drape your favorite saree in Lehenga style and get ready to be the head-turner at the event. Although pre-stitched lehenga sarees are easily available in the market now, you can do it yourself too. Just make multiple pleats with the pallu and tuck them around the waist. Oh, did we tell you that it suits curvy women the best?
[Also Read: 8 Amazing Fashion Tips for Curvy Women]
Here is a video on how to wear saree in lehenga style.
7. Butterfly Saree Style
This is the latest style of wearing saree. Styling like our Bollywood divas becomes really easy once you master the butterfly saree draping technique. It is nothing but a sweet and sexy twist to the basic Nivi style in which the pallu is pleated extremely thin for a mysterious navel-show. This style is considered as the most fashionable choice for a party and you can avail a pre-pleated as well as pre-stitched saree for this purpose. Otherwise, simply drape a lightweight saree in the butterfly way and team it up with a statement blouse.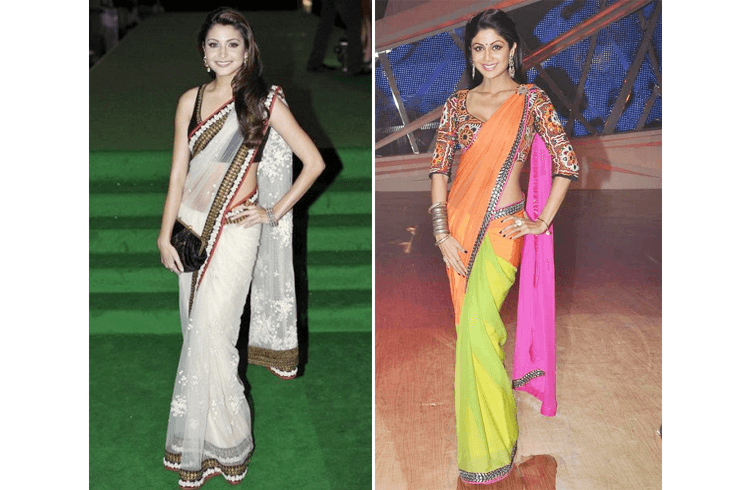 Here is a video on how to drape a saree in butterfly style.
8. Mumtaz Saree Style
Mumtaz, the 80s' legendary heroine, draped her saree this way in the superhit song 'Aaj kal tere mere pyar ke charche' and since then, it has become a wonderful style itself. You can get this sensuous retro look by wrapping the saree multiple times around the lower part of your body tightly. The most exclusive thing about this saree-draping style is that it flaunts the figure the most flattering way.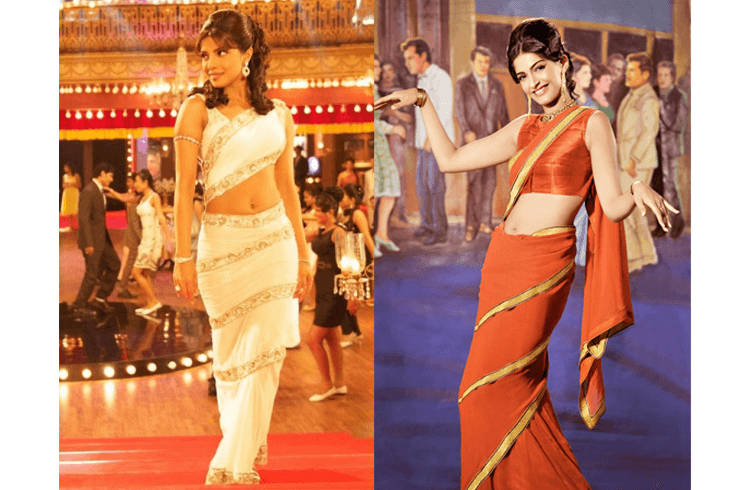 Here is a video on how to drape a saree in Mumtaz style.
9. Rajrani Saree Style
The name of the style itself reflects a royal elegance, isn't it? Well, Rajrani is the classiest variation of the Gujarati style saree-draping and you can try it on some of the best occasions. Start with wearing the saree the regular Gujarati way with front pleated pallu and then create a 'V'-shape with it. Rich and highly adorned silk or net sarees are perfect for this style.
Here is a video on how to drape a saree in Rajrani style.
10. Mermaid Saree Style
No matter whether the mermaid stories are true or not, you can create a mermaid-look by draping your saree the right way. If you have a curvaceous figure, you are definitely going to rock it. But don't worry as this style goes well with almost all types of body. Mermaid style involves draping the saree with no pleats at the waist. Moreover, it gives a flared skirt-like look at the lower end, which makes one look slimmer and sexier. So, go for an attractive saree with bedecked border and pallu.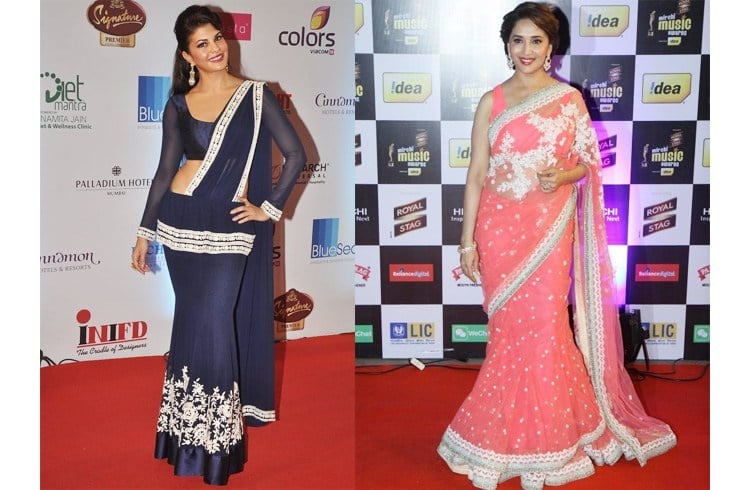 Here is a video on how to drape a saree in Mermaid style.
11. Open Pallu Style
The open pallu style of draping has gained immense popularity drawing inspiration from the glamour industry. The way to mastering this style of draping remains the same in the first half of draping the saree in the basic manner. What differs finally is the where the pallu doesn't get pleated, and is instead left as it is and put over the shoulder.
This is a contemporary style outfit and not actually a style of saree.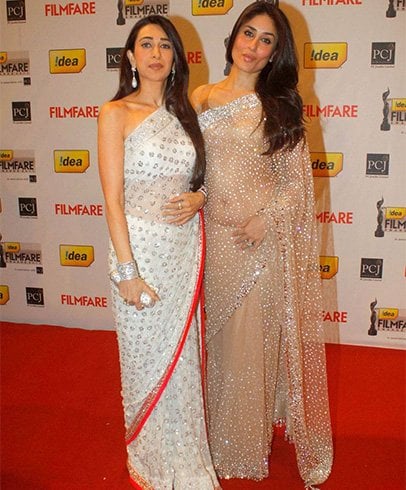 12. Pant Style
This indo-western style of draping is an instant hit. This saree doesn't need an underskirt but instead requires ankle length leggings. Take the pallu end of the saree and make pallu pleats and put this over your left shoulder. Now, take the other end and bring it back from the right side to your left waist side and tick it in at waist. All the loose hanging ends of the saree now need to be pleated and tucked in at the centre of pants. Go ahead for your party in this exquisite style.
13. Kappulu Style from Andhra Pradesh
Not seen much in the modern era, this Kappulu style of draping was done by the older generations of the same caste. This elegant style of saree flatters a womans curves and enhances the beauty. The longer the saree draping, the more lovely it looks.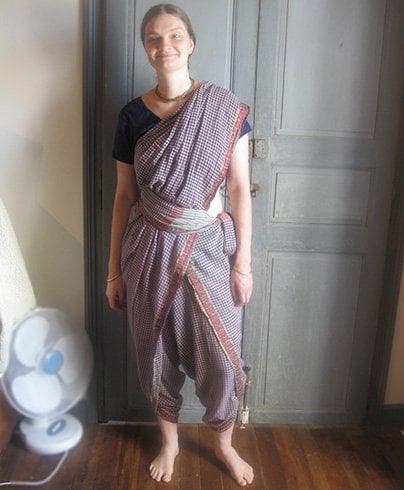 14. Coorgi style from Karnataka
A special mention is the Coorgi style which is seen from the minute you enter Coorg. This style has evolved to reach out to every generation, and made the women more active that they are able to walk and trek in these sarees too. The red and gold kanjeevaram saree is popular during Coorgi weddings.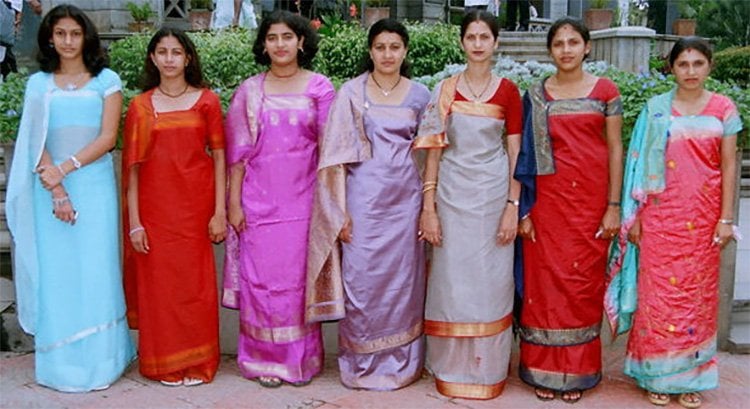 15. Madisaru from Tamil Nadu
An integral part of the Iyengar culture in Tamilnadu, this version of the saree has got so much traditional webbed into it. This saree is worn on special occasions, and if draped properly, it doesn't even require the use of an underskirt or a blouse. One of the toughest saree styles in the basic art of draping a saree.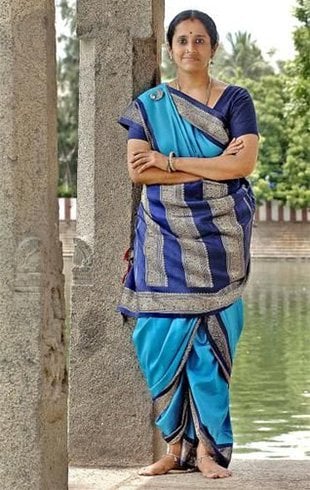 16. Mekhela chador from Assam
The Mekhela Chador is worn by the petite beauties of Assam. Their traditional way of welcomg a grand occassion is in this saree. This saree comes in two pieces where the bottom part is pleated in the front whereas one end of the upper part is tucked to the left of the waist. The other end is thrown over the shoulder.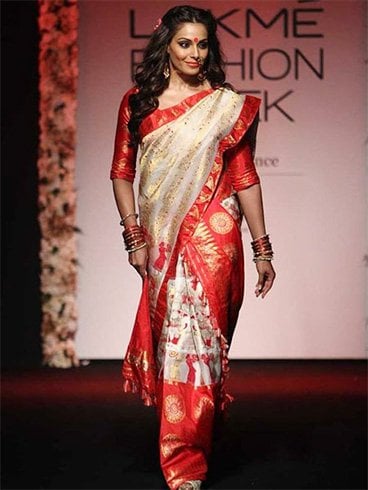 17. Dhoti style
This Dhoti style is the current favourite amongst fashionista due to the oomph it brings in the scenario. Not only among the fashion icons, but the dhoti style is trending in all the designer stores too. This style allows for extra movement and allows you to pair a sexy jacket on the saree too.
See how to drape it.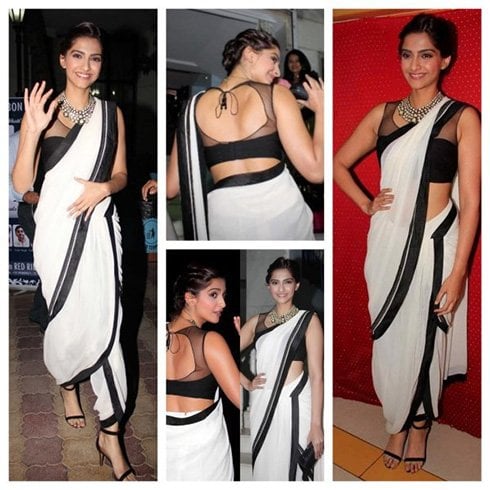 18. Belted Style
The simplest style yet a gorgeous one. This style of belted style saree just needs an attractive statement belt to clinch to your waist. So drape your saree first how you wish to, and then take the belt and put it onto your waist. The edgy flair is added to your look.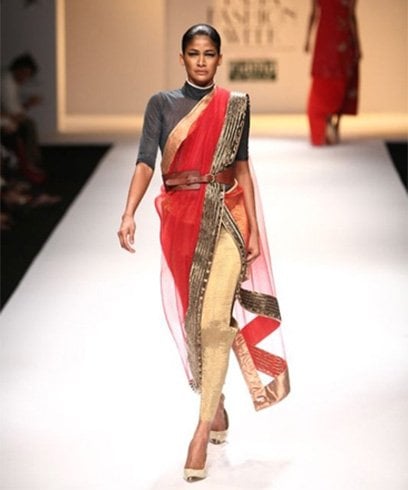 19. Pre-stitched/cocktail style
The pre-stitched saree has equal importance weightage on the saree as well as the blouse in draping. This look is usually preferred when you are wearing a georgette or chiffon saree. You can pair these sarees with crop tops, blouses etc.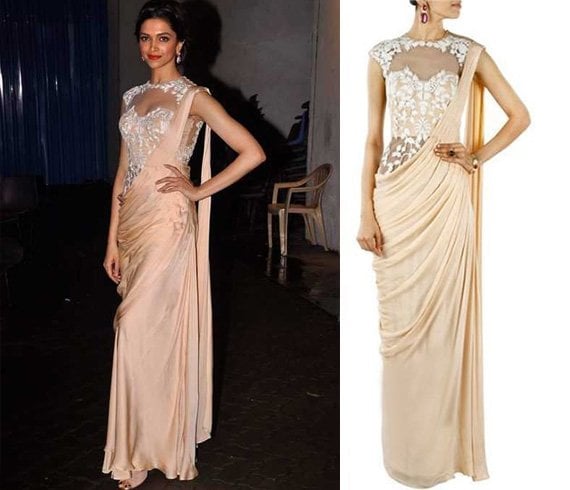 20. Scarf/Neck wrap style
How many of you have seen this on ramp walks in fashion shows? Yes, it's about time you try it too and set the trend off ramp. Instead of draping the pallu of your saree over your shoulder, drape it around your neck in various scarf styles.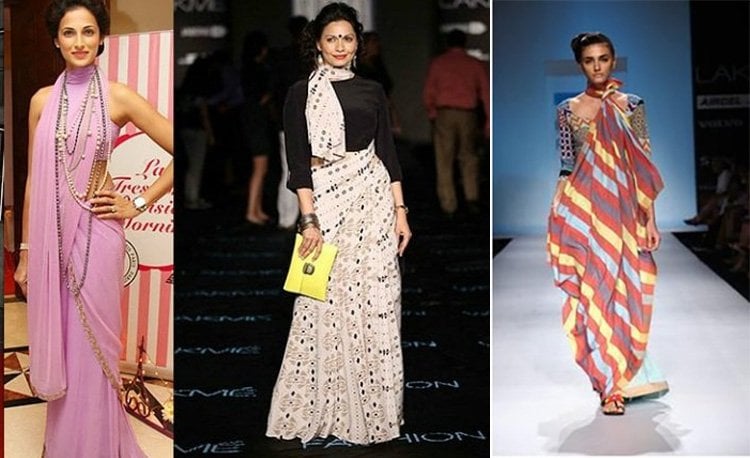 Hope the video tutorials of different saree-draping styles are helpful to you. So, are you ready to stand apart from others with your glamorous desi avatar? If you have any questions on how to wear saree, please let us know.
Images Source: pinterest