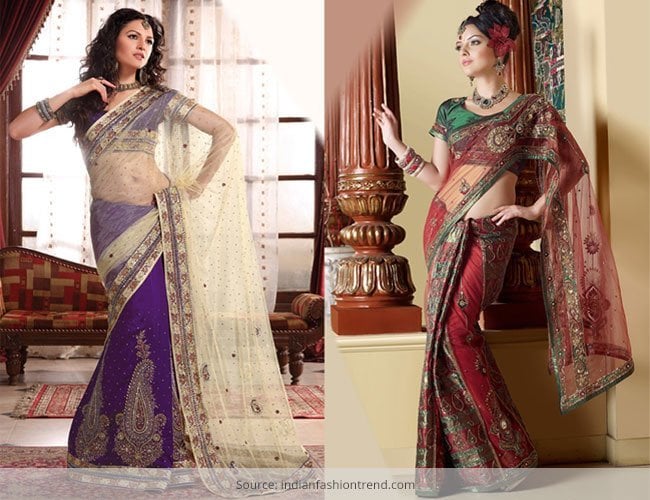 Can a woman look prettier than in a Saree? Sarees are India's traditional attire and the 9 yards of fabric are the best a woman can ever have. So whether she is wearing it in Gujarati style or in Maharashtrian style, the 9 yards will always look ethereal, classy and elegant. Another important aspect to keep in mind is the styling the sari. Here are nine saree styles that every Indian woman should have:
[Also Read: Designer Half Saree]
1. Kanjeevaram
The rich, red sarees are a patent from Kanchipuram (South Indian silk saree). They are the favorite with brides and are epitome of luxurious silk. One of the most expensive types of silks, these sarees are generally adorned with golden zaris which give it an even more exquisite look. The higher the amount of golden thread in the sarees, the higher will be the price of these sarees.
2. Assam Silk
Assam silk is another exquisite type of silk sari that every woman should possess. Assam silk is derived from the rare silkworm and is known around the world over for the glossy texture and durability. It can be hand washed and what's great about this silk is that it doesn't easily lose its luster or quality. In fact, it is enhanced with every wash!
[Also Read: 10 Different Ways To Use Your Mom's Old Silk Saree]
3. Bandhni Sarees
A popular Saree style from Gujarat and Rajasthan, these are tie and dye sarees which are available in a huge number of designs. Mostly available in pastel and bright colours, Bandhni sarees look perfect for Dandiya nights. They are also pretty light weight, which makes them a perfect choice for dances!
4. Chanderi Sarees
A typical of Chanderi, Madhya Pradesh, Chanderi sarees are usually available in pure silk or pure cotton. It is intricately hand woven and is thus a little expensive than a typical saree. They have peacock or geometric designs and are generally worn for every occasion.
[sc:mediad]
5. Gadwal Sarees
Gadwal is a popular Saree fabric from Andhra Pradesh. The specialty of a Gadwal saree is that it can be folded in such a way that it would even fit a matchbox! These are cotton sarees which are usually adorned with multiple colour borders and pallus.
6. Banarasi Saree
The finest sarees of the lot are Banarasi sarees-gorgeous, intricate and hand-woven, these extraordinary sarees are a must have for any Saree aficionado. The sarees typically take 10-15 days to make and are well interspersed with rich zari and brocade. There are also other variants including georgette and zardosi available. Every Indian woman should definitely invest in a Banarasi saree.
7. Paithani Sarees
Paithani is a local saree variant common in Aurangabad. The saree is characterized by its oblique square design and has a huge myriad of colours. There are also sarees which have a kaleidoscopic design. These are achieved by weaving different fabrics in different colours lengthwise and breadthwise.
8. Patola Sarees
The symbol of royalty in Gujarat; Patola sarees are custom designed and usually have geometric designs on them. They also take about 6 months to make and thus can be quite heavy on your pocket. But you should definitely have one of them in your closet!
[Also Read: 8 Mistakes to Avoid While Wearing a Saree]
9. Arani Saree
The traditional saree of Tamil Nadu, the sarees are usually five to nine yards long and are made from pure silk. They come in a huge mélange of colours and are similar to Kanjivaram but are a much cheaper variant.
So, these are the nine saree styles that a fashionable woman should have in her wardrobe!