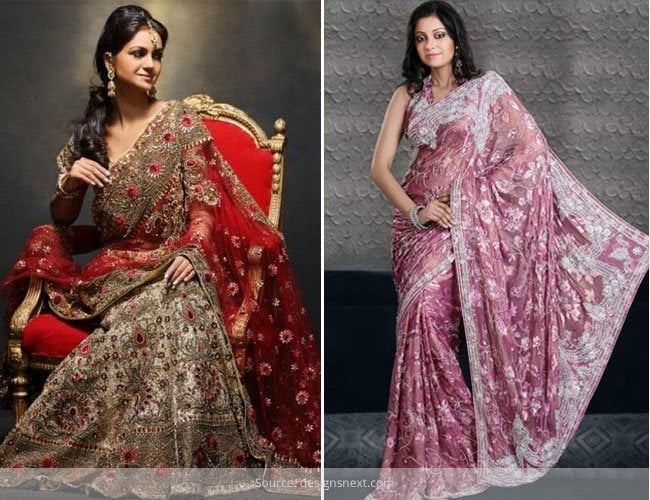 We get you. Choosing a bridal saree can be a nerve-wracking experience. The sheer number of varieties can leave you perplexed. Should you go for a Chanderi silk or should you buy a pink silk one instead? The innumerable options placed in front of you can leave your very confused. But don't fret, we have you covered. We will spill some of the most useful tips and tricks for selecting that perfect bridal saree.
1. Cashing it:
The most important rule is to set the budget for bridal sarees. A wedding is a very expensive affair and there will be hundreds of instances where you will be forced to spend a bomb. But at the same time, a wedding sari is something you will cherish for the rest of your life. It is something you will always keep safe. We are not saying you should scrimp on the budget, but be reasonable. Buy something you would like to wear even for another occasion. It shouldn't be too heavy to handle, both on your body and your budget.
2. So many colors:
Every Indian wedding is different. Some traditions demand the bridal sarees be yellow color sarees, while others would want the bride to wear red. Always confirm with your future in-laws the color they would want you to wear. If they give you the freedom, you don't have to focus on either pink or yellow or red. Other colors can look equally beautiful. However, keep in mind your complexion. Here are some ground rules:
For a dusky bride: Indian skin is mostly dusky and Indian women can carry off any colors beautifully. However, you should really choose colors that will pop. Maroon, fuchsia, green and other combinations can really complement your tone.
[Also Read: Indian Bridal Eye Makeup]
For a wheatish bride: For a bride with this complexion, it is easier to carry off any color. Muted colors like baby pink, blue and khaki can really look beautiful on you. But if you like darker shades too, don't worry. You can settle for colors like navy and indigo to really make your complexion pop.
3. Design Dilemma:
Heavier designs can be very exquisite looking, but at the same time they can also be very difficult to handle. Heavy embroidery, embellishments and sequins will definitely add a gorgeous look but if you are to wear the saree for really long periods of time, it can be a burden Focus on the little details of the sari instead of settling down for heavy embellishments. Heavy designs maybe in fashion now, but sometime later they may fade out. So, when making this crucial purchase, make sure you keep this in mind. There are many other beautiful designs which can make your stand out as a bride. Don't settle down for something too common and expensive.
[sc:mediad]
4. Fabric Faux Pas?
Silk is one of the most popular saree fabrics for a bride. But if you want to be a little unconventional, you can always select some material like crepe, dilsheen, georgette etc. You get equally beautiful designs in typical sarees of each state. For instance, mekhela chador from Assam, Maheshwari from Madhya Pradesh, Lugade from Maharashtra can be equally good options.
5. Don't forget the blouse!
The blouse is the most integral part of the saree. Most brides make the mistake of not selecting a blouse till the last moment. Sometimes, the wrong blouse style can totally mess up your look. So, it's always better to make your blouse well ahead of time.
When it comes to having a bridal sari it is always better to ask lot of questions. After all, you don't get married often. So while making this important choice, take your time and breathe. You'll be a perfect bride!