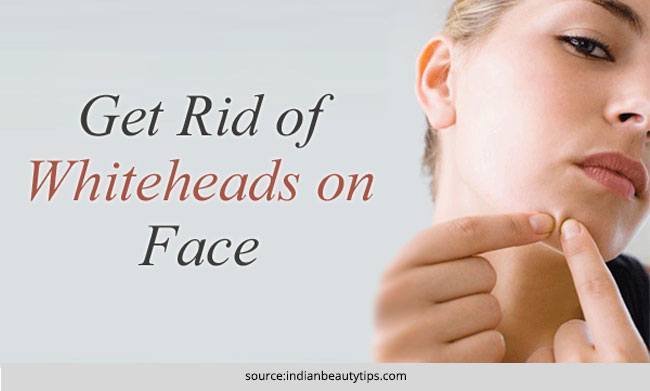 Whiteheads can be pretty annoying, ruining the charm of your face when not cleaned up at regular intervals. Women, who are prone to acne and pimples, also face the problem of whiteheads and blackheads. While salon facials can help you get rid of these blemishes, facial at home is not only cheaper but also safer and convenient.
In this post I've shared best home remedies on how to get rid of whiteheads and obtain flawless skin at ease.
Do have a read and stay inspired!
Whiteheads are one type of acne that are caused due to clogged pores. Dead skin cells, dirt buildup and over secretion of sebum lead to clogged pores thereby forming acne, pimples and whiteheads that appear mostly on the nose, chin, cheeks, temples and forehead.
They are similar to blackheads except for their color as they appear as white or yellow bumps. Just as in the case of acne, women with hyperactive sebaceous glands i.e. oily skin are more likely to develop blackheads and whiteheads on their skin. That's because cells lining the pores become tenacious, thereby boosting clogged pores and whiteheads eventually. Even hormonal changes and lifestyle also contribute to the appearance of such unwanted guests.
[Also Read: Home Remedies for Clogged Pores]
Best home remedies for whiteheads
1. Facial Steam
One of the best home remedies for whiteheads is facial steam or sauna to be more precise. The steam, when comes in contact with the surface of the skin, opens up the clogged pores. The clogged pores which become the warehouse of buildup dirt and dead skin cells are among the major culprits to encouraging such beauty ailments. The steam helps clear those clogged pores thereby removing the stubborn whiteheads at ease.
How to take facial steam –
1. Boil some water until it creates steam. Now turn off the stove and remove the pan and now bring your face close to the pan. In order to ensure your face absorbs the steam properly cover your face, placing your head over the pan, with a towel
[sc:mediad]
2. Try taking the steam as long as you can. A recommended five-minute facial steam helps in opening up the clogged pores, whilst moisturizing your skin
3. Now pat dry your face softly with a towel
4. With the help of a blackhead remover, gently scrub the nose, chin and forehead areas and you can see how whiteheads get removed easily
Apple cider vinegar
Apple cider vinegar is quickly becoming one of the most sought after beauty staples these days because of its multifaceted beauty benefits. The high acid content in this vinegar works best on whiteheads and at a faster rate. The apple cider vinegar also helps in reducing the inflammation and thus can be used as a toner and astringent as well.
Continue reading on How to get rid of whiteheads using apple cider vinegar.
Here is how to use Apple Cider Vinegar –
1. All you need to do is first wash your face
2. Now mix tablespoons of vinegar and few drops of warm water
3. Take the solution in cotton ball and dab it on the whiteheads.
4. Leave it for 20 minutes and rinse it off
5. Repeat this process a couple of times everyday to get best results
Baking Soda
Baking soda is another best home remedy for whiteheads. It can be used for exfoliation as it removes oil, dirt and dead skin cells apart from maintaining the pH balance.
How to use baking soda –
1. Take one tablespoon of baking soda and mix with water to form a thick paste
2. Now apply the paste on the affected areas and let it stay for few minutes before you rinse it off
3. Repeat this procedure 2-3 times every week
4. P.S Baking soda is not recommended for sensitive skin
So those were some of the best home remedies for how to get rid of whiteheads. Do not forget to read our post on how to remove blackheads. Hope this helps!