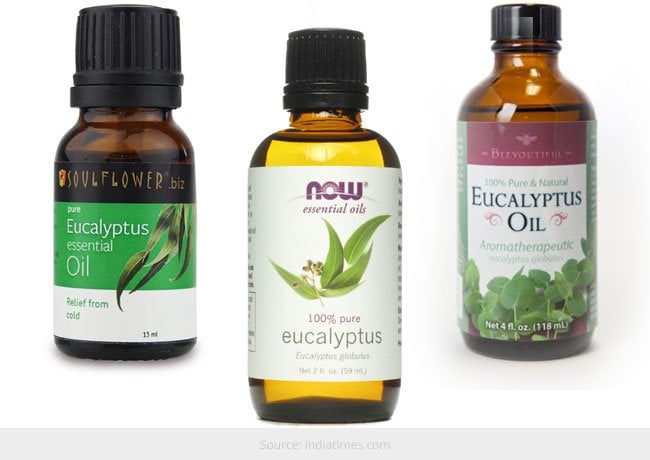 Eucalyptus oil is extracted from eucalyptus leaves of the woody and colourless Eucalyptus globulus tree. It has a sweet scent like that of camphor that is used to heal wounds, cure fungal infections and as a fever reducer. Ayurvedic medicine adopted Eucalyptus later on as a disinfectant and expectorant. Let us know about eucalyptus oil that has many other uses for skin, hair and health which probably we were not aware of.
SKIN BENEFITS:
Healing: Eucalyptus oil is largely used for first aid purpose to treat cuts, burns, wounds, bruises as well as blisters. This oil can also be used in the treatment of insect bites and cuts as well.
Treatment of measles: Eucalyptus oil can be used to treat measles too. Simply massage the reflex points of your feet with it or you can also spray it throughout the home.
Aromatherapy: Inhaling this oil relaxes the mind and body. The aroma of the sweet scented oil calms the mind. All you have to do is add a few drops of Eucalyptus oil to the hot water and take bath with it or even hot steam would do the job well.
Soft skin: Mix some drops of eucalyptus oil along with coconut oil or sweet almond oil and massage it into the skin. This will make the skin softer.
HAIR BENEFITS:
Hair growth: Eucalyptus oil enhances the thickness, shine, as well as overall health of the hair. Apply to the hair before bathing and leave it on just for an hour. Follow it up with a good shampoo as well as a conditioner.
Stimulation of hair roots: To 5 ml of eucalyptus oil add 50 ml of olive oil. Mix the oils and then gently massage it on the scalp in order to stimulate the blood flow into the hair roots.
For itchy scalp: To 50 ml of vinegar add 1 liter water and 5 ml of eucalyptus oil and mix it well. Rinse the hair with this preparation several times so that it goes deep into the scalp. Thereafter use shampoo and conditioner.
[sc:mediad]
For dryness: Mix eucalyptus oil with vinegar and massage this mixture on the scalp. This will keep the dryness of the scalp in control.
OVERALL HEALTH:
Lung infection: Eucalyptus oil comes of great use while treating lung infections. Massage your chest with the oil and clear your respiratory system with it. It works well for patients suffering from Asthma and Tuberculosis.
Kidney stones: Eucalyptus oil eases the kidney stone pain easily. Just massage the lower abdomen with the oil to get pain relief.
Dental hygiene: The oil is a fundamental ingredient in many mouthwashes and toothpastes. There have been a significant number of studies done on the antimicrobial qualities of essential oils. Eucalyptus essential oil has been shown to protect against microbial growth that can promote a host of different symptoms and diseases in the body.
Sauna: Many people add eucalyptus oil to baths, spas and saunas because of its refreshing and antiseptic attributes. Most of the benefits of eucalyptus essential oil can be accessed through the vapor, as well as topical application or ingestion. This is the reasons why it is commonly used in aromatherapy, which is frequently included in spa treatment packages.
WORD OF CAUTION:
There are some dangers of taking too much eucalyptus oil. When taken in large quantities, eucalyptus oil can be toxic. Also, for certain people with allergic sensitivities, eucalyptus essential oil might cause airborne contact dermatitis which can be very uncomfortable, or even dangerous. So before starting any new alternative medical treatment, consult your doctor for advice.