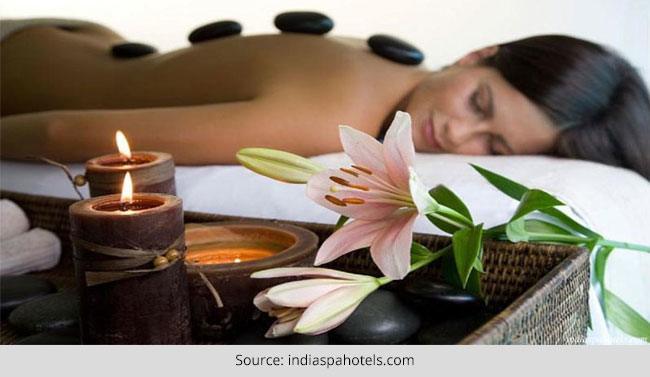 As far as tourism is concerned, India has evolved from being just a cultural destination to one that has a lot to offer in terms of fitness and wellness. In the forefront of this tourism revolution are Yoga and Ayurveda, the two ancient philosophies that have captured the interest of the tourists.
Resort spas in India are the most rejuvenating getaways to de-stess from the day-to-day busy lifestyles.  Here's a list of the top ten spa resorts in India and what makes them unique.
1. Wildflower Hall, Shimla
Right from its colonial architecture to its opulent furnishings, Wildflower stands for old world charm and luxury. Guests can enjoy their spa treatments in the private spa pavilions and spa suites with an amazing view of the cedar forests or the awe-inspiring Himalayas. You can also relax at the outdoor Jacuzzi or the heated swimming pool, which also offer a spectacular view of the Himalayas.
[Also Read: Best Spa Therapies]
2. Ananda Spa, Himalayas
Located near Haridwar and Rishikesh, Ananda Spa Resort offers treatments that are based on Yoga, Vedanta and Ayurveda. They have a wide range of treatments available that aim at balancing the three Doshas—Vata, Pitta and Kapha. Only when these doshas are realigned and balanced can an individual experience complete health and harmony. Ananda Spa Resort is the ideal destination for those looking for a holistic Ayurvedic and spiritual experience.
3. The Zuri Kumarakom, Kerala Resort & Spa
The Zuri Kumarakom, Kerala Resort & Spa is a five–star spa resort situated beside the Vembanad Lake in Kerala. The scenic beauty of Kerala makes it one of the most ideal destinations for spa retreats. The Maya Spa at the The Zuri Kumarakom is wholly dedicated to taking care of every aspect of one's physical and mental health. Also noteworthy is the fact that this spa was the winner of the Best Resort Spa in India Award in 2007 and 2008.
4. Kaya Kalp – The Royal Spa, Agra
Inspired by the Mugal architecture, Kaya Kalp is the largest spa in India. Step into this vast expanse of luxury and indulgence to experience royalty in all its rich extravagance. Some of their signature treatments include the Royal Mughal Hamam, the Exotic Pomegranate, and A Taj Mahal Romance. It is five star luxury at its best and you can be rest assured that your every need will be taken care of in this dreamland.
5. Sereno Spa, Goa
Winner of the Best Destination Spa Award in 2013 and Best Resort Spa Award in 2012, Sereno Spa is located in South Goa. Choose from a variety of spa treatments and packages aimed at relaxing the body and rejuvenating the senses. All the therapies are based on Yogic and Ayurvedic traditions and practices.
6. ESPA at The Leela Palace, Udaipur
Be pampered with the best of ingredients—from essential oils to cleansing muds and seaweeds at the ESPA Spa. You can book a private spa tent to enjoy your treatment without any interference. Apart from a list of authentic Ayurvedic therapies, the ESPA Spa also offers a list of specialty treatments including a Pre and Post-natal treatment and a stimulating hip & thigh treatment.
7. Quan Spa, Mumbai
Quan is a Chinese word that translates to "a source of pure water". True to its name, the Quan Spa operates on the philosophy of "health through water". Water is an essential element in almost all of their treatments. The spa uses water to relax and rejuvenate, with the underlying belief that when used in a therapeutic setting, water helps you achieve good health.
8. Mayfair Hideaway Spa Resort, Goa
Set in Goa, The Mayfair Hideaway Spa Resort is a combination of Indian and Portuguese cultures. With facilities such as a pool bar and multi cuisine restaurants, this resort spa is a perfect vacation getaway. You can choose from an array of Indian, Western, European or Oriental spa packages. For the ultimate indulgence, opt for their honeymoon package. It is a two-day package that includes a massage, body polish and milk bath, by the end of which you will be left feeling relaxed and thoroughly pampered.
9. Cambay Spa & Resort, Jaipur
Set in Rajasthan, the resort reflects the rich heritage of India. It houses The Orient Spa which follows a "wellness, fitness and makeover" mantra. With a conference hall that can accommodate up to 400 people, this resort is a perfect wedding destination as well.
10. Golkonda Resorts and Spa, Hyderabad
Boasting of lush landscapes and serene water bodies, the Golkonda Resorts and Spa is dedicated to providing treatments aimed at revitalizing the body, mind and soul. They offer unique gender-oriented packages that are specifically designed to cater to the needs of each gender.
India definitely has a lot to offer in terms of spa resorts and wellness centres. When our deep-rooted Ayurvedic practices are combined with Western philosophies, a truly global and holistic approach to health has evolved. Explore the various spa resorts that India has to offer and get ready to indulge all your senses and achieve long-lasting health and well being.
Hope you enjoyed this article on top Resort Spa's in India.
Have you heard about the spa parties? Click here to know more.