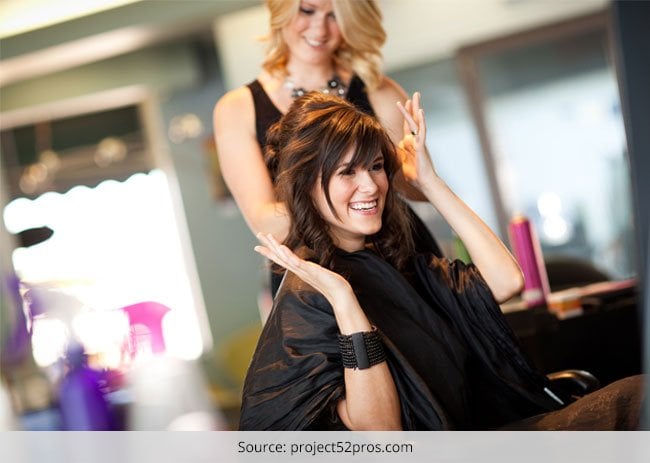 When looking for a change, the first thing that comes to mind is to get a haircut done. But how do you make sure you get that perfect hair do? Here are some things to keep in mind the next time you step into the salon for that new style.
1. Bring Along a Picture If You Have Something Specific in Mind
You may have a great look in mind, but sometimes words are not enough to covey to your stylist what exactly you are looking for. Find a picture of the style you want and take it along as reference. It will help your stylist understand what you want, and then adapt it to suit your face type.
2. Make it Clear
If you want to maintain your length, or you want to go short, make it clear to the stylist. If you do not want to experiment, they need to know. Similarly if you are open to it, let them know that too. It will remove any discrepancies and help your stylist give you a haircut that even you are happy with.
3. Longer Hair Means Heavier Hair (for Curly Hair)
Longer hair weighs down the volume, making it heavier. So if you want to maintain tight curls, a shorter hairdo will help maintain the style. Longer hair will mean looser, relaxed waves. First figure out for yourselves what you are more comfortable with and then go for the chop.
4. Keep Your Lifestyle in Mind
Before you decide to get a haircut, review your lifestyle. If you are running out the door every morning in a hurry, getting a hair style which will need more maintenance is not such a good idea. Think about your schedule and pick a style that works best for your routine. Remember – every style does need some work.
5. Don't Be Afraid to Try Something New
Sometimes we all need a little change in life. So don't think too much if you are planning to change your look. Go for that haircut you always wanted but were too afraid to try. You won't know what it looks like till you do. Talk to your stylist, understand how to maintain and make sure to get all the information first hand so you are comfortable.
6. If it's Different from What You Expected, Speak Up!
Sometimes we are expecting a certain haircut, and half way through we realize the stylist is chopping away quite differently from what was planned. If this happens, speak up. If you don't say something, they won't know that you aren't okay with it. And they will appreciate what you have to say. After all it is your hair and you need to be happy with your style. It is easier to make adjustments during your cut, rather than after it's done.
7. Ask for Information
When you are going in for a haircut, don't just think about how it will be styled at the salon. Hair always looks great as you step out after a cut, but after the next wash it never looks the same again. Sit with your stylist for a moment before you start and understand everything that will go into maintaining the style. They will be happy to provide you the information you need. This will also help you decide the final look you settle on, once you understand how the hair care will fit into your routine.
8. Give It Time to Settle.
If you are planning to get a haircut before an event, make sure you don't do it just one day prior. Salon styled hair looks different after a cut, and will need some time to settle down. Also if you aren't happy with it, this won't leave you any time to get it corrected. Make sure to cut your hair about a week before the big day so you have enough time to get comfortable with it.
9. Celeb Styles
Some celebrities have great hairstyles, but that doesn't mean that it will definitely look good on you. Celebrities rely on a team of experts who help them maintain their hair daily. They also have THE luxury to experiment with extensions, colours and equipment which you may not have. So your favourite fashion diva may have got a drastic crop, but that doesn't mean you should blindly follow. Keep in mind what works for you, and if you are willing to stick with the style.
10. What About After!
After you are done with your haircut and if you are not happy with it, make sure to go back. Your stylist will be more than happy to help rectify it. Don't settle for a bad haircut. There are ways in which it can be improved. Sometimes, even just letting it grow out maybe a great option. But make sure to talk to your stylist afterward and give your honest feedback.
Do keep in mind these points to experience a good haircut!!