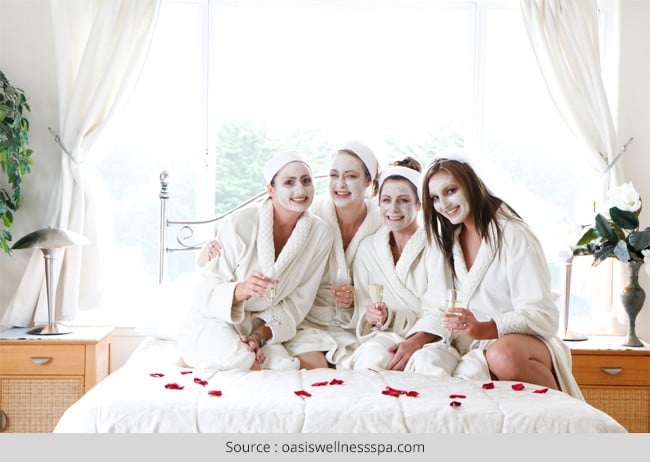 The days of pyjama parties and sleepovers are long gone. Spa parties for girls and women are the current fad that has caught the interest of young girls and women alike. After all, who wouldn't love to be treated like a princess? The basic premise of these spa parties for girls is to offer the experience of a day at the spa. They get to sit back, put up their feet and let someone pretty them up. No wonder spa parties and spa birthday parties are all the rage these days.
Why Have a Spa Party?
There is something about having manicures and facials done with your friends that's just so much fun and brings you closer to each other. Spa parties are the epitome of girl time. They offer the perfect atmosphere to relax with friends, have some snacks and fun conversations, while getting buffed from head to toe. Moreover, a spa birthday party is very versatile. Depending on the budget, you can either have the party at home or you can book a package at a luxury spa do a more upscale version of it. But more importantly, do we really need a reason to be pampered?
Girls Spa Parties Ideas and Themes
If the spa party is for someone's birthday, first determine what the birthday girl's favourite things are. What's her favourite colour? Which animal does she like the most? What's her favourite movie? Once you've made a list, try to come up with a spa party idea and theme that encompasses all that. Or you could also just focus on one thing. For instance, if her favourite colour is pink, then make sure everything is in pink— right from the robes and decorations to the nail colours to be used for the manicures.
Ideas for Spa Birthday Party
Here're some innovative ideas to make your spa birthday party more fun and interesting:
[sc:mediad]
Set up a photo corner where guests can pose and have their pictures taken. Provide some funny props such as multi-coloured wigs, extra big sunglasses and so on to make it more exciting
No party is complete without some silly games. Have some board games at hand to entertain your guests
While they're soaking their feet in the foot spa or getting their hair styled, they can watch a movie. Just make sure the movie has a happy ending
For a return gift, give each guest a nail polish in their favourite shade, with individual name tags and a thank-you note to make it more special
A Step-by-Step Guide
Make a guest list. How big or small your guest list should be depends on where you're planning to hold the party. If space is a constraint, keep the guest list low
Once you've decided on a guest list, prepare the invitations. Send in the invites at least two weeks in advance so that guests have ample notice. Request guests to RSVP so that you know how many people to expect. If there's a theme or a dress code, inform guests about it in the invitation. It also a good idea to provide proper directions to the venue in the invite
If you're having the party at your house, tidy up the place and have lots of clean towels and paper napkins ready. Check with the guests in advance to see if they have any food or chemical allergies so that you can avoid them
Have some easy-to-eat food ready. Mini sandwiches, macaroons, cookies and cupcakes are all some snacks that are easy to handle and won't make a mess
If you're having the party at a spa, call them up in advance to make sure everything is in order to avoid any last-minute hassles
Keep a good music playlist ready. It will help set the mood and get the party going
Last but definitely not the least, have your cameras and cell phones fully charged. And do not forget to take loads of selfies!
Remember when you were little and couldn't wait to grow up? Well, spa parties offer young girls the chance to do exactly that. They get to feel and act like grown-ups for a day, getting pampered and having their every whim catered to. In order to make a spa party a definite hit, all you have to remember is this one simple rule: it's all about getting pampered and feeling loved.