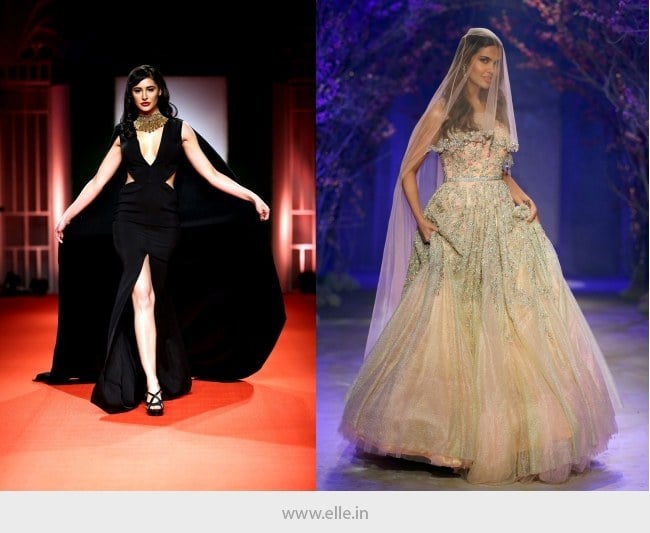 Bollywood fans' have always been curious to know who and when their favourite actor is going to get married! Big Indian wedding is such a craze in India. It's only to satiate the designer needs of the modern Indian brides and grooms, India Bridal Fashion Week is held every year. Bollywood support is always in abundance to fashion in India and without the presence of Indian actors, the show is not complete.
Here are the five Bollywood Brides who walked for the country's best bridal wear designers.
1. Shraddha Kapoor for JJ Valaya
We have always seen her in a contemporary avatar on the runway, this time the 'Aashiqui's leading lady took the breath away in a traditional ensemble when she appeared on the ramp in the multi-coloured sari with a gilded jacket and that too without any high heels. Shraddha Kapoor walked the ramp as the showstopper for the India's celebrated bridal wear designer, JJ Valaya.
Shraddha Kapoor is also the face of BMW India Bridal Fashion Week 2014 edition.
JJ Valaya on Shraddha Kapoor
Today I got my perfect muse in form of Shraddha and I feel she is perfect for my collection. Notch girls have always fascinated me. They were intellectual, but almost like the Geishas of India. It was a beautiful period of India and very important
The Showstopper Speaks
I was feeling very shy while looking at myself in this beautiful creation. It just ignited something within me. It's a proud moment to walk for the most iconic designers of our industry. I felt like a shy bride almost when I was walking the ramp.
2. Nargis Fakhri for AZVA
Bollywood actress and model, Nargis Fakhri stunned the audience in her graceful black dress. She wore a deep neck and caped dress, designed by Nikhil Thampi, when she walked down for jewellery brand AZVA as their showstopper.
The actress flaunted an opulent statement 22 carat gold choker with pillar like embellishments, which completed her black avatar. Gold jewellery with the black outfit has always been the most popular ensemble.
The Showstopper Speaks
It's great to see bridal gold jewellery styled to suit western and glamorous silhouettes so beautifully. The statement Azva choker that I'm wearing today is handcrafted in gold with an antique finish, designed by a craftsman from Junagadh for a red carpet look. I'm happy to see such pretty red carpet looks and some amazing style statements by the brand for brides, too.|
3. Kangana Ranaut for Suneet Varma
Looking regal, the 'Queen' actress played 'The Princess of Shekhawati' for bridal couture designer Suneet Varma as she strutted down as his showstopper at Indian Bridal Fashion Week 2014. Kangana Ranaut looked absolute stunning in Suneet Varma's bridal dress and her velvet dupatta added the extra charm to her royal look.
Suneet Varma on Kangana Ranaut
When we were thinking of the showstopper, I couldn't think of anyone else other than Kangana. She's not only a good friend, but she infuses life into clothes, and it's something a lot of Bollywood actresses can't do.
The Showstopper Speaks
My experience was fantastic because Suneet has made such lovely clothes. He is a great friend of mine. I am feeling proud seeing his collection. I showed Suneet one piece with the mirror work. I've told him, 'If you get an invitation for my marriage, bring this ghaghra choli along'.
4. Esha Gupta for Jyotsana Tewari
The only Christian bride among all, Esha Gupta really rocked the show being a showstopper for the designer Jyotsana Tewari. Wearing a heavily embellished white Christian wedding gown with a veil, Esha Gupta looked stunning and elegantly spread the bridal grace all over the runway.
The Showstopper Speaks
I am happy to wear such a contemporary wedding gown and what Jytosna gave me is completely young and contemporary. I love it! A lot of people relate to me with the 'sexy' image, but I totally loved how Jyotsna presented me in this simple and elegant outfit in such a romantic setting.
5. Pernia Qureshi for Meera & Muizzafar Ali
Known for styling Sonam Kapoor in the film 'Aisha', Pernia Qureshi is a fashion stylist herself and an entrepreneur too. Soon, she is going to launch herself as an actor also. For the first time, Pernia Qureshi debuted on the Indian runway as a showstopper for the designer duo Meera and Muzaffar Ali, when they showcased their collection at Indian Bridal Fashion Week 2014. Qureshi sashayed down in a velvet ghaghra.
Muzaffar Ali on Pernia Qureshi
I have chosen her (Pernia) as my show-stopper because she is the lead actress of my next film 'RAQS – The Dance Within'. Through the show today, I made an official announcement of my film. It's a dance based film and Pernia is wearing one of her dresses from the film. The film will release early next year.
Showstopper Speaks
There's a consistency in their designs and what they have is exquisite. One thing that always stands out in their collection is that you'll always look 'appropriate' wearing their creations anywhere. They are unique and at the same time very traditional.
So, who is your favourite Bollywood Bride? We are keen to know!