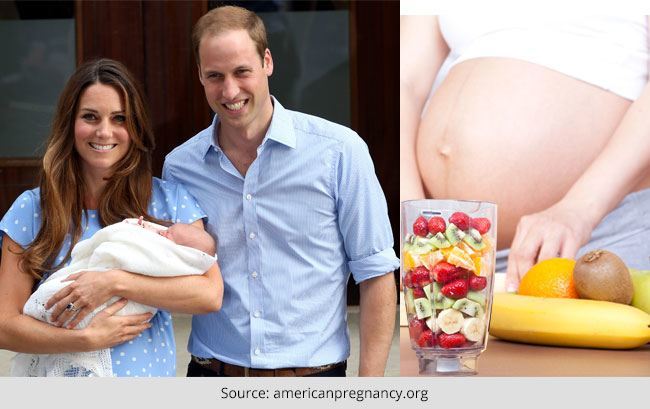 The secret behind Kate Middleton's resplendent beauty is finally revealed. The second time mom-to-be Duchess of Cambridge has gone raw, with top 10 raw food that help her look gorgeous from within.
As per the Daily Mail, the Duchess is on raw food diet these days as she is expecting for the second time with twin girls.
The slender mom of Prince George has figure to-die-for. It's pretty obvious to learn that Kate watches what she eats, even though it's not that necessary in her part to watch her weight. The fashionably correct Kate Middleton leads a lifestyle that is an inspiration to all the new moms out there. The Duchess has indeed sent out a message that real beauty comes from within, which can be only be achieved from natural diet along-with exercise.
Even the world famous nutritionists agree to her ideology and have maintained that there are certain raw food that can help clear your complexion, diminish wrinkles, and brighten your overall appearance.
FashionLady debunks into the royal menu being served for the Duchess only to find out the following raw food diet from Kate's menu.
Do have a look at the top 10 raw food that can preserve your natural beauty and health!
1. Apple
|An apple a day keeps the doctor away|
We are familiar with this old Welsh proverb, but did you know this amazing fruit is a natural sunscreen?
Apples contain polyphenols, which can act as a natural sunscreen. Besides, this miracle raw food is the "nutritional powerhouse", as it contains Vitamin C, B-complex vitamins (riboflavin, thiamin, and vitamin B-6), dietary fiber, phytonutrients and minerals such as calcium, potassium & phosphorous.
2. Almond Milk
Almond and other nut milks are rich in copper, a mineral required to manufacture collagen, the structural protein that keeps skin wrinkle-free. It's also high in manganese, a mineral that not only protects the skin from UV damage, but has also been shown to prevent red and itchy skin.
3. Berries
Berries can be a terrific addition to your raw food diet. Boysenberries, blackberries, raspberries, strawberries, blueberries, and cranberries are big on antioxidants. Eating a diet rich in antioxidants can help improve your health, protect your skin and hair, and prevent certain diseases.
Vitamin C is a major antioxidant found in berries. It is largely responsible for the health of collagen, which helps maintain cartilage stores and aids in joint flexibility. Eating vitamin C–rich berries will contribute to radiant skin and healthy hair, and may reduce the risk of arthritis, cataracts, and macular degeneration.
4. Beetroot
Beetroot is rich in fibre, exerting favorable effects on bowel function, which may assist in preventing constipation and help to lower cholesterol levels too. Beets are a potent cleanser that can clear your blood of impurities. Skin reflects the health of your blood, so the cleaner your blood, the more beautiful the skin.
Beetroot fiber has been shown to increase the level of antioxidant enzymes in the body, (specifically one called glutathione peroxidase), as well as increase the number of white blood cells, which are responsible for detecting and eliminating abnormal cells. Beets are also one of the richest sources of glutamine, an amino acid, essential to the health and maintenance of the intestinal tract.
5. Citrus
Citrus and citrus products are a rich source of vitamins, minerals and dietary fibre (non-starch polysaccharides) that are essential for normal growth and development and overall nutritional well-being.
[sc:mediad]
Apart from being good source of Vitamin C, citrus also contains other essential nutrients, including both glycaemic and non-glycaemic carbohydrate (sugars and fibre), potassium, folate, calcium, thiamin, niacin, vitamin B6, phosphorus, magnesium, copper, riboflavin, pantothenic acid and a variety of phytochemicals. In addition to, citrus doesn't contain any fat or sodium. The vitamin C in citrus fruit (tropical fruits as well) can help with collagen production.
6. Carrot
Carrot is another top raw food that can be consumed directly or in salads. This vegetable is replete with Vitamin A and biotin, which offers building blocks for the development of new skin cells. Carrots are also rich in antioxidants and minerals. They are also packed with antioxidants that support collagen health and fight inflammation.
7. Fish
If you love fish especially sashimi or ceviche then you're in luck. Other fish like salmon and tuna are full of those omega-3 fatty acids that will provide your skin with a natural moisturizer. Salmon also contains small bioactive protein molecules (called bioactive peptides) that may provide special support for joint cartilage, insulin effectiveness, and control of inflammation in the digestive tract.
8. Kale
Kale or borecole is a vegetable with green or purple leaves. It is rich beta carotene, vitamin K, vitamin C and calcium. Kale is also a source of indole-3-carbinol, a chemical which boosts DNA repair in cells and appears to block the growth of cancer cells.
Juicing with dark leafy greens helps fight inflammation and detoxifies the liver, which in turn detoxes the skin. After all, good digestion leads to clear and happy skin.
9. Spinach
Ask any diet conscious fashionista and she will tell you how spinach is her staple raw food. Spinach is a super food loaded with tons of nutrients in a low calorie package. Dark leafy greens like spinach are important for skin and hair, bone health, and provide protein, iron, vitamins A,C & K and minerals. It also helps skin stay hydrated.
10. Walnuts
Did you know walnut is the world's healthiest nut? 100 grams of walnuts contain 15.2 grams of protein, 65.2 grams of fat, and 6.7 grams of dietary fiber.
The protein in walnuts provides several essential amino acids. Besides, this nut is stockpiled with vitamins B and E, which help fight off free radicals that can cause stress and wrinkles. Plus, it contains omega-3 fatty acids that help strengthen the skin membrane, keeping it moisturized and looking subtle.
These were the top picks on raw food. Do add them to your diet and feel the difference. I'm sure you'll prefer shopping these raw foods over  pricey cosmetics and make-ups!