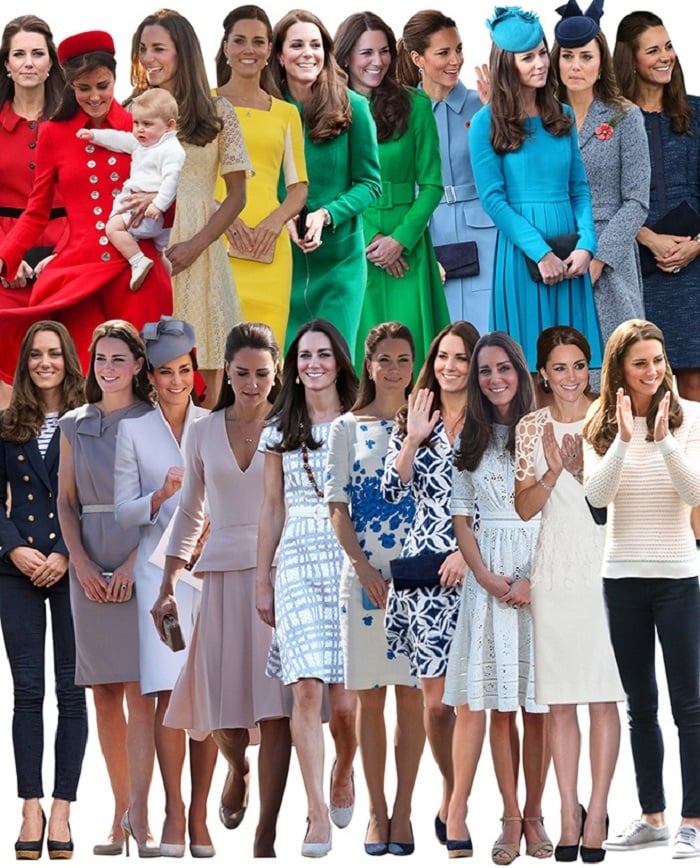 Image Source: Elle.com
While leading fashion websites have been giving day-to-day update on Kate Middleton's Australia &  New Zealand tour, I found it quite long-winded, so I have rather assembled her complete set of wardrobe collection from her Royal Tour in one place.
In the Royal Tour, the Duchess of Cambridge has had a great time, as she played cricket, DJed, petted koalas, yachted and even received warm welcome from bare bottomed males in New Zealand. After going through her array of wardrobe selection, I simply wonder how Kate managed to pack stuff, especially when she had to bring all required gears for the cute toddler Prince George.
Impressively, the fashionably correct Kate earned some high scoring points for her fashion sense albeit she managed to pack for her first Royal Tour ever since the birth of her son without a hiccup.
Kate's wardrobe protocol was issued much before her trip that this time she would be donning more royal style than her usual getup. The Queen had presided over the selection of her dresses and jewellery, as she wanted a regal makeover for the Duchess, who was otherwise seen in high street fashion most of the times.
Designer David Emanuel, who had managed Princess Diana's wardrobe on her official tours had this to say,
"Kate is going to be scrutinized from head to toe. We take for granted how good she looks but it's a lot of work. You need to think about the national colors of the country, its flag and emblems and how to reflect that in the clothes you wear. It takes weeks of research and Kate is going to need quality couture for the trip. It's not just the frock; it's the whole thing – shoes, clutch, and accessories. A superstar would take an entire personal entourage to look after them. There's no room for a fashion faux pas."
As decided, Kate was seen in bespoke gowns and day dresses by her favorite designers, including Alexander McQueen and Alice Temperley. And her statement jewellery pieces were from the Queen's personal collection during the tour. Some of the pieces included the Queen's wattle brooch, a diamond and ruby brooch in the form of a hibiscus flower and the like. From the internal sources of the Palace, it's revealed that Queen had asked her personal dresser of over 20 years, Angela Kelly, to help Kate select jewels for her trip.
"She (Angela) knows most of the pieces in the Queen's private collection. Her understanding is crucial because this trip will be about Kate appearing more royal than ever – you can expect to see a lot more tiaras and the Queen will be watching closely," the source said.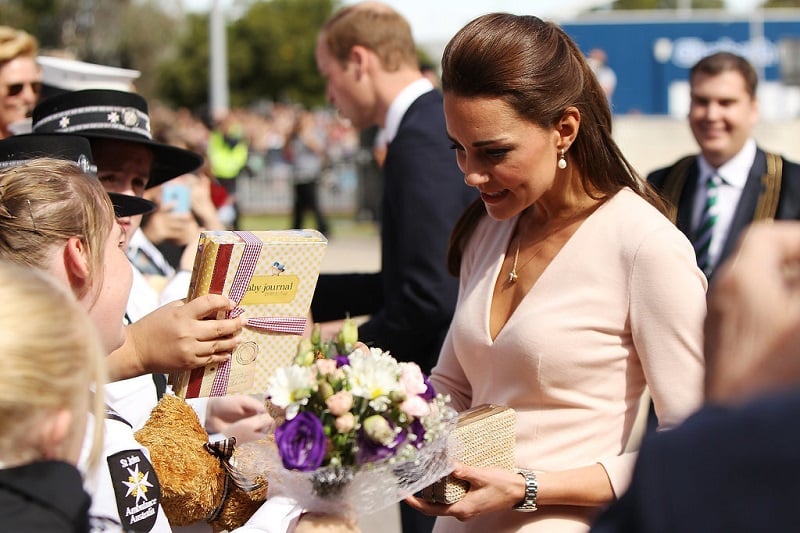 In this post, I offer you a detailed list of her outfits, by breaking down the Duchess's tour style by numbers.
Here is the list with numbers –
Number of days of the trip – 19
Number of outfits worn – 24
Number of dresses in blue & white – 11
Number of outfits worn by Australian designer – 1
Number of cinched waist outfits – 10
Number of times she wore updos – 2
Number of times she wore tiny hats – 5
Number of times she wore pants – 3
Number of above-the-knee hemlines worn – 5
And finally number of times we just wondered, "What's Kate gonna wear today?" – 19
Do have a look at Kate Middleton's 24 outfits from her royal tour!
#1 Kate Middleton in Catherine Walker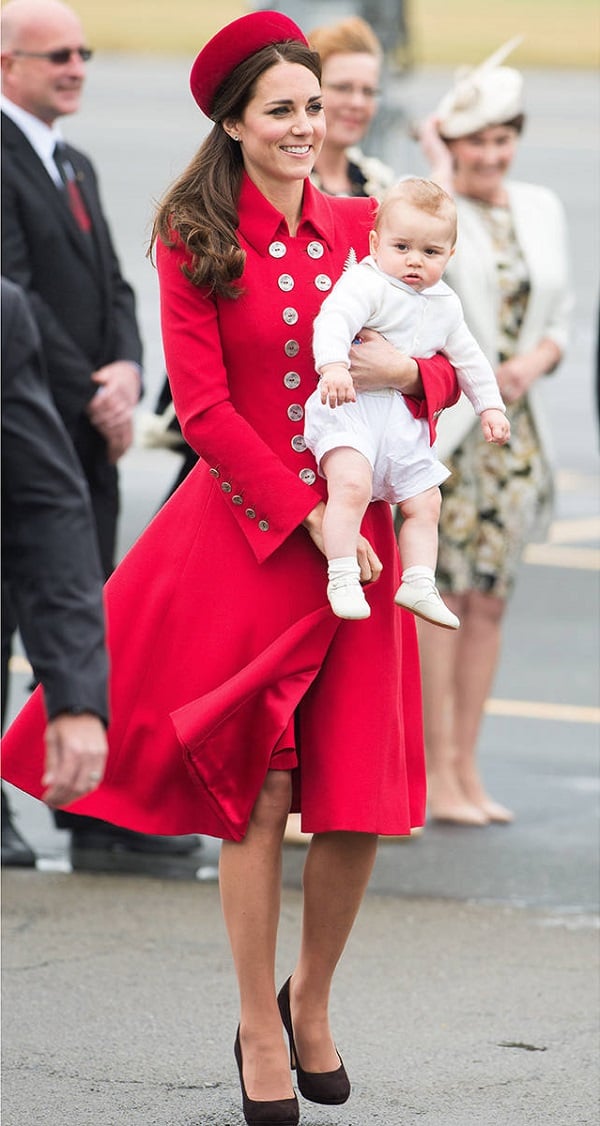 The Duchess landed in Wellington, New Zealand looking incredibly chic and regal in a double-breasted red suit, which she had paired with black pumps and matching red tiny hat. She also flaunted a fern-shaped platinum and diamond brooch from the Queen's royal jewelry box, which her grandmother-in-law had first worn in 1954 on a Commonwealth tour.
#2 Kate Middleton in Tory Burch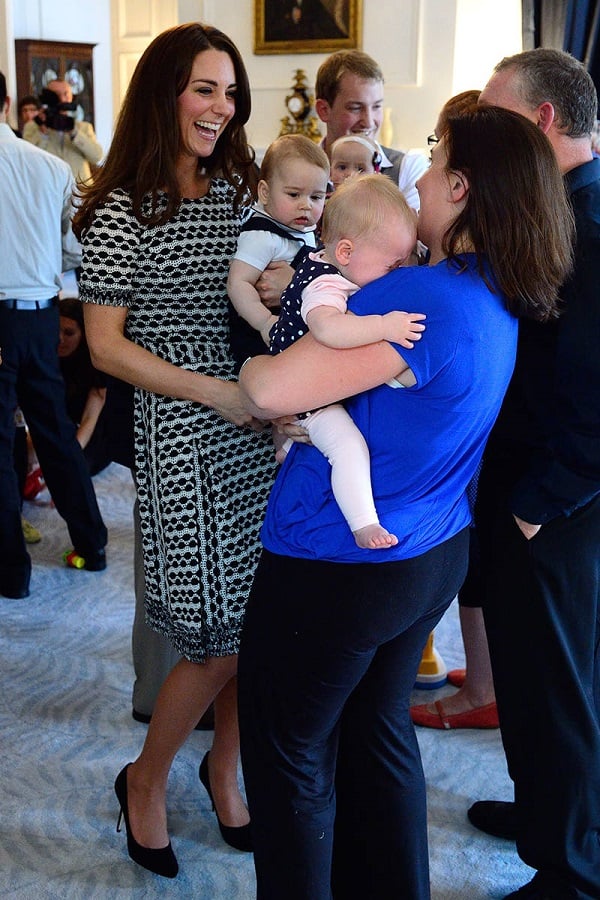 The Duchess of Cambridges preferred a less formal yet elegant Tory Burch Paulina dress in black-and-white to meet Plunkett's Parents Group at Government House in Wellington. And the adorable George was dressed in a pair of cute sailboat-embroidered overalls by Rachel Riley.
#3 Kate Middleton in Alexander McQueen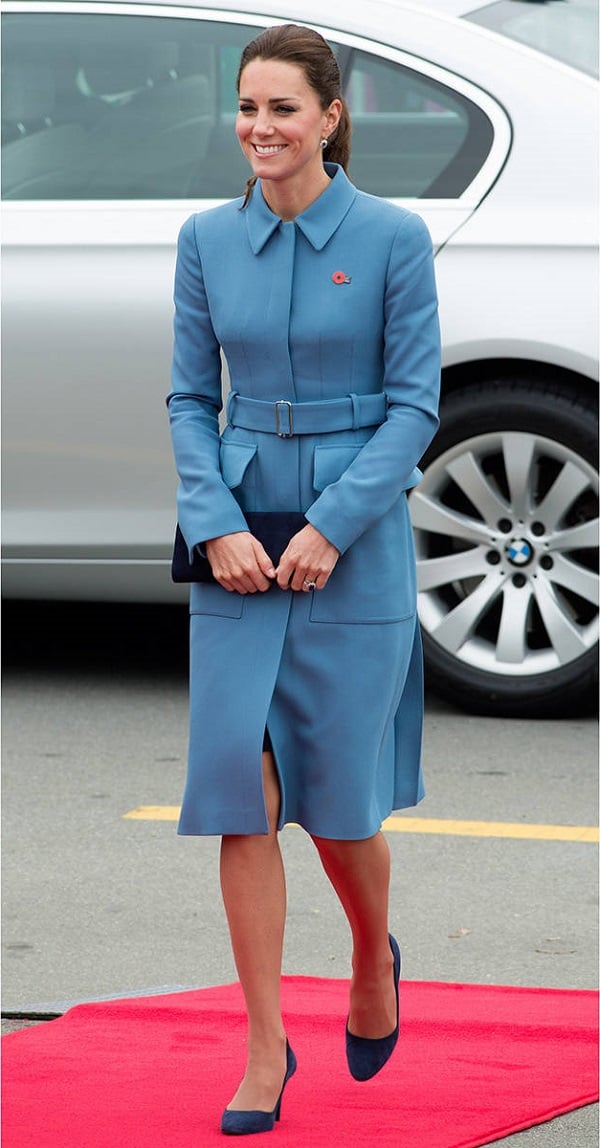 Kate looked elegant in a pleat-detailed cornflower blue coat by her favorite designer Alexander McQueen as she visited the Blenheim War Memorial with Will. She had accessorized her navy outfit with matching clutch and suede pumps.
#4 Kate Middleton in Jenny Packham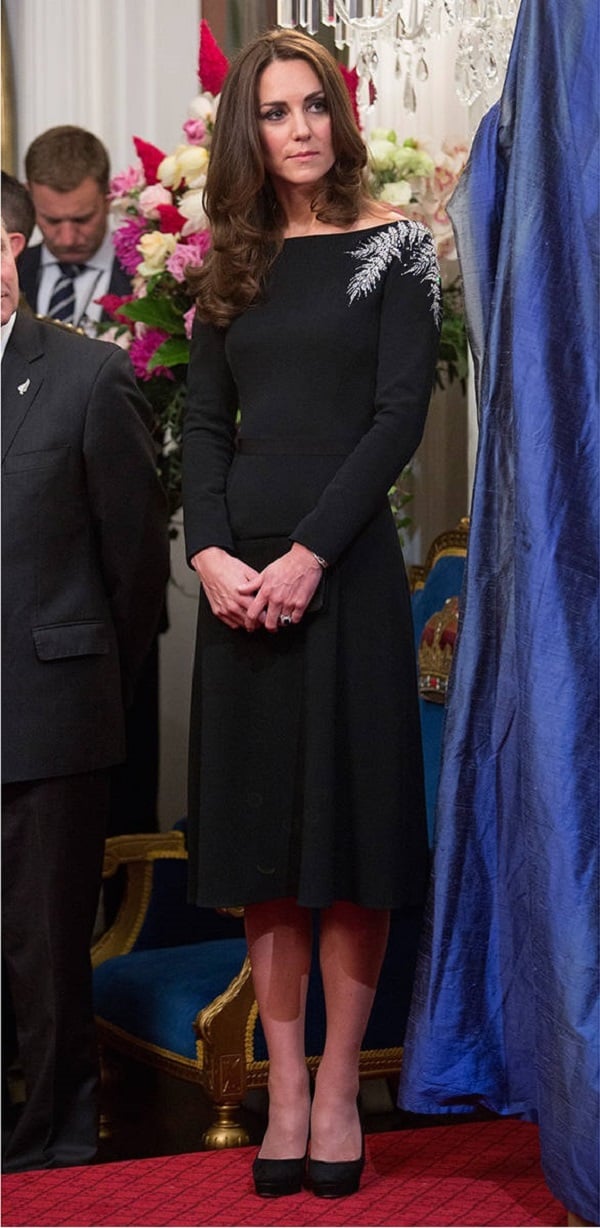 This is one of my personal favorites from the Duchess's wardrobe. Kate looked amazing in this black cocktail dress by Jenny Packham. The dress was adorned with strategically placed sparkle with hand-woven beading on the shoulder. The long-sleeve and tea-length silhouette kept the look regal and refined.
#5 Kate Middleton in Zara and J Brand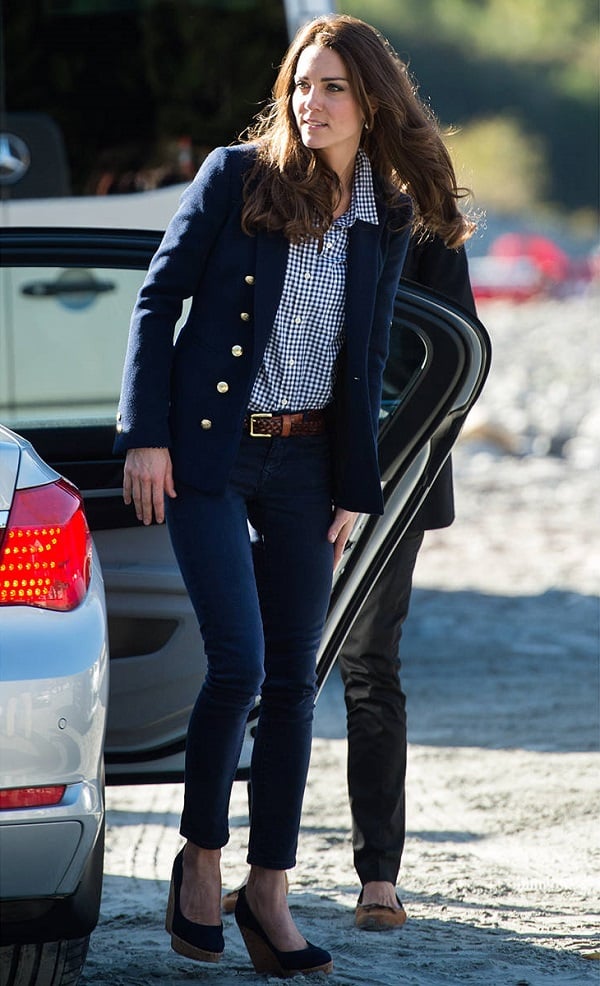 For a visit with military members and their families at Whenuapai Air Base, Kate looked preppy nautical in this Zara double-breasted blazer, which she had worn over Me + Em Breton shirt and J Brand skinny jeans. She completed her look with her fave wedges from Russell & Bromley, as she arrived at Whenuapai Air Base. Back in October, she had worn a similar outfit for a high-profile game of volleyball.
#6 Kate Middleton in Erdem
Kate opted for this pre-fall 2013 wool crepe coat by Erdem for visit to the Rainbow Place Children's Hospice. She had paired her outfit with black suede pumps from Episode. I also loved Kate and Will's double layered umbrella.
#7 Kate Middleton in Emilia Wickstead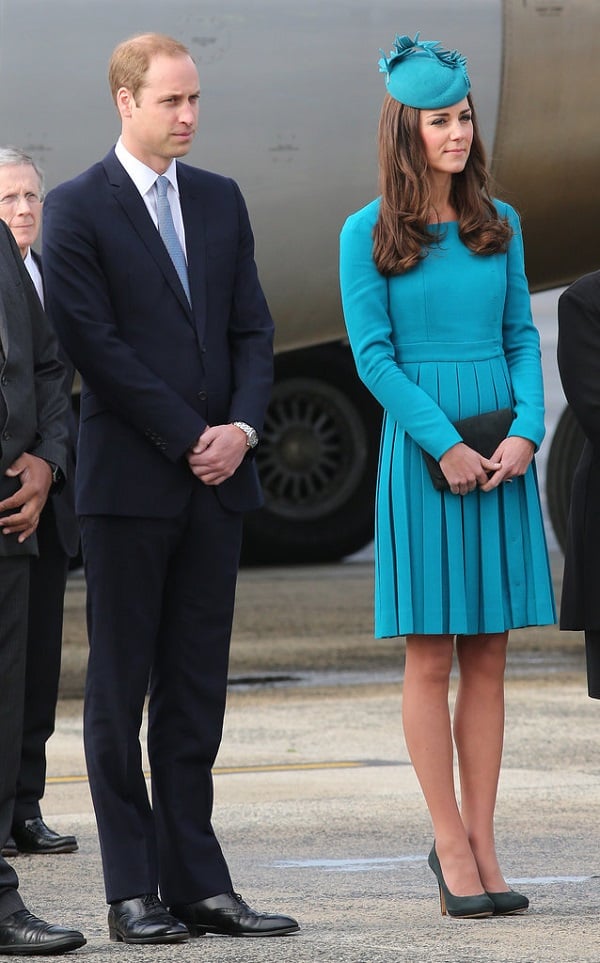 On Sunday, Kate started out her Sunday in a pretty blue pleated coat dress by one of her favorite designers, Emilia Wickstead, who is coincidentally from New Zealand. Kate accessorized her blue pleated dress with a matching Jane Taylor hat and the same diamond fern brooch which she had worn the day she landed. It must be one of her favorites, as she has got another version in dusty rose—which she's worn twice already.
#8 Kate Middleton in Jonathan Saunders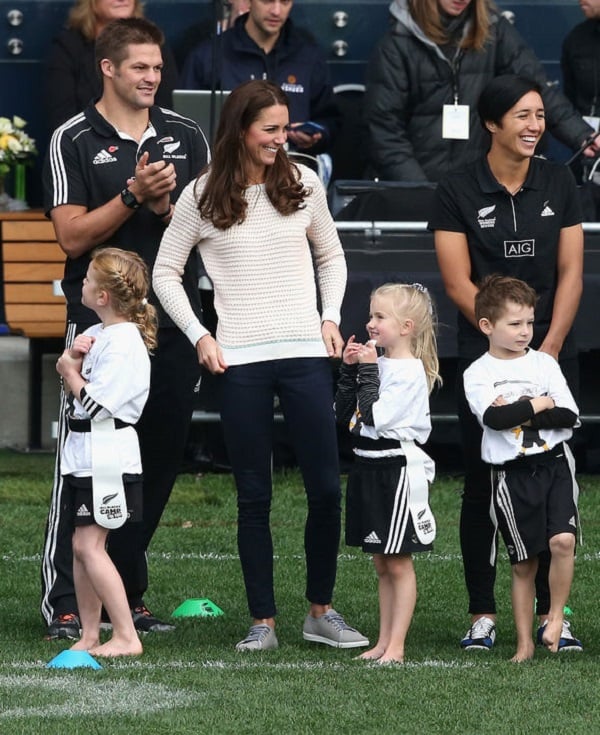 Kate went casual in a cream waffle-knit sweater by Jonathan Saunders and skinny jeans, as she went to coach a pee-wee team at Regal Rippa Rugby Day at Dunedin's Forsyth Barr Stadium. Doesn't Kate look adorable with the kids?
#9 Kate Middleton in Zara and Gap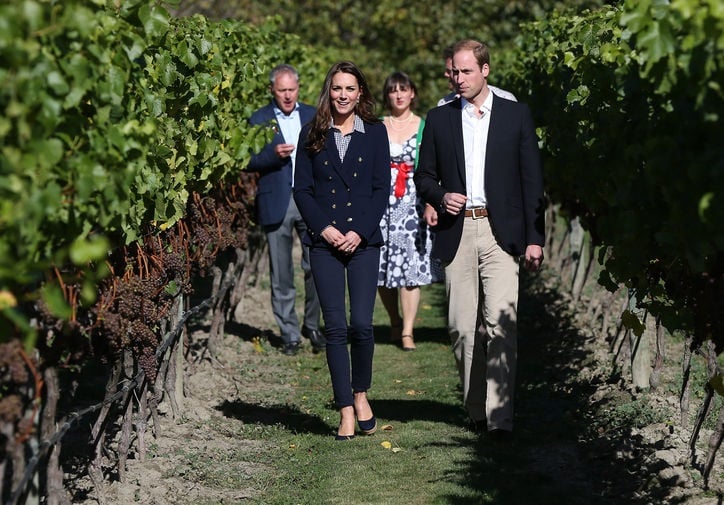 Final stop on Sunday: the Amisfield Winery in Queenstown. Kate repeated her skinny jeans and the Zara blazer. But this time she switched out the Breton shirt for tailor-fit gingham button-down from the Gap.
#10 Kate Middleton in Luisa Spagnoli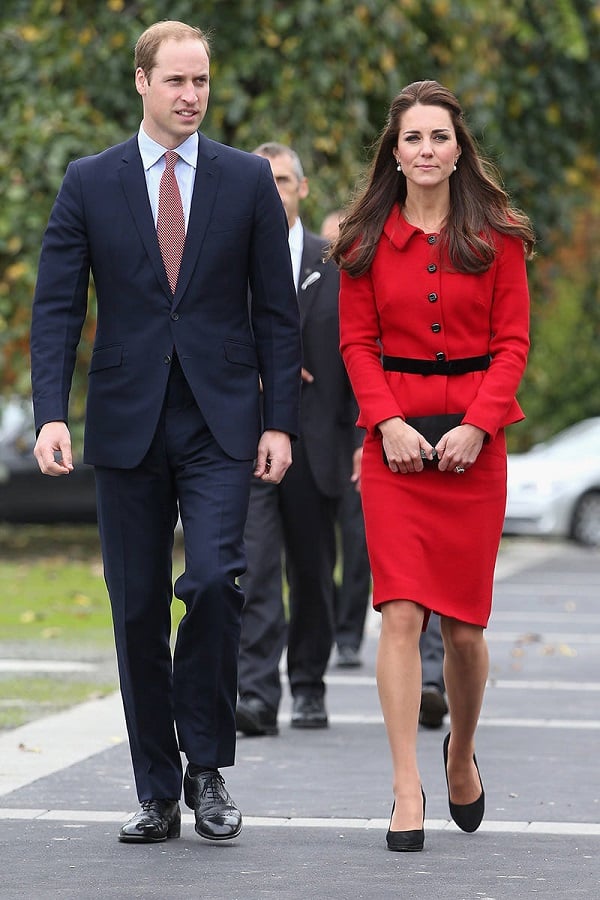 Kate looked resplendent in this belted red skirt suit by Luisa Spagnoli for her visit to Christchurch, the city which was devastated by an earthquake in 2011. The two-tone palette of her outfit pays homage to the city, as red and black are the official colors for the city's region.
[sc:mediad]
#11 Kate Middleton in Rebecca Taylor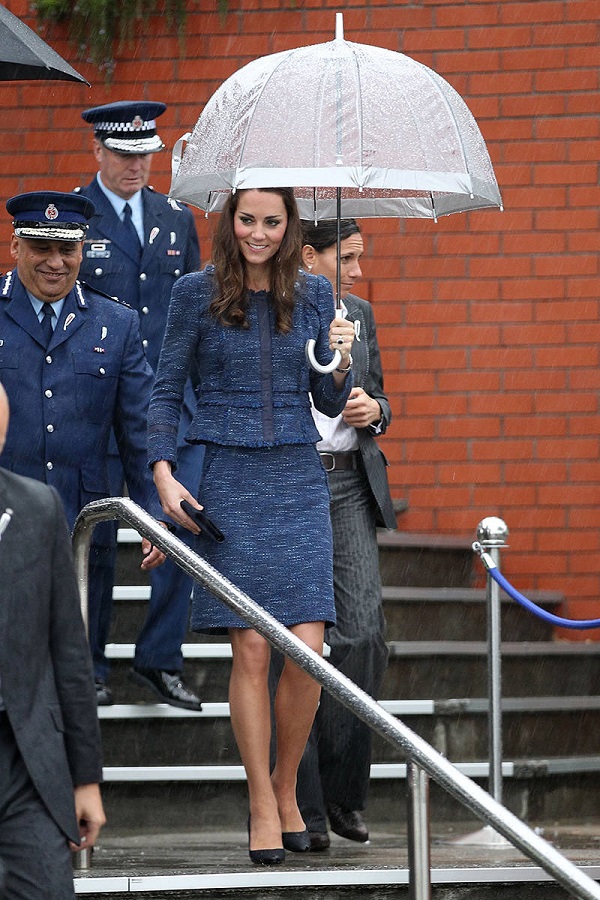 Kate repeated a tweedy blue skirt suit by New Zealand designer Rebecca Taylor for her last stop in rainy New Zealand. She had worn this outfit in 2012 while color-coordinating with Queen Elizabeth and Camila Parker-Bowles.
#12 Kate Middleton in Roksanda Ilincic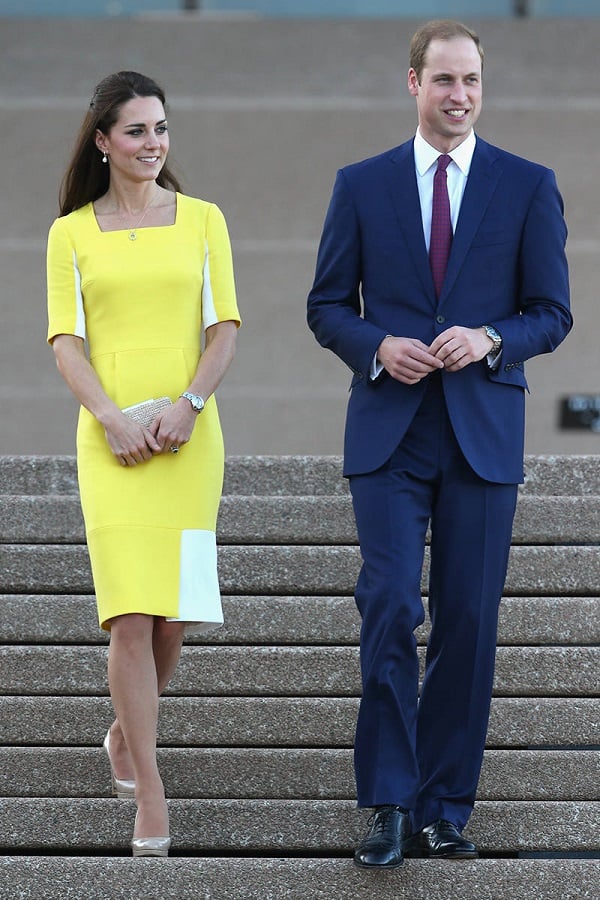 On her arrival in Australia, Kate was seen in a yellow-and-white blocked Ryedale dress from the Roksanda Ilincic spring 2014 collection. She had accessorized her dress with her favorite nude L.K. Bennett pumps for the occasion. Even though she looked cute, William wasn't quite as impressed by her outfit and that she looked like a banana as told to Hello.
#13 Kate Middleton in Diane von Furstenberg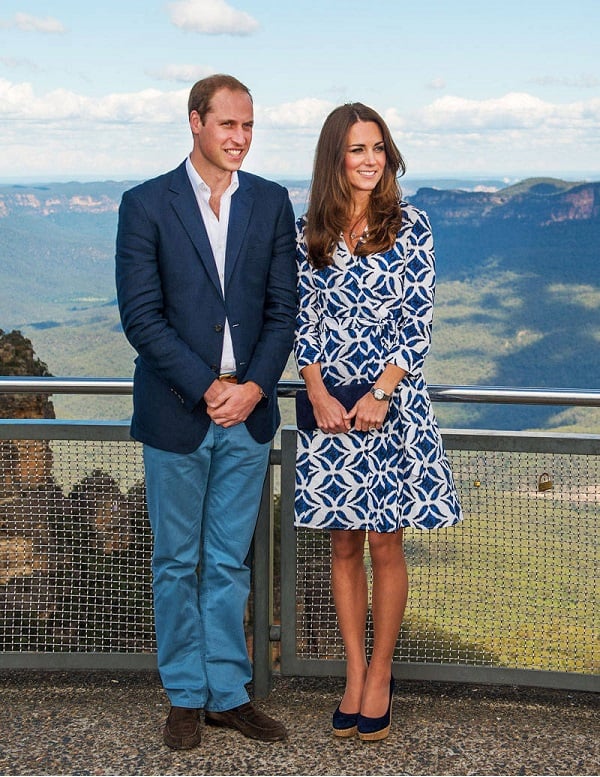 The Duchess selects this ikat-print Diane von Furstenberg Patrice wrap dress from her high street fashion preferences. She completed her lokk with her favorite Stuart Weitzman wedges and a simple navy clutch.
#14 Kate Middleton in Zimmermann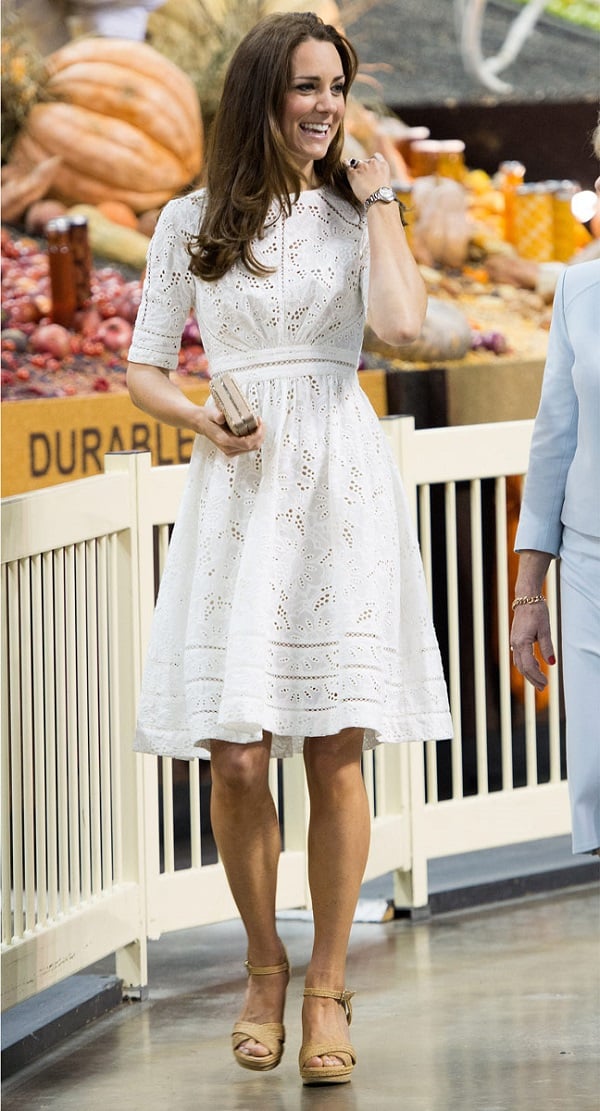 This is my another personal favorite Kate so far had donned., Kate flaunted cool-girl Aussie fashion as she opted for this feminine lace dress by Zimmermann. Her summery white eyelet frock was flirty, fun, and perfect for her first full day in the Land Down Under. She accessorized with Stuart Weitzman cork and rattan wedges.
#15 Kate Middleton in Alexander McQueen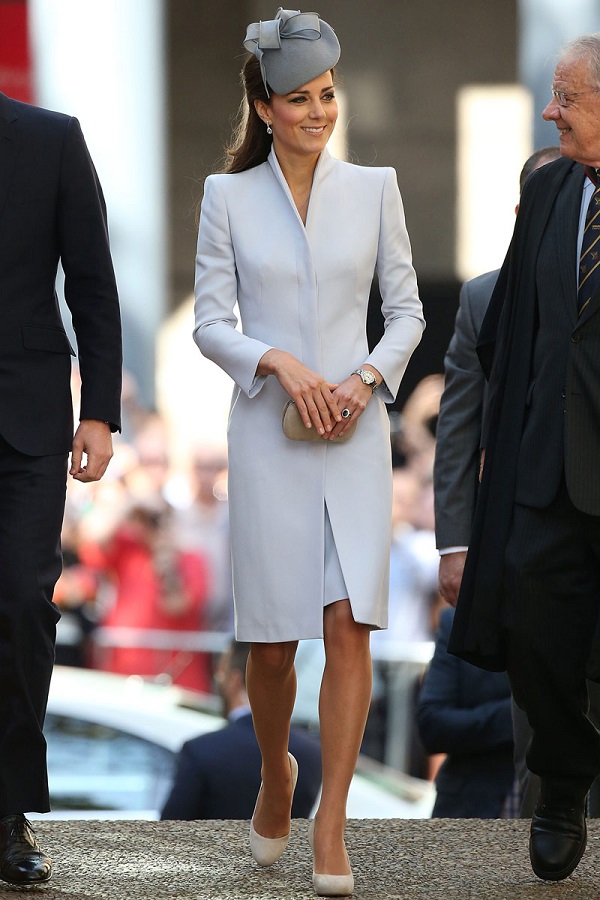 The Duchess opted for this pale lilac-hued Alexander McQueen skirt suit and matching hat by Jane Taylor as she attended Easter Sunday services. She accessorized her dress with L.K. Bennett Harper suede pumps and an Alexander McQueen clutch.
#16 Kate Middleton in a Yellow Eyelet Dress
How cute this scene is! Kate petting an adorable Koala!! For her outing, Kate repeated this pretty yellow fit-and-flare eyelet dress that looks similar to her white Zimmermann look.
#17 Kate Middleton in Stella McCartney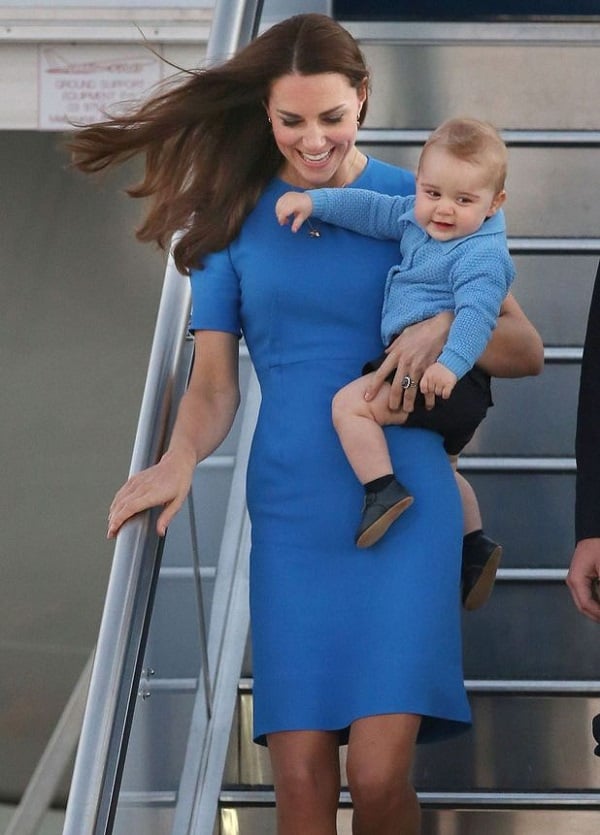 Kate landed in Canberra, Australia with a complete outfit change, as she swapped her pastel dress for a three-peat Stella McCartney cobalt blue shift dress and navy suede pumps.
#18 Kate Middleton in L.K. Bennett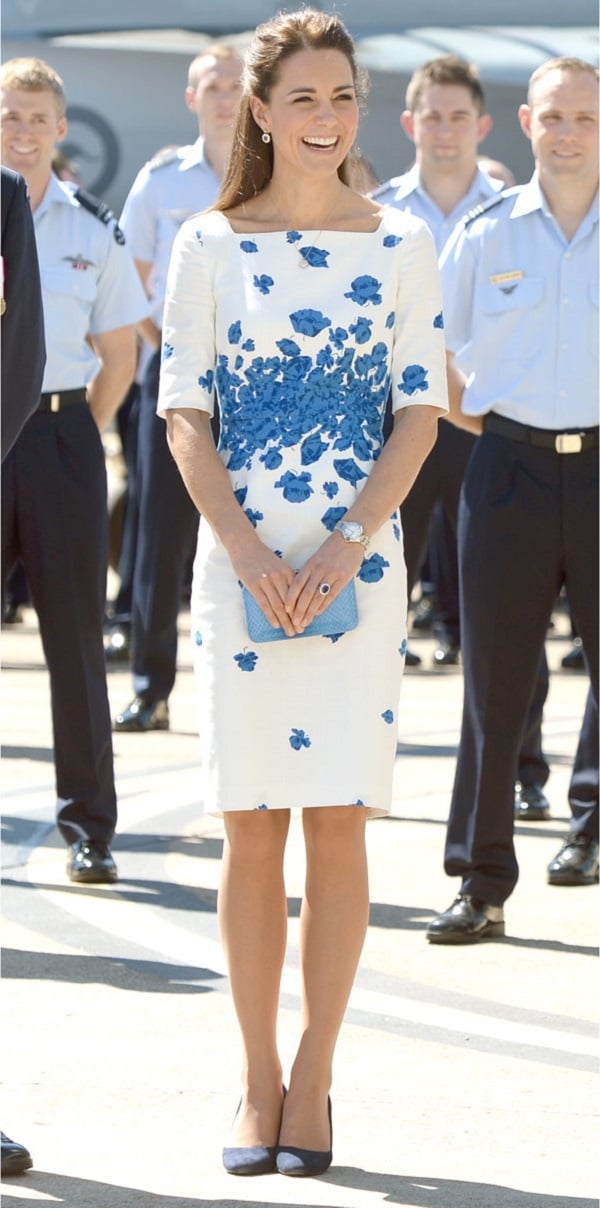 This is one of her best outfits from her royal tour that's been trending hugely, especially after Elle Magazine mimicked this blue floral-printed dress. On a visit to Brisbane, the Duchess of Cambridge debuted a blue poppy-print dress by L.K. Bennett, navy suede pumps, and a matching blue minaudiere.
#19 Kate Middleton in Roksanda Ilincic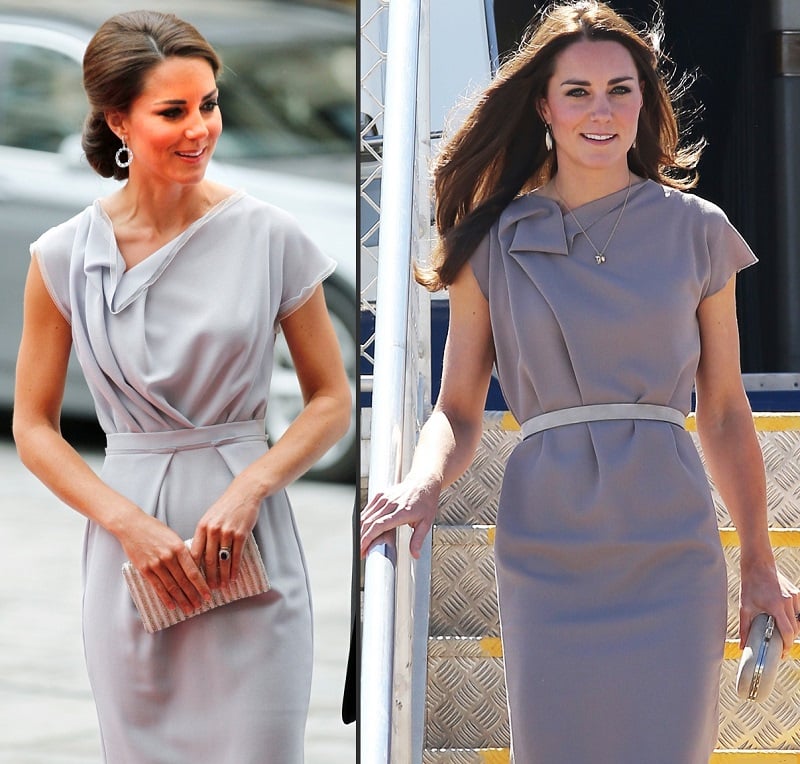 The Duchess of Cambridge opted for this drape-y dove gray Roksanda Ilincic dress, as she hit the Australian outback. She had worn the same style dress in lighter lilac hue twice before. She paired her drape dress with her favorite L.K. Bennett patent pumps.
#20 Kate Middleton in Hobbs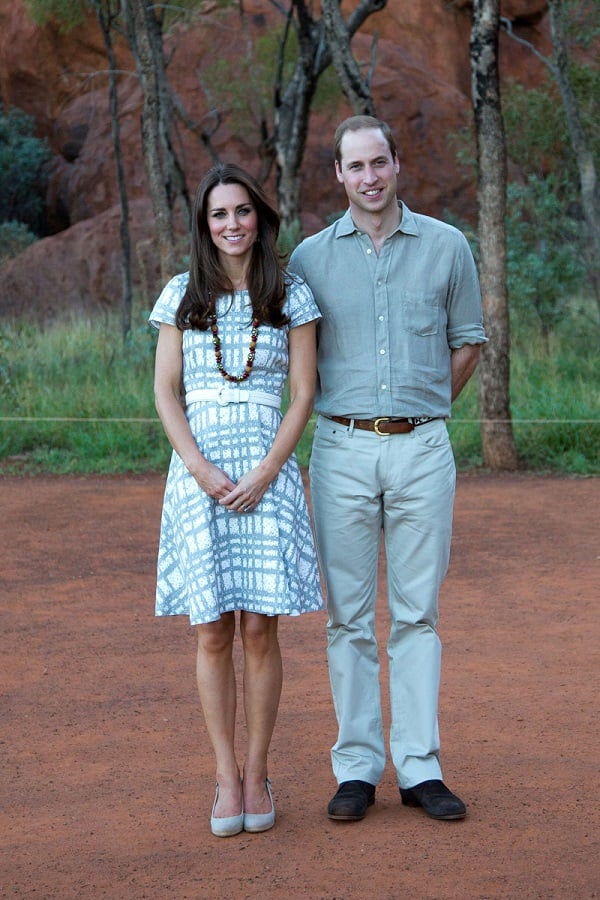 Kate wore this fit-and-flare by Hobbs for her visit to Uluru, a.k.a. Ayers Rock, where Prince Charles and Princess Diana had also posed at the same spot for an iconic photo in 1983. This was her second high-street dress of the tour, which she had paired with rattan wedges.
#21 Kate Middleton in Alexander McQueen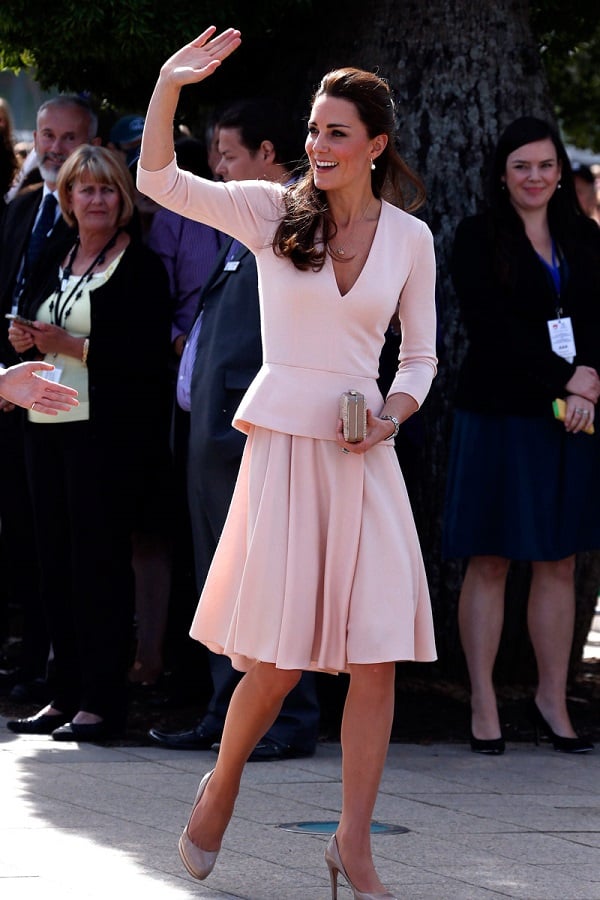 Kate can make no mistake when it comes to making a style statement, reason being she highly entrusts her favorite designer Alexander McQueen. The Duchess once again showed up Alexander McQueen number in Adelaide.
She looked elegant in this blush pink V-neck, three-quarter-length sleeve top, which she had paired with matching pleated knee-length skirt from Alexander McQueen. She kept her accessories minimal by going for simple jewelry including pink pearl earrings, a matching necklace, a Cartier watch, plus her stunning sapphire ring. And the nude heels finished the outfit.
#22 Kate Middleton in Catherine Walker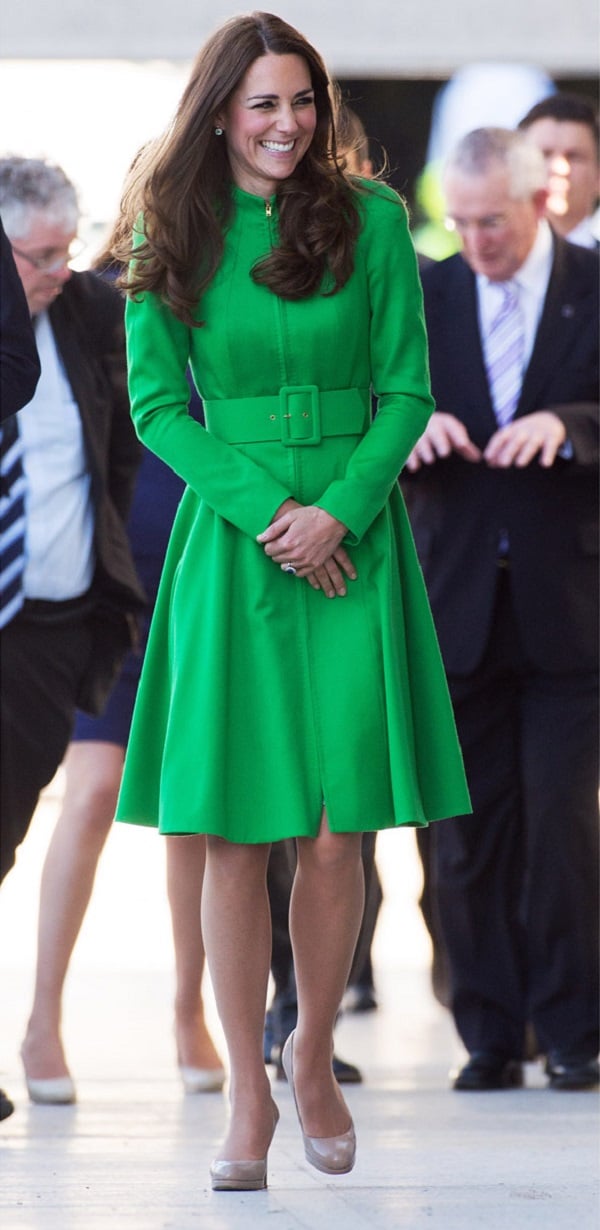 The Duchess of Cambridge dressed thematically in green color for the second time designed by Catherine Walker for a visit to the National Arboretum in Canberra. As per Red Carpet Fashion Awards, her belted, jewel-toned coatdress was a custom mash-up of two dress styles by the British designer. Kate certainly is getting her money's worth with those multi-tasking L.K. Bennett pumps, which she had worn in multiple occasions.
#23 Kate Middleton in Lela Rose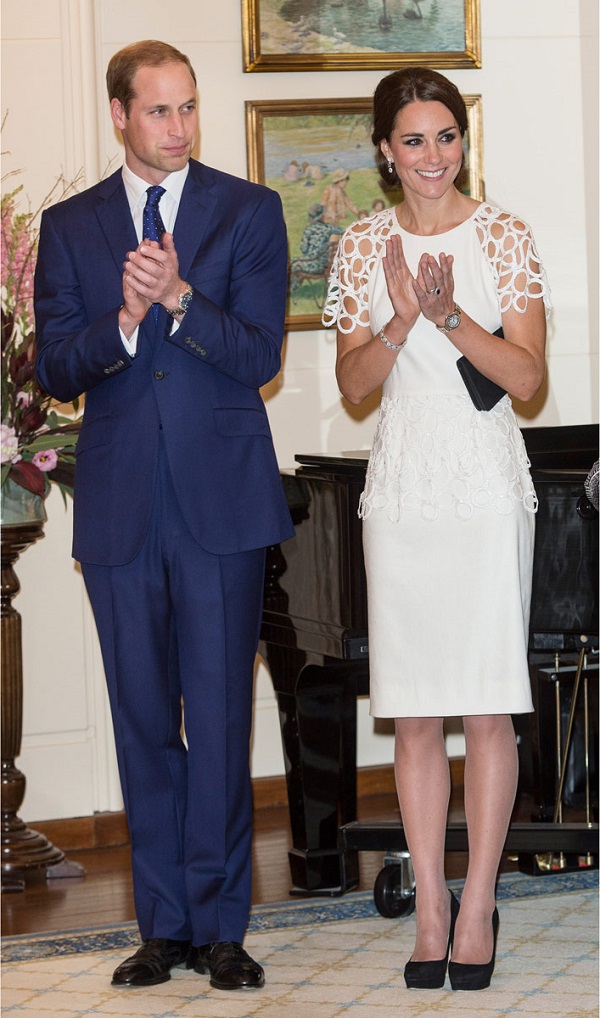 This is one of her best outfits from her tour. For an evening reception at Government House, Kate looked splendid in a beautiful macramé lace and peplum white dress from the Lela Rose spring 2012 collection and not to mention her updo, which she had styled into an elegant loose twist.
#24 Kate Middleton in Michael Kors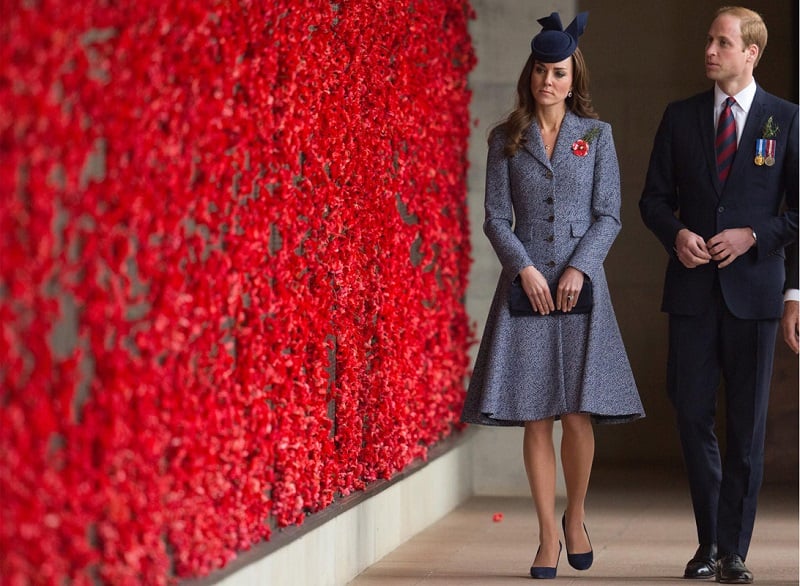 While we were all waiting for a special gown as her final look in the tour, Kate Middleton instead said goodbye with a sartorial bang. For the Duchess' and Prince William's visit to the Australian War Memorial in Canberra, Kate opted for a respectfully elegant tweed coat dress from the Michael Kors spring 2014 collection.
However, this is pretty big news for the American fashion industry, as it's the first time Kate wore a piece by the American designer. Congratulations Michael! She accessorized the Kors dress with a hat by Jonathan Howard, an Aussie milliner, and matching Russell & Bromley navy pumps and a clutch.
Hope you enjoyed this post!!