With body art such a huge trend these days in India; almost every metropolitan is now stockpiled with tattoo and piercing parlors. And with such a varied option at hand, we just get confused in picking a parlor that's the best in the town in terms of safety and hygiene which should be our major focus. This is the reason; I and my team at Fashionlady have decided to come up with post listing out all the best tattoo parlors in different metros across the nation.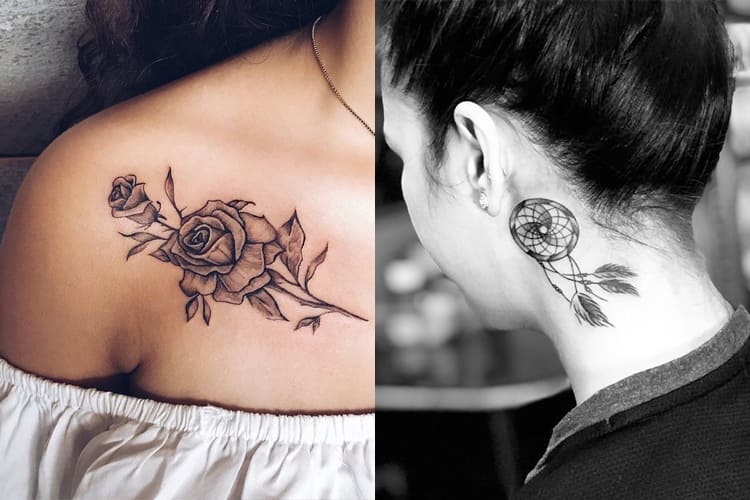 Since I hail from Hyderabad and I have a tattoo inked on the wrist of my right hand; I am bit biased in selecting the city.
Tattoo Parlors in Hyderabad:
Below is a list of 5 best tattoo parlors in Hyderabad, where you can safely have your body inked.
1. Joysen Tattoo & Piercing Studio:
Jubilee Hills Branch – Plot No 8a, Beside State Bank Of Mysore, Indra Nagar Cross Road, Jubilee Hills, Hyderabad
Contact no. 9989832713
Kondapur Branch – Above Maavuri Vanta, Opp: Siddi Vinayaka wines, Near Kothaguda circle, Kondapur, Hyd
Contact no. 8897770464
The 30 year old tattoo professional, Joysen who runs his eponymous studio in Hyderabad, is originally from Kolkata. Joysen, who has been running this studio for 10 years now, is among the most reliable artists in the city. He is famed at offering the highest standards of body art experience under complete safety measures.
Apart from inking new designs, the studio is also popular in providing cover-up tattoo services i.e. they can effortlessly cover up any old scar or blemishes with a fabulous new design. Besides, they also offer tattoo training for body art enthusiasts.
What the studio says –
"Joysen's is a most unique studio, catering exclusively to your custom tattooing needs. Joysen firmly believes that with an open mind and a vivid imagination, it is possible to turn the tattoo of your dreams into a reality. Whether it's a miniature reproduction of an Old Master's painting or a Joysen's original, he's proven time and again that no tattoo is impossible – a concept which is helping to challenge and redefine the contemporary standards of tattoo artistry. Joysen's work has received attention on an international scale. His tattoos get appreciated all over the globe. Quite a few celebrities, models also flock to Joysen's Studio."
For exquisite designs, you can have a look at their website or social media page:
Website: www.joysentattoostudio.com
Facebook Page: https://www.facebook.com/joysentattoostudio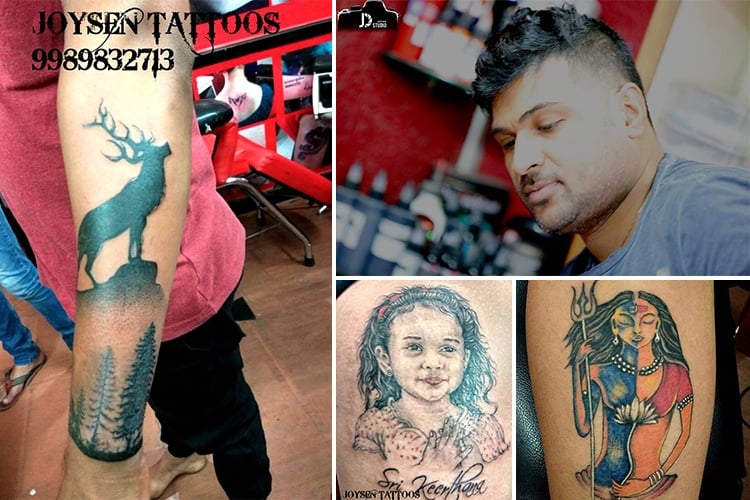 2. Hakim's Aalim:
Address: Shop No. 9/10, Al Cazar Plaza & Towers, Road No. 1, Banjara Hills, Hyderabad
Contact no. 040 23541873/79
Price: Permanent Tattoo – 2500/- onwards
Temporary Tattoo – 300/- onwards
Well, this is the parlor I give a personal preference. Not only because they are aficionados in painting your body, but for the fame that this brand carries all over the nation.
[Also Read: Eyebrow Tattoo: New Trend in Town]
Aalim Hakim, who is the owner of this parlor, is trained under his father, Mr. Hakim Kairanvi, who is the country's first celebrity hairdresser who styled for the likes of Dilip Kumar, Sunil Dutt, Amitabh Bachchan, Vinod Khanna and list doesn't end here. Instead, his clientele included many Hollywood heavyweights like Bruce Lee, Richard Harris, Tony Greig and Crazy Boys.
Walking in his father's shoes, Hakim Junior today stands tall in the industry. Apart from his hair styling skills, which he has inherited from his father, he also runs successful body art parlors all over India including Mumbai, Hyderabad, Bangalore and overseas as well in Dubai.
As far as current trend goes, you'll always find his parlor hip, swanky and artistic with a cutting edge tattoo booth and not to mention the live DJ which spins over cool music to set the mood.
3. Angel Tattoo Studio:
Address: Shop no. 15, Devki chambers, opp. HDFC Bank, Paradise circle, Sindhi Colony, P.G. Road, Secunderabad
Contact no. +91 9642033248/9985157654
Price: Minimum 1st inch 1000/- and every inch after that is 500/- for B/W tattoo and
Minimum 1st inch 1500/- and every next inch 800/- for a colour tattoo.
[sc:mediad]
What the studio says –
"Whether it's your 1st tattoo or an add to your collection, we at "ANGEL" have the skill & experience to give you that specific piece of artwork. If you are looking to have a meaningful work of art etched into your skin or add a style statement, a custom designed masterpiece, a black & grey or a coloured tattoo,  ear, nose, eyebrow or a belly piercing, then "ANGEL TATTOO & PIERCING STUDIO" is the place for you."

"At "ANGEL" we bring forth expertise & talent to create good quality tattoos using fine lines & smooth shading techniques, ensuring all hygiene requirements. Customer satisfaction is what makes us buzz & it is our goal to achieve work you will be extremely proud of, so come & have your tattoos & piercings done in a studio that has great vibes, appreciation for art & a memorable experience to take on your journey"
This is another great place to count upon if you're looking for a permanent art on your body. The salon is equipped with all sorts of avant garde tools and skilled artists, who are trained to design any tattoo the customers want.
4. Vinnus Body Art Studio Tattoos & Piercings:
Address: S.No.1-7-659a1b. Ramnagar, Koti Hyderabad
Contact no. 09849019555
Located in Ram Nagar this is another excellent tattoo parlour which you can visit. They specialize in portrait tattoos. Being conferred with many awards, Vinnu, the owner of the studio claims to offer designs drenched in real art. With an opinion that every tattoo has a story to tell; the artist makes sure to conceive the best form of this art that adheres to every individual's taste and requirement.
5. Sana's Tattoo Studio:
Address: 2nd Floor, Plot No 41, D V Colony, Opp D V House 2, Above Arzoo Tailors, Minister Road, Secunderabad
Contact no. 040 64589914
Famed at offering customized tattoos, the studio caters exclusively to your custom tattooing needs.
So here are my top picks! Whether it's a miniature reproduction of an Old Master's painting or the artists' specialty, these body art parlors have proven time and again that no tattoo is impossible, whilst keeping safety first for their esteemed customers.
Stay tuned for more similar posts!!