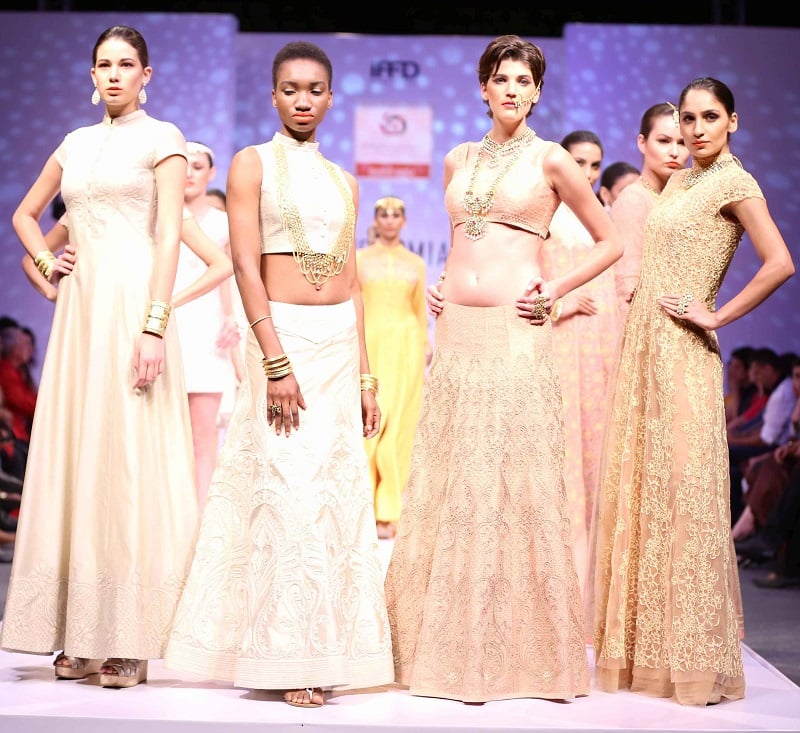 Every designer dreams of having their own runway show! While fashion weeks across the country are endorsing the established designers, the young fashion talents have also been vying to get equal opportunity to showcase their talent before the world at a larger platform.
It came true with Indian Federation for Fashion Development (IFFD)' Premia India Runway Week (PIRW), the second edition of which organized in New Delhi recently. This time, the associate partner was Shree Raj Mahal Jewelers and the chosen venue had been Delhi's premier stadium Talkatora Stadium, however the grand finale happened in White Waters, situated in Connaught Place. This time around 27 designers participated in the glitz and glamour evening continued for three days.
While first day had floral prints and interesting embroidery splashing all over, the second day featured more bling with the addition of jewel designs worn by glamorous show-stoppers on the ramp. The grand finale day was high on fusion, designer shoes and Bollywood divas show-stopping!
Here is the report!
Day 1
Designer Manish Gupta opened PRIW 2014 with his collection imbibing creative embroideries on textured fabrics and sophisticated Indo-western silhouettes meant to compliment today's contemporary women. He chose Akaash K Aggarwal's jewelry, ranging from statement rings, handcuffs and kundan- polki necklaces, to accessorize his designs.
Designer Rosy Ahluwalia's gowns, anarkalis and skirts in vibrant hues of pink, blue, white and green with a hint of gold and shimmer silver in Zardosi and ariwork highlighted on the ramp. Swarovski detailing added the glamour to her designs. Her collection was accessorized with the ethnic jewel pieces of Kavita Gogna.
Painting the inspiration of Indian Mughal Art on the canvas of fabrics such as georgette, chiffon and crepe, designer duo Sandeep and Anju Chanana brought the age-old tradition alive. Designer Shruti Sancheti's collection called 'Le Pondi' boasted of South Indian tradition with distinct French and European sensibilities in finely woven Temple weaves. The borders of her designs were done in pastel shades on the luxurious fabrics of woven silk, untreated calico cotton and cotton silk.
First day spoke of amalgamation of Indian & Bohemian inspiration in exuberance. 
Day 2
Debutante designer Nishu Jain's collection was inspired by nature and man made structures, where he used silk, polyester, linen and cotton for his creations. His show was followed by Sandeep Aggarwal. With his brand PlusS, he focused on creating outfits for plus-sized people.
The collection comprised formal and casual wear in vibrant and soothing colours. Television artist Delnaz Irani walked for the designer as his showstopper. She commented, "The collection conveys the message that even plus-sized women can add that spice, zing and glamour to their look."
Third collection of the show was presented by designers Aashna & Vikrant. Their collection was dominated by Blue colour. According to the duo, Blue is the colour that has been associated with Lord Krishna and symbolizes truth, peace, spirituality and strength.
The collection made an attempt to showcase blue as a colour that "makes its way through the limelight". The fabrics used were georgette, lycra and net, and jarkans added brightness to the range. Vanya Mishra, Miss India World 2012, sashayed as the showstopper for the designer duo. Charas by designer duo Sonia & Ankur concluded the first show of the day. Three dimensional embroideries, pastel shades, gold prints on the silhouettes of gowns were the main highlights of Charas.
Designer duo Niket and Jainee focused on doriwork, pearls, beads on crushed silk cut into the silhouettes of bridal lehengas and kaftan anarkali. Whereas Shivani Singh with her brand Democrat Jeans presented a twist to the regular pair of denims. The theme for the collection was 'futuristic maharajas', where Shivani created denims with embellishments, inspired by the embroidered attire of Maharajas.
[sc:mediad]
Designer Sonia Jetleey's collection drew inspiration from floral and peacock motifs and fabrics. She showcased resort wear and skirts with digital prints. After Sonia, Sanjay and Babita presented their jewellery collection, comprised of polki jewellery in 24-carat gold.  Koyal Rana, Miss India 2014, was the showstopper for the jewellery brand.
Stylion by Manish Gupta went a way ahead showcasing collection having hand painted designs on them.
Day two concluded with SRM Jewellers collection with actress Mugdha Godse walking the ramp followed by beautiful show by designer Ramesh Dembla.
SRM Jeweller's collection was aimed at the upcoming wedding season, comprised of gold, diamond and polki jewellery. The jewellery had precious stones like rubies and panna in the yellow metal. One of the highlights of their bridal collection was Jadau jewellery, which is quite a rage these days.
An excited Mugdha Godse said, "Walking the ramp is a great experience for me." Bangalore-based designer Ramesh Dembla's collection soul shined in the red and black outfits having silverwork. The designer had used a lot of velvet, lace and net. The outfits for men comprised jackets made of a combination of printed wool and velvet.
Day 3
The grand finale of the three day event was shifted to a new venue in Connaught Place but once it got started it went on smoothly and concluded in grand way marking the successful end. The grand finale had shows by designers Swati Modo, Faraz Manan (Pakistan designer) with MBJ Jewellers, Varija Bajaj and Rajdeep Ranawat (Finale Designer).
The day was also high with musical bonanza by Bollywood singer Neeti Mohan, who was also the show stopper for Varija Bajaj. Her designs consisted of floor length gowns, anarkalis, dresses and saris. She'd used lace on asymmetric hemlines and pallus to add a feminine touch. The colour palette ranged from pinks and greens to classy neutral shades.
Shoes also made their entry onto the ramp with shoe designer Swati Mehrotra presenting her Swati Modo's collection on the theme of Women Empowerment. It was a great show by Swati featuring footwear in all colours; maroon, gold, silver and emerald green, the chains and whips carried by the models during the show depict the strong woman.
The second last collection of the show was presented by Pakistani Designer Faraz Menon with MBJ Jewellers. His collection was a fusion of traditional Pak prints and modern cuts. He had experimented with hemlines of the gowns and the dresses. The kaftans, gowns and dresses were in shades of beige and peach, while the bridal outfits had embellished lehengas, saris and suits.
Designer Rajdeep Ranawat presented the grand finale of the second edition of Premia India Runway Week 2014 by Indian Federation for Fashion Development. Inspired by elements of nature and the ornate European architecture, the collection exudes royalty in all its sense with the grandeur of Indian sarees, outfits and lehengas while kundan, polka and diamond jewels of Shree Rah Mahal Jewellers added the sheer opulence to the Indian designs.
The grand finale of the Youngest Fashion Trade show had young star-cast of an upcoming movie 'Khwaabb', Navdip Singh & Simer Motiani as show-stoppers.
After the walk, Simer Motiani said, "It was a great experience for me to walk the ramp. Rajdeep's designs are too good and I liked them all."
The film's director Zaid Ali Khan, who was also present at the grand finale said,
"It's a great initiative by Indian Federation of Fashion Development to organize Premia India Runway Week. They are providing the platform to budding as well as established designers of tomorrow, which is also like a 'Khwaabb' for them as it's an opportunity where they dream to become big tomorrow."
Overall it was a perfect mélange of fresh talent with experienced creativity at the fashion week with big promise for years to come.
Happy reading!!