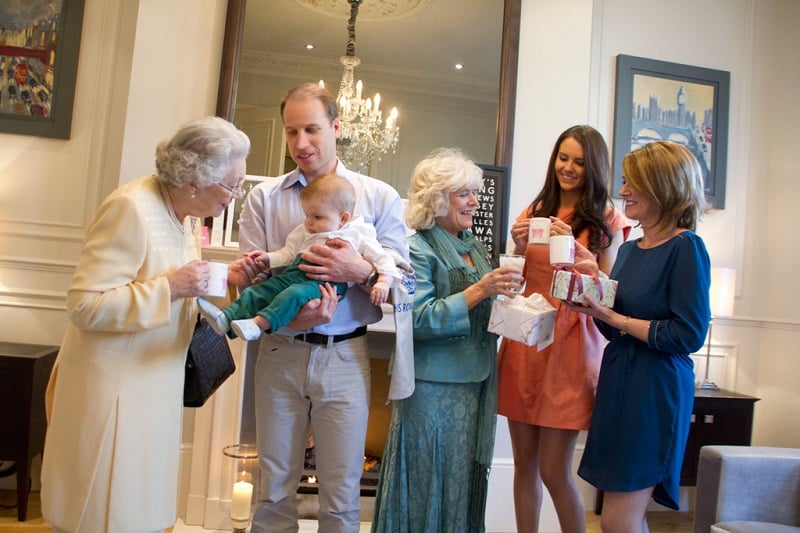 While the US and Asia will be celebrating their mother's day on 11th May this year, UK already celebrated theirs on 30th March, as Mother's Day is celebrated on the fourth Sunday of Lent season in UK every year.
Before leaving for first royal tour since birth of her son to Australia & New Zealand, Kate preferred to have a low key celebration for her first Mother's Day at Kensington Palace privately. Find out Kate Middleton's royal tour here.
While everyone was quite excited to see how the royal family celebrates this day, online lifestyle retailers like Notonthehighstreet.com had already issued a look-alike clever photo impersonating the royal family. They had roped in artist Alison Jackson to create an imaginary picture of the Cambridge family celebrating their holiday.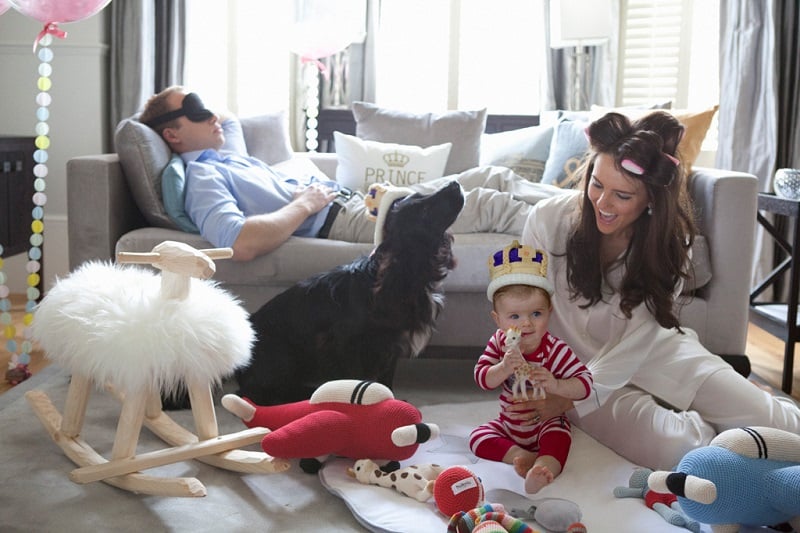 One of the most resembling photos was where Kate look-alike is seen in her pajamas and rollers on her hair and playing with Prince George impersonator wearing a crown. While Prince William's royal doppelgänger (a double of a living person) is seen lounging on the couch with an eye mask on. And not to mention even the royal pet Lupo's body double is also right in the heart of the action.
Kate preferred to have a low-key celebration, as she was pretty aware how emotional her husband might feel over this holiday. So, she kept things low-key to avoid upsetting him further.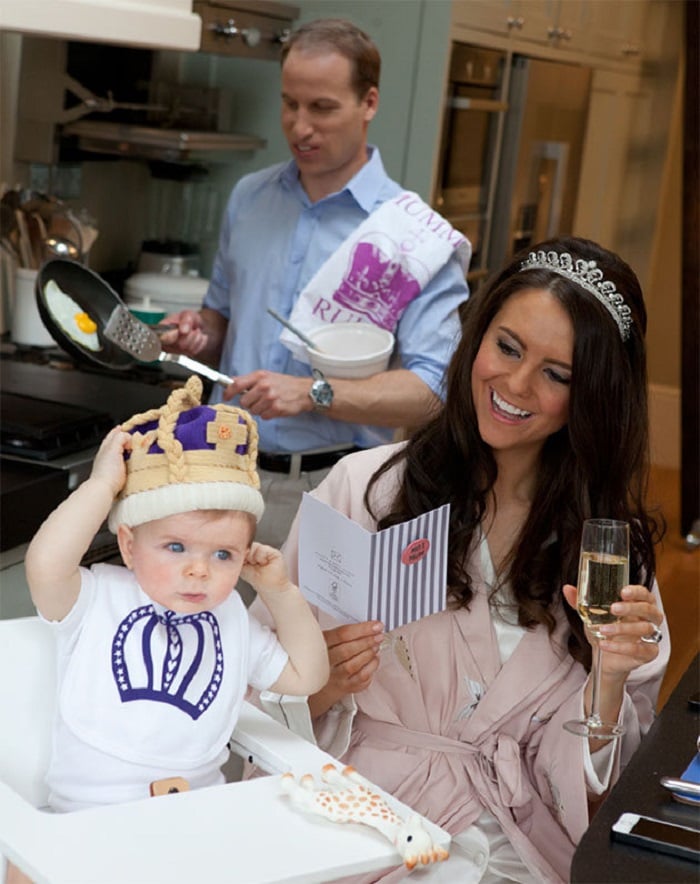 There were no extravagant plans for that day. Even Kate had celebrated her 32nd birthday in the same fashion. The young royals preferred quiet nights than large party. So she spent her birthday in the palace with Wills rushing back from University to spend the evening with her. Even on 30th March Will was with Kate and their 9-month old baby to have some quality time on the annual day.
The reason for such subdued festivities is probably because Prince William and Prince Harry had lost their mother Diana Princess of Wales in a tragic car accident in Paris in 1997.
William, who was only 15-years-old when he lost his mother, has previously opened up about his loss. As the patron of the Child Bereavement Charity, in 2009 William said: "Never being able to say the word 'mummy' again in your life sounds like a small thing however, for many including me it really is just a word; hollow and evoking only memories."
This is the reason, the supportive Kate has been very careful in celebrating such days.
While Kate was quite excited about her first Mother's Day, she was also relieved to have found the perfect match in her new Spanish nanny named Maria Teresa Turrion Borrallo, who also accompanied to help Kate and Prince William with George during their royal Australian tour.
Post Mother's Day and the royal tour, the most recent family portrait of the royal family was taken through an open window at their home, Apartment 1A of Kensington Palace. While proud mom Kate was holding onto Prince George; William had his arm affectionately around their much-loved family pet, who made the family picture complete.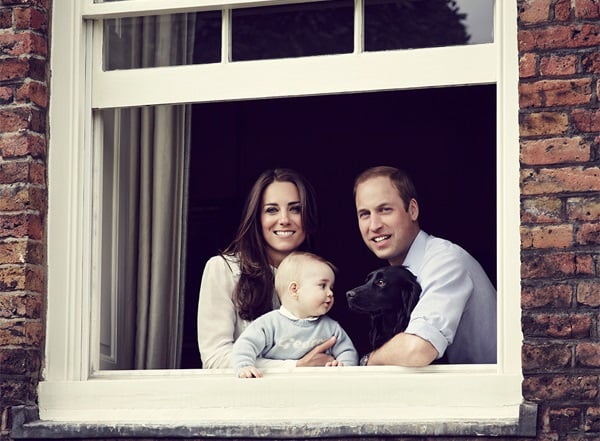 Duchess wore a light-shaded jumper, while flaunting her trademark brunette locks around her shoulders. The chubby-cheeks George dressed like his father, who sported a light blue-colored shirt and the adorable baby wore a cute dusky blue jumper with his name inscribed on his jumper.
The blue jumper is understood to have been a gift from Prince Charles.
The family portrait was released to mark the occasion of Mother's Day. It was taken by renowned photographer Jason Bell, who was also commissioned to take the official photos of Prince George's christening in October last year.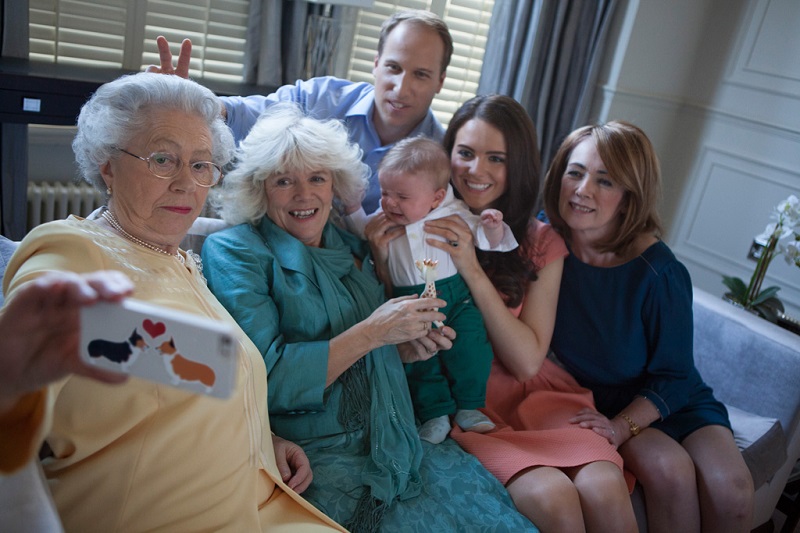 Also seen for the Mother's Day, the Queen was seen doing a selfie with the family. What appears the royal family has also been caught up in the selfie craze. A series of pictures were leaked showing the Queen taking pictures on an iPhone adorned with Corgis. Royals including the Duke and Duchess of Cambridge were seen leaning over to pose for the camera.
Stay tuned for more updates on Mother's Day!!