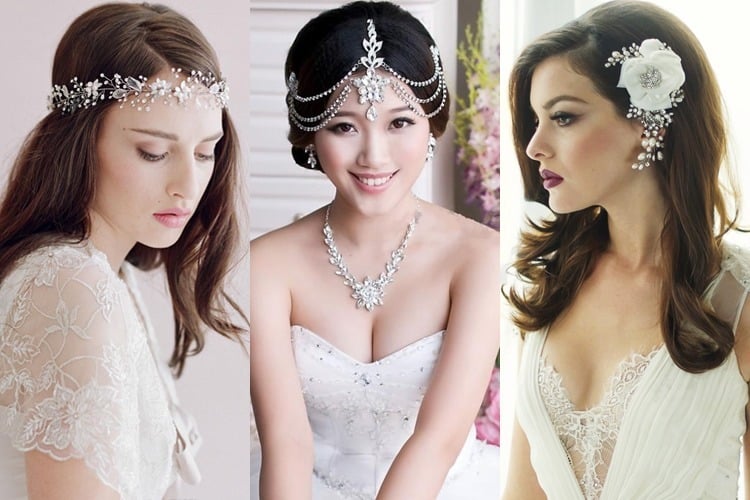 We really don't need to spend a bomb to adorn our hair or leave it unadorned at our own wedding, because when confidence takes over, the two in their own ways look chic and haute. With that being said, let's talk a little more about the embellishments we could have on our hair- a nice Bridal Headpiece for the crowning glory effect, why not?
LET'S JUMP RIGHT INTO BRIDAL TIARAS & WEDDING HEADPIECES
Pulling The Entire Look
As a bride at the mandap or walking down the aisle, you would want all eyes on you. It is your day and the thunder to steal should be you, not even the groom (LOL). Having that in mind, you should think of something bohemian for the main day, in metal of course, but not the same old boring tiara your crafty neighbor's daughter wore at her wedding.
[Also Read: How To Wear Headbands]
Think of a nice Bridal Headpiece; one that wouldn't be too blingy, yet a piece that captures everyone's fancy!
Chic Bridal Headpieces to Flaunt, With Tips on How to Choose One!
Yes, we heard you loud and clear and that is why we would like to show you fifteen pretty Bridal Headpieces from a myriad million options out there – you could also DIY bridal tiaras too; as per your imagination and creativity!
How to Choose One That Sits Pretty on Your Hair?
[Also Read: How Diamond Tiaras Became Famous Again]
So here are quick tips on how to choose wedding headpieces, which brings about the complete princess fairytale wedding look- read on!
Speak With Your Hairdresser First
Why did we ask you to do this, and what is the connection?
The two of you should decide on a bridal hairdo; do you want the hair tied up or left loose, locks up or flowy and down? The two of you should sit and experiment with styles.
[Also Read: Flower Girl Headbands]
Let's assume you would choose a 1950's vintage hair bun, with a side sweep quite low, what types of headpieces then would suit your look the best? What about a ballerina high bun, which wedding headpiece would enhance the look at the wedding?
Discuss and then come to a conclusion when choosing your bridal headpiece.
[Also Read: Bohemian Wedding Flower Crowns]
If you have long, thick and flowy hair (irrespective of the hairdo), think of daintier Bridal Headpieces to wear, and the reverse for short thin hair would stand true.
Gown Shopping Times
Indeed, when you shop for your wedding gowns, saris, anarkalis and lehengas, you would check every minute detail before coming home hands full, right? Needless to say, the same 360 angle should be used when picking bridal tiaras, no questions asked.
[sc:mediad]
Grab your Smartphone and ask the salesgirl to help you wear the wedding headpieces, one at a time. Click the look with each of them; some from a distance, some which the salesgirl clicks and some as selfies.
Bridal headbands and tiaras look different from all angles, and there aren't standardized fashion sizes and styles etched-in-stone per se.
Metal Colours
The colour and hue of the types of headpieces you see should complement your wedding trousseau, which goes without saying. Bridal gowns with plenty of pearls and beads, would look best with stark whitish silver head pieces, and others look haute in crystal touches – vintage ones especially.
Does the Bridal Headpiece Match the Other Accessories?
[Also Read: Gorgeous Maang Tikka Designs]
Final question, does your bridal headpiece gel and match up with the range of other accessories you would be wearing at your wedding; solah-shringar especially?
The main aim of wearing the bridal headpiece is to enhance and accentuate your overall look, and not to make a distraction well-perceived by the attendees.
The ghugnhat or the bridal veil too should gel with the wedding headpiece, or else it would be an epic fail on your D-Day, which we really wouldn't want any bride-to-be to face!
With that being said on various Wedding Headpiece Ideas, we hope you liked our collection that we just flaunted – all 15 of them through this post, and hope that these tips come in handy too! flaunt that crowning glory darlings, for it is your D-Day; make it memorable!