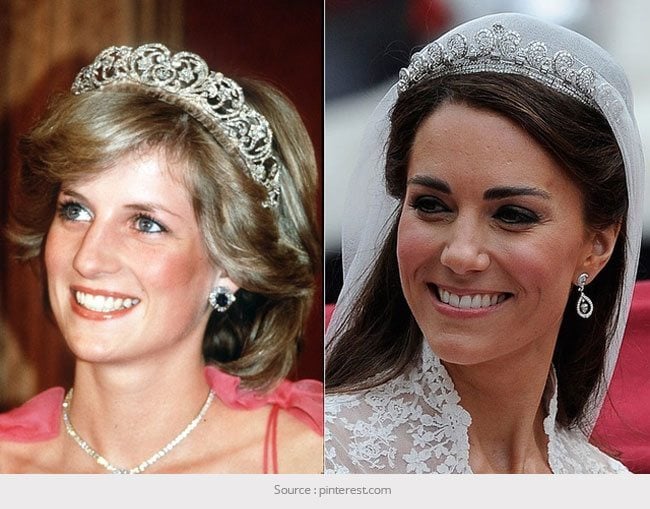 While the Spencer Family Tiara, which Princess Diana wore during her wedding gave her a headache on her wedding day, Kate Middleton caused quite a stir when she wore the antique Cartier 'Halo' diamond tiara, which she had loaned from the Queen and is now on display in Paris as part of an exhibition by Cartier at the Grand Palais.
Like other royal jewelries, such histrionic diamond tiaras are these days only wheeled out for the most special of occasions unlike in ancient times when they used to grace the queens' crowns. Unless you're a Royal, and way too grand for a modern-day wedding, such exquisite headbands were not meant for the humdrum weddings.
How Diamond Tiaras Became Fashionable Again
While such stereotypes have now received an upheaval, tiaras are now being looked upon as perfect wedding jewelries irrespective of the genre the bride belongs to.
Thanks to inspiring movies like The Great Gatsby, the Jazz era's head accessories are back in fashion with a boom, be it the contemporary tiara like the Boucheron Bracelet Tiara worn by Queen Raina of Jordan or Gatsby-esque headpiece.
There is always something special about the diamond headband that creates quite ado, as it entreats the fascinating affair of arriving at the venue with royalty and nobility.
Such crown jewels have also stood as timeless embodiment of grand weddings. And when they are displayed in exhibitions, you can easily notice many jaw-dropped faces gasping collectively at the stunning diamond studded tiaras.
A Tweak in the Overbearing Protocol of Diamond Tiaras
Nevertheless diamond tiaras have become fashionable again. But we cannot discount the fact that the royal señora, who wanted to wear those headdresses, had to adhere to the strict protocol.
Geoffrey Munn, author of Tiaras – A History of Splendour says,
|"It was the event and not the status of the wearer that signals whether or not tiaras will be worn. In the past, full evening dress (white tie and medals) was the starting pistol for tiaras. However, even in 1900 people needed the reassurance supplied on the invitation, 'Tiaras will be worn,' was shown to the bottom left of the invitation. The strictest protocol proscribed tiaras for girls and unmarried women. They were also proscribed in public places of entertainment like hotels and hired ballrooms." |
He further adds, "The first time a tiara is worn is by the bride on her wedding day. It signals the crowning of love and the loss of innocence to marriage. The family tiara was worn by the bride and from that moment onwards it was the groom's jewelry she was expected to wear. It was a subliminal message that she had moved from her own family to another."
Princess Diana and the Spencer Family Tiara
As per the tiara expert, the last time such protocol was followed on a grand stage only when Princess Diana had worn her Spencer Family Tiara for her 1981 wedding to Prince Charles. However, these days only a few from regal families comply with this traditional etiquette, even if they are aware of it.
While the imperial mistresses have taken these wedding jewels to other formal events; eventually the diamond tiaras became trivial and more of a fashion regalia.
Diamond Tiaras soon Graced Non – Royal Ladies
Although diamond tiaras were usually associated with women of reigning families; these richly ornamented headbands started to be worn by non-royal rich American ladies as well.
Arguably Barbara Hutton, the American socialite from late 18th century was among the first women from non-imperial background to wear a tiara.
Later, during the Victorian Age in the United States, diamond tiaras were being seen on non-royal ladies while, in India, the tiara, believed to have been existed since mythological era, was a common wedding jewelry.
It was during 1920's i.e. Jazz era, when jewelry designers used their imagination and inspirations from Egyptian, Chinese, Indian and Russian craftsmanship to reinvent such crown jewels including turbans, toques, kokoshniks and tiaras to embrace the new age fashion.
During the Gatsby fashion era, especially in the United States, these diamond headbands were not only paired with formal ballroom gowns, but were also seen with the Flappers and their parties.
 And then how could we ignore the beauty pageants. Except the major titles such as Miss World and Miss Universe, the national level winners are grace with a diamond tiara till date as mark of their title.
How to Wear a Diamond Tiara while staying with the Trend
From the time, tiaras and crowns are invented; they have always been associated with an extended protocol of how such crown jewels should be worn.
Earlier, the trend was to wear it closer to the forehead, typified in 1920s-style dress that we see in pictures. However, the modern fashion for wearing a tiara is that it should be worn quite far back on the head, normally running in a line from just behind the ears at an angle of about 45 degrees when viewed from the side.
Three simple rules to look fashionable with a tiara
#Rule 1 – Go for Oval Tiara
Comfort is key. While wearing a tiara make sure it's comfortable. Do not go for a round shape for your wedding tiara, as the circular design is going to pinch at the front and the sides. The ideal wedding headband should be oval as nobody's head is round!
#Rule 2 – Make sure the Tiara is Angled
The best way to check its position is by placing it flat on a table. The perfect headdress should lean forward, instead of bending at a right angle. As the head accessory should go around your face, the front has to lean forward to sit upright.
#Rule 3 – Law of Proportions
Put your thumb on your chin, and the index finger on the bridge of your nose, between your eyebrows. Take that measurement, and put your thumb where your index finger was. This is the place that makes your eyes the centre of your face. Hence, the place where your finger touches your head should be the exact point, where the base of the tiara is placed.
Bonus tip: Make sure you do not wear it flat to the head like an Alice band, as it can ruin the lovely view of the piece.
Tiara – A Fashion Must-Have
While one wonders how diamond tiaras became fashionable again, the traditional rules of wearing a bejeweled headpiece were long back tossed aside.  Even the norm of wearing tiara to formal events has been virtually non-existent. When ace fashion designer Vivienne Westwood wore her coral tiara while cycling around in London, it became pretty evident this fashion staple is finally commonplace.
In addition to, today there is an array of styles and materials (such as coral, feathers, enamels and fish scales) available other than diamonds and gold. And with an affordable price tag, the new age fashionista finds it easy to extend such headbands to her wardrobe collection.